NEWS FROM THE CZECH CENTER MUSEUM HOUSTON - JULY 7, 2012
From the Heart of Europe to the Heart of Houston Texas
in the Museum District
4920 San Jacinto Street, Houston, Texas 77004 - 713.528.2060
czech@czechcenter.org
www.czechcenter.org
Open Monday - Saturday 10:00 a.m. to 4:00 p.m.


The Czech Center Museum Houston cordially invites you to Celebrate the 18th Annual Gala 2012 Saturday, August 25, 2012, "A Night of Music, Dinner, Dance, Silent and Live Auction Fun" Benefiting Czech Center Museum Houston, A Baroque Palace in the Museum District featuring for your entertainment "The Coastalaires" from Bay City, Texas. Reception Brno Gallery, Wine and Butler passed Hors d'oeuvres, Cocktails, Prague Hall Silent and Live Auction View and Bidding. Mark your calendar for this event. Click here for invitation...

CCMH Rental Venues, Prague Hall, Pilsen Hall and Brno Gallery are discounted 20% for Advance Bookings extended through August 31, 2012. Come in for your booking. Email events@czechcenter.org or call Events 713.528.2060.



Pictures from left: (1) Come join us for the daily light show as the evening sun sets shining through Wenceslas Chapel Stained Glass Windows; (2) Marion Freeman, Honorary Board Member (second from right), brought her family to visit the Center from left, Henrietta with daughters Miranda and Nina who treated us with virtuoso performances on the Petrof Baby Grand Piano and son Robert Freeman, MD from San Antonio and Marion's daughter, member Caroline Freeman; (3) Detail from John Pavlicek paintings, three new works in his Lonesome Series exhibit; and (4) Member Artist John Pavlicek joins Bill and Effie Rosene after mounting his new paintings in the Czech Center Museum Houston. Two are on the Grand stair landing to the second floor and one in Pilsen Hall. Visit Gremillion & Co. Fine Art, Houston, for more examples of his work.

This week on Czech-American TV, a very Special Broadcast titled Exploring Czech Lands. There you can find 12 UNESCO sites, two intangible cultural heritage traditions and one geo park, all on the World Heritage List. The sites are varied, from whole historical sections of towns to single buildings.  View this tantalizing tidbit and join in exploring this charming country by checking this website:
http://www.catvusa.com/index.php?file=http://www.catvusa.com/431m.wmv or go to www.catvusa.com and click on Latest Broadcast button.

Do you want to painlessly contribute to CCMH while you Shop at Kroger's?
You can by enrolling your Kroger Plus Card in their Neighbor to Neighbor program where each time you shop, Kroger makes a contribution to our organization!  It makes a difference. See how...

May Trip to Moravia - part of our time was devoted to exploring the means to the import of Moravian wines to the United States.  These wines should join the multitude of imported wines to this country.  A wine consortium in the Czech Republic has indicated they are ready to bottle and ship if and when a local importer and distributor are found to market here. Read more...

Annual Christmas in July at Prague International Gifts Shop Jarmark provides the unusual collectibles you will not find elsewhere. Try our fashionable women and men's Polka On T-shirt. This is a great opportunity for unique, hassle-free shopping with some reduced prices of up to 20%. Open daily Monday through Saturday, 10:00am to 4:00pm. Yes, we also ship. Call or email. Also in the gift shop:
Antiques - Art Glass - Ceramics - Jewelry - Perfume Bottles - First Time Ever for Sale!


For your Viewing and Listening Pleasure at the Czech Center Museum Houston:
CCMH Foyer - Hanak Biblical Times Ceramics Art Collection by Czech Karel Hanak highly awarded academic artist for bringing past history to the future, Art Nouveau Beveled glass doors and windows; the 1850 palace low-boy chest.

Wenceslas Chapel - Czech Crystal Chandeliers, Stained Glass Windows, Antique Castles/Chateau furniture, glass and porcelain and numerous collections in Brno Gallery; The Presidents Room including James and Danna Ermis ceramics collection and numerous Moser, Eggermann, Brychta figures and Hoffman boudoir pieces.

Grand Staircase Landing features magnificent artworks of Houston's own John Pavlicek, showing regularly at Gremillion Gallery.

Prague Hall Ballroom is filled with Czech Masters Alfons Mucha, Father of the Art Nouveau Movement and Czech born American international artist to presidents, royalty and art patrons of all ages Kamil Kubik impressionist landscape paintings plus more Crystal Chandeliers.

Pilsen Hall the Ottervik Collection of Czechoslovakian Art Glass/Ceramics 1918 - 1938 - 1289 pieces; Roy Cullen's Prague International Ballet in Houston debut - photo gallery; Folk Art Galerie with 1750s village wedding.

Coming soon exhibition of further paintings of renowned international artist Kamil Kubik.

In Comenius Library a permanent exhibit of early Czech immigrant rancher/farmer who came to America from Velky Ujezd, Czech lands then Austro-Hungarian Empire in 1903 - the Frank Joseph Tomek family to Cameron, Texas. The collection is provided by great great grandson Jacques Williams, former Czech Center Museum Houston scholarship awardee as gift of his grandparents Clem and Martha Vasicek Tomek, Cameron, Texas.

Save these Calendar dates 2012 (All events at Czech Center Museum Houston unless noted) Please RSVP
August 4th Louis Provenzano Theatre Production "Our Town" 7:00 p.m.
August 25th CCMH Gala Czech Center Museum Houston. Please join us for the eighteenth fun Benefit.
September 15th Houston Museum District Day 9:00 a.m. to 5:00 p.m.
September 30th Slavic Heritage Festival - Knights of Columbus Hall, Whitney Oaks Drive.
October 13th Sister Anita Hymn Fest Concert 4:00 p.m. Saturday.
October 15th Treena and Tom Rowan Art/Photography Exhibit through November 15th.
October 28th Czech Oktober Fest (2nd Annual) celebrating Czech National Day of October 28, 1918.
November 17th Celebratory evening at CCMH marking the Velvet Revolution of 1989 resulting in the overthrow of communism.
December 6th 18th Annual Traditional Celebration Eve of St. Nicholas Day with an incredible display of multiple antique Czech nativities (Betlems). We are very excited for this marvelous exhibit through January 2013.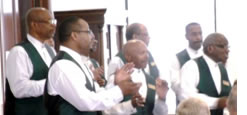 Celebrating Life at 100
What a feat!

Beautiful Elizabeth Cupitt, longtime CCMH supporter and Member was Queen for the Day June 27, 2012 in Prague Hall. There were hors d'oeuvres, punch and cake and 100 beautiful purple and pink balloons and flowers surrounding friends and the family at this joyous event. The piéce de résistance was a surprise visit of the extraordinaire melodious concert chorale of the Harbor Lites Choir Houston. What a party! She was feted by her nieces Board member Sally Eisen Miller and Rosemary Eisen Mathes.

"Time goes by so fast, people go in and out of your life. You must never miss the opportunity to tell these people how much they mean to you." Anonymous
Questions or comments or to be removed, please email first and last name to czech@czechcenter.org
Effie M. Rosene, Chair/CEO, on behalf of Board of Directors, Volunteers and Members and Friends.
This organization is supported in part by a grant from the

City of Houston

through the


Houston Arts Alliance

and by the

contributions of our Members and Volunteers.