NEWS FROM THE CZECH CENTER MUSEUM HOUSTON - SEPTEMBER 11, 2012
From the Heart of Europe to the Heart of Houston Texas
in the Museum District
4920 San Jacinto Street, Houston, Texas 77004 - 713.528.2060
czech@czechcenter.org
www.czechcenter.org
Open Monday - Saturday 10:00 a.m. to 4:00 p.m.

September 11, 2001 - We remember the tragedy of the New York World Trade Center Towers and other terrorist events of that day! We mourn the loss of thousands of Americans. We remember the heroes who willingly assisted immediately and for days and weeks. We honor our Troops all over the world who protect our Freedom.

September 1, 2004 - We celebrate the Czech Center Museum Houston Opening its doors in the Houston Museum District to visitors from all over the world, now eight years. We honor our ancestors who came, stayed and made a difference just as all immigrant groups did. We educate all who enter to know their roots so as to be a citizen of our global community.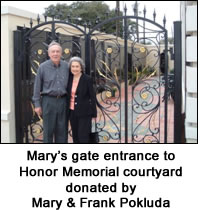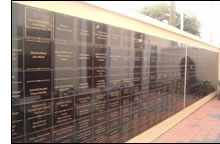 WE HAVE SOME TILES TO INSCRIBE

Donate to this organization by celebrating or honoring someone important in your life by Inscribing Your Name or your Honoree's Name on a tile as a lasting and meaningful memento of thoughtfulness and support of the mission of this unique Museum District site. The inscribed tile will be mounted in the Honor Courtyard at this beautiful Baroque building. A personalized tile, in your name, memory or honor of family and friends will forever be a part of the history and tradition of the Czech Center Museum Houston. By subscribing to a tile you will automatically become a member of the CCMH or extend your existing membership. Tile Sizes: 4 x 12, $250; 6 x 12, $500; 8 x 12, $750; 12 x 12, $1,000; $5,000 & $10,000 Top Row with Gold Border. $1,000 donations and above qualify for Lifetime Membership and Support. For assistance in building your tile, call 713.528.2060 to discover how easy and important it is to get involved in the Czech Center Houston.


2012 GALA NEWS SPJST Supporters Made the Czech Center Museum Houston 2012 Gala a Roaring and Rollicking Success! On August 25, 2012 two hundred plus guests enjoyed entertainment by the Bay City Coastalaires, an open wine bar reception and delicious hors d'oeuvres in Brno Gallery then moving up to Prague Hall Ballroom for a sumptuous seated plated dinner by Ral's Fine Catering. Spirited bidding at the Silent and Live Auctions and two drawings a 220,000 air miles for a Prague trip for two and a Kamil Kubik painting, which along with lively conversation completed the evening for guests reluctant to leave. Annual Galas are major fundraising events for the Czech Center Museum Houston, as is true for all non-profit organizations. Guests are asked to contribute a nominal $150 admission considering this is a major fundraiser. Most Houston Benefits are $300 and up for banquet tickets knowing that a portion of the proceeds are dedicated to general operation and goals of the organization. As always a great many of our members and friends contribute to these affairs over and beyond just the admission price of the Gala. What made this event especially significant is the revenue raised by the participation of two SPJST Lodges numbers 88 and 142. Of course, many of our members are SPJST lodge members and many also were there; but, we were absolutely delighted that these two lodges chose to fund four tables at the Gala. This very significant partnering means so much as they went beyond just supporting their own organizations and reached out to join CCMH in making our Gala a successful event along with other significant donors listed in our program. We had a houseful of VIP guests! See more pictures...

The Gala Honored our Volunteers - "We honor, not just today, but every day, our Volunteers, members of the Czech Center Museum Houston Guild. They Tend the Prague International Gift Shop, give Docent Historical Tours, Meet every visitor to the CCMH from around the world, Answer every telephone call for its execution. We Educate all who enter, the importance of embracing their heritage from wherever, to know who they are, as the roots to being a citizen of the world, not only as Texans or as Americans. Volunteers are unpaid, yet give financial and charitable support to help grow our institution to be enjoyed by others via education, service, the arts, culture, history and heritage.
We honor our Ancestors in whose memory the CCMH was built, to remember they came to America through great trials and tribulations, stayed, and made a difference, as all immigrant groups have. We honor all our Members, Friends, Board Members, past Board Members, Guests present here today and those who could not attend."

Dear Effie and Bill: For Alfonso and myself was an honor to be chosen as Chairs for the XVIII CCMH Members Gala and would like to express our deepest gratitude for your decision. It was a good learning experience and we feel that it was a success and that all attendees were happy and having a good time. Děkuji and a big hug! Eva. Thanks Effie and thank you to the Board for this honor, it is our privilege. Little did I know one Saturday afternoon when I walked in on the spur of the moment, that we would be here tonight. I can tell you all without reservation that Eva's life is getting richer and fuller because she volunteers here. I know because I learn something new every Wednesday evening! And she plans to take Czech lessons... Maybe I will learn to say "May I have another beer please?" Thanks again, Alfonso Duncan
Ed: What a great job Eva Maria Bartoskova Campo and Alfonso Duncan did. And yes, it takes a village to do a Gala!

Dear Effie: I wanted to say thank you so much for your kind phone call regarding my ankle problem. I spent the entire weekend resting so I could be ready for today's 1st day of school. Since it was the first day, there was no way I would skip. I received a very nice group of kids that kept me quite active today. I tried not to walk too much, and left school rather soon... around 5:00pm. I am elated with the wonderful news about the incredible prize I won. I am still like walking on a cloud. I do sincerely hope that the Gala was a smashing success and plenty of money was fundraised for the museum. Wishing always the best to you and Bill. Juana Wilson
Ed: Juana was the winner of the Trip for Two to Prague! Artist Treena Rowan won the collectible Kubik painting.

Dear Guests of the XVIII Members Gala of the Czech Museum Houston: Let me welcome you in the name of the Embassy of the Czech Republic for this evening of arts and music. The Czech Center Museum Houston is for us one of the most important institutions of the United States as you could see with the visit of the Deputy Prime Minister and Ministry of Foreign Affairs of the Czech Republic, Mr. Karl Schwarzenberg, who inaugurated the Museum's Pilsen Hall. Houston is a place where we go often and we admire the great achievements of this city. We are looking forward to meet you in the next possible occasion here and we wish you a very nice and successful evening. We wish the Museum will find many open-handed donors and supporters because, to support the Czech Center Museum Houston, is to support the living memory of Czech traditions and culture. By your support is giving the chance for the future generations to learn what should never be forgotten. Enjoy your evening! Dr. Robert Rehak 2nd Secretary and Cultural Attaché.
Ed: This greeting was read at the Gala to the attendees.

Host an Exchange Student - Three exchange students need a home. One, Dominika, loves music, plays the alto sax, participates in an orchestra and has even started her own musical trio. Her favorite type of music is jazz. She also enjoys baking, tennis, biking and skiing. She is mature and ambitious. Contact AFF-USA, Ann Hoolihan, ahoolihan@afs.org

Please help the Czech Center Museum organization by enrolling your Kroger Card in their Neighbor to Neighbor program to make a contribution to our organization! It's easy. The cashier merely flashes your existing card along with this barcode and every time you shop, a small contribution will be made. Read here...

Save these Calendar dates 2012
(All events at Czech Center Museum Houston unless noted) RSVP to 713.528.2060.
September 15th Houston Museum District Day 9:00 a.m. to 5:00 p.m.
Scholarship for Summer Music Courses for Violin, Bassoon, Piano commence in Domazlice, Czech Republic. While it may be too late this year, "Czech" it out for next. What an opportunity at www.hudebnikurzy.cz.
September 30th Slavic Heritage Festival - For more info: http://houstonslavicheritagefestival.com. Knights of Columbus Hall, Whitney Oaks Drive.
October 13th Wisconsin's Anita Smisek Hymn Fest Concert 4:00 p.m. Saturday. Location to be announced.
October 15th Treena and Tom Rowan Art/Photography Exhibit through November 15th.
October 27th Czech Oktober Fest (2nd Annual) celebrating Czech/Slovak National Day of October 28, 1918.
November 10th Houston Peace and Justice Center Annual Banquet. Contact 713

.

515.6370.
November 17th CCMH celebrates the Velvet Revolution of November 17, 1989 in then Czechoslovakia resulting in overthrow of communism with return to democracy as the Second Republic.
December 6th 18th Annual Traditional Celebration Eve of St. Nicholas Day with an incredible display of multiple antique Czech/Slovak nativities (Betlems). We are very excited for this marvelous exhibit through January 2013.

For your Viewing and Listening Pleasure at the Czech Center Museum Houston:
CCMH Foyer. Art Nouveau Beveled glass doors and windows; The 1850 palace low-boy chest with Hanak Biblical Times Ceramics Art Collection by Czech Karel Hanak highly awarded academic artist for bringing past history to the future; A gemstone globe on the antique lawyer's desk; The Pekar family gold table holds ceramics and awards.
Wenceslas Chapel. Czech Crystal Chandeliers, Stained Glass Windows, Antique Castles/Chateau furniture and paintings; King Wenceslas on his horse is as on Wenceslas Square in Prague.
Brno Gallery. Porcelain and numerous collections, paintings, and antique furniture with King Rudolf II to greet you!.
The Presidents Room includes the Ermis ceramics collection; Rev. Paul Chovanec Moser collection; Eggermann, Bohemian crystal; Brychta figures and Hoffman boudoir pieces; the President's portraits.
Prague International Museum Gift Shop. A collection of heirlooms, antiques and only twenty items left of 100 year-old collection, jewelry, art.
Grand Staircase Landing and Pilsen Hall features magnificent artworks of Houston's own John Pavlicek, showing regularly at Gremillion Gallery.
Prague Hall Ballroom filled with permanent exhibits of Czech Masters Alfons Mucha, Father of the Art Nouveau Movement and Czech born American international artist to presidents, royalty and art patrons of all ages Kamil Kubik Impressionist of landscape and cityscape paintings plus more Crystal Chandeliers and Petrof baby grand piano.
Pilsen Hall features Roy Cullen's Prague International Ballet in Houston debut, Photo gallery; Folk Art Galerie with 1750s village wedding and models with festival dress; permanent exhibit of the Ottervik Collection of 1,289 pieces of Czechoslovakian Art Glass/Ceramics 1918

-

1938. Note the two special effects Photography by Czech/Slovak born New York artist Jaroslav Pecha on west wall.
Comenius Library. A permanent exhibit of early Czech immigrant rancher/farmer who came to America from Velky Ujezd, Czech lands then Austro-Hungarian Empire in 1903 - the Frank Joseph Tomek family to Cameron, Texas.

NEW! Read a virtual Docent Historical Tour of the Czech Center Museum Houston here...

"Time goes by so fast, people go in and out of your life. You must never miss the opportunity to tell these people how much they mean to you." Anonymous
Questions or comments or to be removed, please email first and last name to czech@czechcenter.org.
Effie M. Rosene, Chair/CEO, on behalf of Board of Directors, Volunteers and Members and Friends.
This organization is supported in part by a grant from the

City of Houston

through the


Houston Arts Alliance

and by the

contributions of our Members and Volunteers.