NEWS FROM THE CZECH CENTER MUSEUM HOUSTON - OCTOBER 12, 2012
From the Heart of Europe to the Heart of Houston Texas
in the Museum District
4920 San Jacinto Street, Houston, Texas 77004 - 713.528.2060
czech@czechcenter.org
www.czechcenter.org
Open Monday - Saturday 10:00 a.m. to 4:00 p.m.

Let's Celebrate the Second Ever Czech Oktober Fest in Prague Hall, Saturday, October 27, 2012.

The public is invited to join the celebration of Czech-Slovak National Day and Benefit for the Czech Center Museum Houston. Buy $40.00 admission tickets now for a real treat of three flights of three newest fine Lager Czech beers, two wines, other Beverages and complete Festival Dinner of Sausages, Cabbage with Kmin (Caraway), Kasha (creamy Czech style mashed potatoes), Pretzels, additionally purchase strudels, Kolaches and Sausage for take home. The Grand Bonus is three hours of the best in Houston music, The Texas Legacy Czech Band for your dancing and listening pleasure. Please contact CCMH at 713.528.2060 or email events@czechcenter.org for Saturday, October 27, 2012 from 4:00 to 7:00 p.m. in Prague Hall. Wear a festival costume of your design or choice for any country to add to the fun and frolic. October Fests acknowledge Thanks for Harvests all over the world whether it be for Grains, Fruits, Beer or Wines! Not to be missed the CCMH celebrates Czechoslovak State Independence Day (Den vzniku samostatneho ceskoslovenskeho statu). It is the anniversary date of the founding of Czechoslovakia (Bohemia, Moravia, Slovakia, Silesia) and its Declaration of Independence of the First Republic from the Hapsburg Empire October 28, 1918 at end of World War I. Open to the public with music, fun, good food and drink and even costumes as it is also Halloween time!

Exhibition of Art - October 15th - November 17th. The Czech Center Museum Houston is proud to present an exhibition of art by two of its members Tom and Treena Rowan. The Rowans will display 74 pieces of original art in Pilsen Hall and invite everyone to a no-charge Reception introducing the artists and to view their art on Saturday, October 20, 2012 from 2 to 4 p.m. Sale of the art will include a charity contribution to the CCMH.
Please RSVP your attendance so we can plan the refreshments for this no-charge event.
See more information here...

Czechs in the World Celebrate Day of Czech Statehood 2012 in Prague week of September 24 – 30th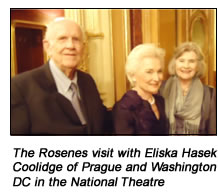 Dear Friends: I welcome you to our celebration, the Day of Czech Statehood 2012, which we gift you, our expatriates as thanks in your widening and strengthening Czech traditions, culture and teaching abroad about the Czech nation. In cooperation with partners, especially the Ministry of Foreign Affairs has coordinated a week's program which highlights the successes of Czechs and Czech organizations around the world. I appreciate that you made time to visit Prague for this event. I know how difficult it is to keep the language, traditions and Czech culture so far from the Motherland. For that I warmly thank you and hope that you will truly enjoy the visit back home. For the Ministry of Foreign Affairs as the coordinator of this program. Karel Schwarzenberg , Minister of Foreign Affairs for the Czech Republic (translation, see original in Czech language...) Celebrations took place at various locations in Prague, The International Conference acknowledging Czech oriented organizations throughout the world with topics of Compatriots and problems of generations and recognizing significant women abroad in work with their homeland. Historical sites of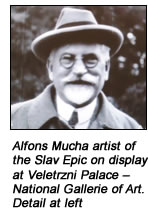 participation included Naprstek Museum, Bio Ponrepo, CzechCentre Prague, the Senate, Waldstein Palace, the Tuscany Palace, St. Ignatius Church, the National Museum New Building, the National Museum Vitkov, Jewish Museum, National Archives,Pilgrimage to Stara Boleslav, Klimentinum, National Theatre Historical Building and Hradcany Square. Two evenings of celebration included Thursday September 27th at the National Monument of Vitkov.Three renowned folklore groups included Hlubina of Ostrava with cymbal, dance and songs of Silesia – Lassky; the group Postrekov of Chodsko fame and Velicka from Hornacko and Moravian Slovacko.The evening of the 28th the historical National Theatre presented the highly awarded Dory Vicenikove "Korrespondence V+W" a play mapping the written to each other political wrongs by actors artists Voskovec and Werich, their life paths divided after February 1948 communist occupation. See more pictures...

Donate to this organization by your purchase of an engraved Marble tile to celebrate or honor someone important in your life by inscribing Your Name or your Honoree's Name on a tile as a lasting and meaningful memento of thoughtfulness and support of the mission of this unique Museum District site. The inscribed tile will be mounted in the Honor Courtyard at this beautiful Baroque building. A personalized tile, in your name, memory or honor of family and friends will forever be a part of the history and tradition of the Czech Center Museum Houston. By subscribing to a tile you will automatically become a member of the CCMH or extend your existing membership. Tile Sizes: 4 x 12, $250; 6 x 12, $500; 8 x 12, $750; 12 x 12, $1,000; $5,000 & $10,000 Top Row with Gold Border. $1,000 donations and above qualify for Lifetime Membership and Support. For assistance in building your tile call 713.528.2060.


We Miss: On June 27, 2012 CCMH celebrated in Prague Hall Life at 100 Years of the long-time member and supporter, Elizabeth Cupitt. The beautiful Elizabeth died Friday, September 14, 2012.  She was the aunt of Board Member Sally Eisen Miller and husband, David Miller.
On Friday, October 5, 2012 CCMH mourned the loss of a great friend, Janell Gilmore Pustejovsky – wife of Board Member Wesley Pustejovsky. Long-time supporters their work will forever be noted in the exquisite taste of stained glass windows in the Museum's Wenceslas Chapel and in the Presidents Room and the Chapel portrait of St. Wenceslas on his horse, patron of the Czech land just as he stands on Wenceslas Square in Prague. Please honor Wesley, his sons and daughters and grandchildren who all support the CCMH in their attendance and volunteering, with your thoughts and prayers. Janell will be remembered as a kind, generous, elegant lady with a lovely smile.

2012 Gala News SPJST Supporters Made the Czech Center Museum Houston 2012 Gala a Roaring and Rollicking Success! See associated pictures...

We Honor our Volunteers - We honor, not just today, but every day, our Volunteers, members of the Czech Center Museum Houston Guild. They Tend the Prague International Gift Shop, give Docent Historical Tours, Meet every visitor to the CCMH from around the world, Answer every telephone call for its execution. We Educate all who enter, the importance of embracing their heritage from wherever, to know who they are, as the roots to being a citizen of the world, not only as Texans or as Americans. Volunteers are unpaid, yet give financial and charitable support to help grow our institution to be enjoyed by others via education, service, the arts, culture, history and heritage. We honor our Ancestors in whose memory the CCMH was built, to remember they came to America through great trials and tribulations, stayed, and made a difference, as all immigrant groups have. We honor all our Members, Friends, Board Members, past Board Members. We honor their "stepping up" in great attitude and aptitude to administer the Museum's needs.

Please help the Czech Center Museum organization by enrolling your Kroger Card in their Neighbor to Neighbor program to make a contribution to our organization! It's easy. The cashier merely flashes your existing card along with the attached barcode and every time you shop, a small contribution will be made. Click here for barcode...

Save these 2012 Calendar dates

(All events at Czech Center Museum Houston unless noted) RSVP to 713.528.2060.
October 15 Treena and Tom Rowan Art/Photography Exhibit through November 17th. RSVP here...

October

20 Free Reception 2:00 to 4:00 p.m. to meet the Artists and view the Art. RSVP 281.821.2674.

October

21 Museum of Fine Arts Houston. Screening film "Hair" in celebration of Czech films director Milos Forman, 80th birthday.
October 27 Czech Oktober Fest - RSVP to purchase tickets events@czechcenter.org or 713.528.2060.
November 2012 at MFAH check date and time for Czech film "Daisies" (Sedmikrasky) produced by Czech Director Vera Chytilova (1966) - English subtitles.
November 10 Houston Peace and Justice Center Annual Banquet. Contact 713.515.6370.
November 17 CCMH celebrates the Velvet Revolution of November 17, 1989 in then Czechoslovakia resulting in overthrow of communism with return to democracy as the Second Republic.
December 6 18th Annual Traditional Celebration Eve of St. Nicholas Day with an incredible display of multiple antique Czech/Slovak nativities (Betlems). We are very excited for this marvelous exhibit through January 2013.

For your Viewing and Listening Pleasure at the Czech Center Museum Houston:
CCMH Foyer. Art Nouveau Beveled glass doors and windows; The 1850 palace low-boy chest with Hanak Biblical Times Ceramics Art Collection by Czech Karel Hanak highly awarded academic artist for bringing past history to the future; A gemstone globe on the antique lawyer's desk; The Pekar family gold table holds ceramics and awards.
Wenceslas Chapel. Czech Crystal Chandeliers, Stained Glass Windows, Antique Castles/Chateau furniture and paintings; King Wenceslas on his horse is as on Wenceslas Square in Prague.
Brno Gallery. Porcelain and numerous collections, paintings, and antique furniture with King Rudolf II to greet you!.
The Presidents Room includes the Ermis ceramics collection; Rev. Paul Chovanec Moser collection; Eggermann, Bohemian crystal

: Bodien's

Brychta figures and Hoffman boudoir pieces; the President's portraits.
Prague International Museum Gift Shop. A collection of heirlooms, antiques and only twenty items left of 100 year-old collection, jewelry, art.
Grand Staircase Landing and Pilsen Hall features magnificent artworks of Houston's own John Pavlicek, showing regularly at Gremillion Gallery.
Prague Hall Ballroom filled with permanent exhibits of Czech Masters Alfons Mucha, Father of the Art Nouveau Movement and Czech born American international artist to presidents, royalty and art patrons of all ages Kamil Kubik Impressionist of landscape and cityscape paintings plus more Crystal Chandeliers and Petrof baby grand piano.
Pilsen Hall features Roy Cullen's Prague International Ballet in Houston debut, Photo gallery; Folk Art Galerie with 1750s village wedding and models with festival dress; permanent exhibit of the Ottervik Collection of 1,289 pieces of Czechoslovakian Art Glass/Ceramics 1918 - 1938. Note the two special effects Photography by Czech/Slovak born New York artist Jaroslav Pecha on west wall.
Comenius Library. A permanent exhibit of early Czech immigrant rancher/farmer who came to America from Velky Ujezd, Czech lands then Austro-Hungarian Empire in 1903 - the Frank Joseph Tomek family to Cameron, Texas.

NEW! Read a virtual Docent Historical Tour of the Czech Center Museum Houston here...

"Time goes by so fast, people go in and out of your life. You must never miss the opportunity to tell these people how much they mean to you." Anonymous
Questions or comments or to be removed, please email first and last name to czech@czechcenter.org.
Effie M. Rosene, Chair/CEO, on behalf of Board of Directors, Volunteers and Members and Friends.
This organization is supported in part by a grant from the

City of Houston

through the


Houston Arts Alliance

and by the

contributions of our Members and Volunteers.