NEWS FROM THE CZECH CENTER MUSEUM HOUSTON - NOVEMBER 16, 2012
From the Heart of Europe to the Heart of Houston Texas
in the Museum District
4920 San Jacinto Street, Houston, Texas 77004 - 713.528.2060
czech@czechcenter.org
www.czechcenter.org
Open Monday - Saturday 10:00 a.m. to 4:00 p.m.


November 17 Is Twice as Important for Czechs
November 17 is not at all just an ordinary day in the Czech Republic. If you take a look at the Czech calendar, you will see that November 17 is marked as a public holiday. It is called the Day of Struggle for Freedom and Democracy beginning with Nazi subjugation. It is a very important day for Czechs not only for one, but for two reasons! November 17 is also remembering the Velvet Revolution of 1989 and the overthrow of communism after forty-three years. On this day, Czechs commemorate two remarkable events in Czech history. See why...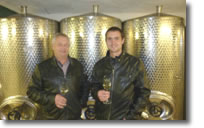 Treasures of Moravian Wine
Winemakers Jaroslav (Jarek) Slichta Sr. left and Jarda (Jaroslav, Jr.) stand in front of gleaming stainless steel vats holding a treasure of Moravian wine in their wine hall where their visitors taste the many varieties of prize winning wines. Wine making is a year around endeavor and one where the work is as much an art as a beautiful music score or a painting. Putting their heart and soul into making wine, practicing their craft, learning something new every season one can appreciate their feeling when something happens to their beloved vineyards such as early morning unexpected frost. Read more of Jarek's response to a newspaper...

Celebrating the Second Ever Czech Oktober Fest in Prague Hall, Saturday, October 27, 2012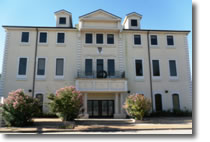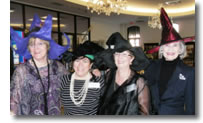 The guests at the celebration of Czech-Slovak National Day and Benefit enjoyed three flights of fine Lager Czech beers (Zatec, Rebel and Staropramen) and two wines, a complete Festival Dinner of Sausages, Caraway Cabbage, Kasha (creamy Czech style whipped potatoes), European Pretzels and a Strudel dessert. The Bonus was three hours of the best in Houston music by Bob Suttie's Texas Legacy Czech Band. Attendees were encouraged to wear festival costumes to add to the fun and frolic. October Fests acknowledge thanks for a good harvest. The timing of our Oktober Fest is for the CCMH to celebrate Czechoslovak State Independence Day (Den vzniku samostatneho ceskoslovenskeho statu). It is the anniversary date of the founding of Czechoslovakia (Bohemia, Moravia, Slovakia, Silesia) and its Declaration of Independence of the First Republic from the Hapsburg Empire October 28, 1918 at end of World War I.





lt. to rt: Oleanders in Bloom; Carol Vacca, Eva Maria Campo, Virginia Stoner and Effie Rosene; Lillian Dulaney and guests; Dorothy & Larry Pflughaupt; John & Georgia Klesel; Bill and Pam Drastata, center, with guests Bill and Pichie Schneider; Jacob & Andrea Pustejovsky; Barbara & Bennie Matusek; Tom & Treena Rowan; Effie and bandleader Bob Suttie; Tim Opatrny and Sally Miller, center; with Bill Rosene, Rev. Paul Chovanec, Board Member; Lorraine Rod Green, Board Member Emeritus and Len Green; Honorary Board Members Mary and Frank Pokluda; Room Panorama with Marketa, Sergio and Oliver Du Rooy; DeLois Wimmer, lt., and Ginny Stoner. The clear first prize winner for best costume was Carol Vacca of the Witch Group although all deserved awards!
Please view more pictures here...

We Value Our Friends at SPJST Lodges 88 and 142, who continue their unflagging monetary and spiritual support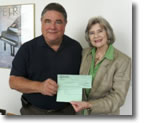 of the mission of our organization and theirs to honor the heritage and culture of our forebears. Meanwhile, Effie and Bill Rosene are continuing their effort to charter Lodge 232 - Midtown Houston - with the help of Larry and Dorothy. During the Czech Days of October, CCMH was given a table at Lodge 88's Czech Day celebration representing our organization's Prague International Gift Shop. We took the opportunity to meet and greet many of our mutual members of both organizations who know the value of supporting all organizations with the same goal. Larry Pflughaupt, District 5 Director, presents a check of support to Effie Rosene on behalf of SPJST. Larry is a proud former Board Member of CCMH. Please see attached pictures of 88's Czech Day Sunday, October 28, 2012 here...

We Salute the Mach Family. Monday, November 5, 2012, we supported one of our Board Members and our close neighbor, good friends, the Holocaust Museum Houston at the Hilton Americas Hotel. The Harry Mach family, Harry, Cora Sue, Butch and Carmen, Steven and Joella, were awarded the Guardian of the Human Spirit award at this prestigious event with hundreds of attendees. Effie and Bill along with Father Paul Chovanec and Sally Miller attended this almost spiritual event. A Holocaust survivor gave a heart wrenching story of how she was saved by a heroic family in the Netherlands. The award stated "Through a lifetime of actions across family generations, the honorees have reached beyond themselves to make Houston a better community for all of us." Please join Bill and me in congratulating this wonderful giving family. It is a significant tribute. To paraphrase: J.C. Penny said "It wasn't the worth of the person but what one returns to the community."

Make a Lasting Gift to the CCMH - Leaving a Legacy
You are important and indispensable to the health and success of this organization. Make a lasting gift by leaving a legacy. Consider joining the fifteen members who have already benefited from making a Certificate Loan to CCMH. You will benefit financially by earning 4½% annual interest, or to leave a legacy to designate the earnings remain as a gift to the CCMH. Consider perpetuating the assets of this loan and/or purchasing a Charitable Gift Annuity as a means to continue your support with the earnings accruing to you in your lifetime with the principle remaining with the CCMH. Consider a Planned Gift to support a perpetual endowment of $1,000,000 to assure the financial security of the CCMH and strengthen our mission of preserving our heritage and global citizenship. If we can be of assistance to you in this endeavor, please call Bill at 713.528.2060. We need you more than ever now!

Pilsen Hall Art Fair Continues through December 6, 2012. The Czech Center Museum Houston proudly presents the original paintings and photo art by two of its members, Tom and Treena Rowan. Any sale of the 74 pieces will benefit the CCMH as 25% of the sale price will be donated. The art would make great Christmas Gifts! See more information here...

Czechs in the World Celebrated Day of Czech Statehood 2012 in Prague September 24 - 30th.
See Pictures...

Remember or Honor by your purchase of an engraved Marble tile to celebrate or honor someone important in your life by inscribing Your Name or your Honoree's Name on a tile as a lasting and meaningful memento of thoughtfulness and support of the mission of this unique Museum District site. The inscribed tile will be mounted in the Honor Courtyard at this beautiful Baroque building. A personalized tile, in your name, memory or honor of family and friends will forever be a part of the history and tradition of the Czech Center Museum Houston. By subscribing to a tile you will automatically become a member of the CCMH or extend your existing membership. Tile Sizes: 4 x 12, $250; 6 x 12, $500; 8 x 12, $750; 12 x 12, $1,000; $5,000 & $10,000 Top Row with Gold Border. $1,000 donations and above qualify for Lifetime Membership and Support. For assistance in building your tile call 713.528.2060.

We Honor our Volunteers - "We honor, not just today, but every day, our Volunteers, members of the Czech Center Museum Houston Guild. They Tend the Prague International Gift Shop, give Docent Historical Tours, Meet every visitor to the CCMH from around the world, Answer every telephone call for its execution. We Educate all who enter, the importance of embracing their heritage from wherever, to know who they are, as the roots to being a citizen of the world, not only as Texans or as Americans. Volunteers are unpaid, yet give financial and charitable support to help grow our institution to be enjoyed by others via education, service, the arts, culture, history and heritage. We honor our Ancestors in whose memory the CCMH was built, to remember they came to America through great trials and tribulations, stayed, and made a difference, as all immigrant groups have. We honor all our Members, Friends, Board Members, past Board Members. We honor their 'stepping up' in great attitude and aptitude to administer the Museum's needs."

Kroger, a Community Contributor. Enroll your Kroger Card in their Neighbor to Neighbor program to make a contribution to the CCMH. It's easy. The cashier merely flashes your existing card along with the attached barcode. Click here for barcode...

Save these 2012 Calendar dates

(All events at Czech Center Museum Houston unless noted) Please RSVP to 713.528.2060.
December 6th - 18th Annual Traditional Celebration Eve of St. Nicholas Day Dinner with an incredible display of multiple antique Czech/Slovak nativities (Betlems). We are very excited for this marvelous exhibit through January 2013. Join the Forever Young and the Younger. Book now.
Through December 6th - Treena and Tom Rowan Art/Photography Exhibit in Pilsen Hall.
December 15th - EUROPEAN CHRISTMAS MARKET - Prague International Gifts Shop


Saturday, 9:00 a.m. to 5:00 p.m.  Treat yourself to Music, Refreshments, Unique Gifts.

For your Viewing Pleasure
check out the Art Everywhere Collection in this Beautiful Baroque Palace. See here...

NEW! Read a virtual Docent Historical Tour of the Czech Center Museum Houston here...

"Time goes by so fast, people go in and out of your life. You must never miss the opportunity to tell these people how much they mean to you." Anonymous
Questions or comments or to be removed, please email first and last name to czech@czechcenter.org.
Effie M. Rosene, Chair/CEO, on behalf of Board of Directors, Volunteers and Members and Friends.
This organization is supported in part by a grant from the

City of Houston

through the


Houston Arts Alliance

and by the

contributions of our Members and Volunteers.