NEWS FROM THE CZECH CENTER MUSEUM HOUSTON - DECEMBER 21, 2012
From the Heart of Europe to the Heart of Houston Texas
in the Museum District
4920 San Jacinto Street, Houston, Texas 77004 - 713.528.2060
czech@czechcenter.org
www.czechcenter.org
Open Monday - Saturday 10:00 a.m. to 4:00 p.m.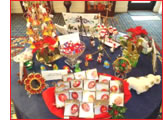 EUROPEAN CHRISTMAS MARKET – Prague International Gifts Shop. There is still time for hassle-free shopping!!!!!
Open Mon – Sat 10:00 a.m. to 4:00 p.m. Treat yourself to Music, Refreshments, Unique Gifts with generous discounts!!!!!

MERRY CHRISTMAS
Greetings from your friends at the Czech Center Museum Houston with wishes to you for all the Blessings of the Season. May you enjoy the Holidays with Family and Friends. May the good times and treasures of the present become the golden memories of tomorrow with wishes for good health, joy and happiness throughout the New Year 2013! Let us hope, pray and work towards Peace in the World!

Humanitarian Award Honorees are Part of the Ancient Celebration of St. Nicholas Eve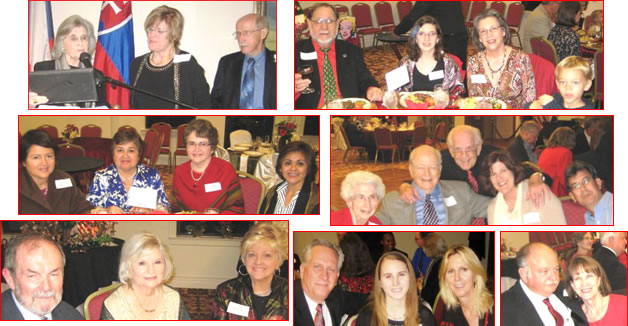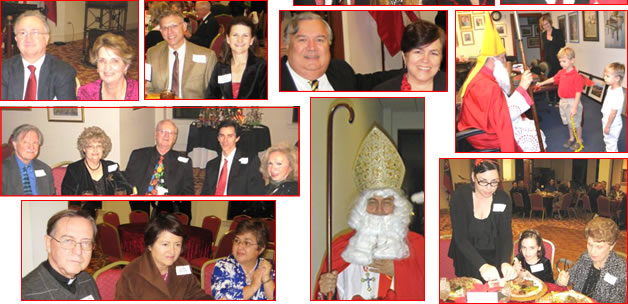 At the Czech Center Museum Houston on December 6th in Brno Gallery, St Nicholas (Rev. Paul Chovanec) and angel and devil, brothers Will and Lucas Vavrek Odom, greeted each and every guest while Christmas cheer Wassail and delicate skewered hors d'oeuvres were butler passed to a large delightful crowd. Children from two to ninety two enjoyed Mr. Robert Dvorak at the piano until Dinner Service began in Prague Hall. Opening ceremonies were initiated by Effie Rosene and Rev. Chovanec. A delectable Slavic epicurean feast was served by Ral's Fine Catering including Sirloin in mushrooms au jus, Kasha whipped new potatoes in cream and grilled colorful vegetables of the season accompanied by European artisan breads. Member artist Treena Rowan personally baked her family's Czech Slovak Christmas cookies. More Wassail, tea, coffee, Czech Beers and Texas Wines were enjoyed throughout a beautiful concert of various language Christmas carols performed by Ukrainian heritage mezzo-soprano Lisa Hudanich.
  Presentations included Volunteers Par Excellence, Carol Triska Vacca and husband Herman Vacca.  She introduced her large family who attended.  Attending Honorary Board members, Frank and Mary Pokluda, Cecilia Forrest and Jane Cyva were awarded official documents in acknowledging their financial support and service to CCMH, honoring their time, talents, voice, resources and attendance at functions.  Unable to attend, Julie Halek Kloess, Robert Janak, Betti Saunders, Drs. Tomas and Marcella Klima, Emil Kovalcik, John R. Vacek, Marion Bell, Marion Freeman and Ralph Marek Family will receive theirs by mail.
Another highlight was the 40th Birthday Celebration of Kim Vavrek Odom who with husband Gary invited their entire family. Kim said not everyone can say they spent their 40th in glorious Prague Hall and with that cute angel and devil, the Odom brothers. The event concluded with the delightful cabaret sound of Herman Vacca at the keyboard.
A miraculous orchestration by our Volunteers transformed Prague Hall with deep red velvet and black tablecloths, gold chargers and a sea of glittering red Poinsettias centerpieces into a special Christmas season evening. While other volunteers served other important tasks, we are especially beholden for the beautiful decorating to Terese Marik Wagner, Carol Vacca, Virginia Stoner, Cori Wagner Phelps and Eva Maria Bartoskova Campo. The Czech Center Museum Houston honors all its Volunteers that day and every day.


Historical Texas Nativity Art of Ferdinand Pribyl 1840-1915. Coming Spring 2013, date to be announced.
Ferdinand Pribyl and his family emigrated from his native Moravia in the 1880s and settled in Fayetteville, Texas.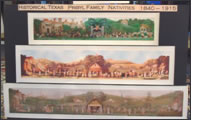 They moved to La Grange and then Hallettsville, before joining Ferdinand's brother, Jan, in Victoria. In his late 60s or early 70s with no prior artistic training, Pribyl began work on the nativity scenes.
Massive 10 to 20 ft dioramas, Pribyl hand painted the nativity scenes on cardboard from oatmeal boxes, postcards, and shirt boxes. The vibrant and colorful scenes depict the traditional Bethlehem stable against the background of Pribyl's native Moravia, a province of Czechoslovakia. The four-tiered dioramas use vivid colors and include numerous characters and animals across scenes of lush green hills, stone buildings, earthy farmhouses, and wooden sheds. The highlight of the event will be a presentation titled "Ferdinand Pribyl, the Artist and the Man" by Bette Stockbauer-Harris, a descendent of Pribyl's adopted son, Albert Stockbauer. The presentation centers on information chronicled from the Czech-to-English translation of letters, written between Ferdinand Pribyl and his brother, Jan Pribyl, during the years before he immigrated to America. It tells of the journey he, his wife and son Anton, undertook before arriving and settling in Victoria County. The nativities have been passed to 4 generations of close family members and friends.

CCMH's Philanthropic Angels – Angels Bearing End-of-the-Year Gifts at this Special Season.
At the date of publication, the following have made generous contributions in response to our appeal. Celestial Angels: Marek Family Foundation – Ralph Marek; Briggs & Veselka Co. – Johnny Veselka; Elbert & Ann Link; Mary & Frank Pokluda. Glorious Angels: Larry & Cathy Rosene Anderson; Judge Gladys Oakley; Sandra & Ed Pickett; Rudolph Rusnik; Jean Stratton. Golden Angels: Jane Cyva; James & Danette Poux; Kyle Kahanek. Blessed Messenger: Catholic Family Fraternal – Liz Zemanek; Hattie & John Drozd; Richard & Traci Dvorak; Jean & Duane Humlicek; Larry Janak; Jennifer Novak; Robert & Carol Stankovsky; Sally Teresinski; Rebecca Kovalcik Werlla.
There is still time to make an End of the Year Donation for the Taxable year 2012. Thanks to previous support, we are at the midpoint of an effort to complete the buildout of the Third Floor aptly named Kloess Pilsen Hall. It has been an eight year process to finish a floor that was left in an unfinished state due to the unavailability of funds. At this time the installation of air conditioning, carpeting 70% of the floor, some electrical work, some partitioning to make it semi-usable has been completed. There is a contract to provide a permanent ceiling and upgraded lighting in the above 70% portion. Work remains to complete the remaining unfinished portion to provide rest rooms, offices, archive space and a small catering kitchen, which will be completed as funds are available. You are asked to contribute to complete the third floor by your end of the year donation. We ask you to consider any amount to be applied to this effort. The result will be another great gathering venue, upgraded services and display facilities. Thank you for your consideration. Please remember any amount would be appreciated so very much! Effie M. Rosene, Chairman and Chief Executive Officer



Current Exhibit Photo Art Series Prague
A closed collection of twenty-one beautiful
art pictures of Prague by Victoria Asinovsky.
On view through January 9, 2013.
Priced from $39 through $175. Choose
from mounted or framed.

Make a Lasting Gift to the CCMH - Leaving a Legacy
You are important and indispensable to the health and success of this organization. Make a lasting gift by leaving a legacy. Consider joining the fifteen members who have already benefited from making a Certificate Loan to CCMH. You will benefit financially by earning 4½% annual interest, or to leave a legacy to designate the earnings remain as a gift to the CCMH. Consider perpetuating the assets of this loan and/or purchasing a Charitable Gift Annuity as a means to continue your support with the earnings accruing to you in your lifetime with the principle remaining with the CCMH. Consider a Planned Gift to support a perpetual endowment of $1,000,000 to assure the financial security of the CCMH and strengthen our mission of preserving our heritage and global citizenship. If we can be of assistance to you in this endeavor, please call Bill at 713.528.2060. We need you more than ever now!

Remember or Honor by your purchase of an engraved Marble tile to celebrate someone important in your life by inscribing Your Name or your Honoree's Name on a tile as a lasting and meaningful memento of thoughtfulness and support of the mission of this unique Museum District site. The inscribed tile will be mounted in the Honor Courtyard at this beautiful Baroque building. A personalized tile, in your name, memory or honor of family and friends will forever be a part of the history and tradition of the Czech Center Museum Houston. By subscribing to a tile you will automatically become a member of the CCMH or extend your existing membership. Tile Sizes: 4 x 12, $250; 6 x 12, $500; 8 x 12, $750; 12 x 12, $1,000; $5,000 & $10,000 Top Row with Gold Border. $1,000 donations and above qualify for Lifetime Membership and Support. For assistance in building your tile call 713.528.2060.

We Honor our Volunteers - We honor, not just today, but every day, our Volunteers, members of the Czech Center Museum Houston Guild. They Tend the Prague International Gift Shop, give Docent Historical Tours, Meet every visitor to the CCMH from around the world, Answer every telephone call for its execution. We Educate all who enter, the importance of embracing their heritage from wherever, to know who they are, as the roots to being a citizen of the world, not only as Texans or as Americans. Volunteers are unpaid, yet give financial and charitable support to help grow our institution to be enjoyed by others via education, service, the arts, culture, history and heritage. We honor our Ancestors in whose memory the CCMH was built, to remember they came to America through great trials and tribulations, stayed, and made a difference, as all immigrant groups have. We honor all our Members, Friends, Board Members, past Board Members. We honor their "stepping up" in great attitude and aptitude to administer the Museum's needs.

Speaking of Angels, Special Accolades are due to Lillian Horak Dulaney, a Member since March 12, 2001, prime caretaker for her sisters, brother, her own children including a special needs son. Lillian makes certain they attend CCMH events.

Kudos from our Friends:
"Case Western Reserve University Alumni found the Czech Center Museum Houston a wonderful facility for our December 1, 2012 event." Henrietta and John Haessly.
"Following a beautiful family wedding in Houston we enjoyed Jenny's tour of CCMH on the day of your organization's Annual August Gala, a grand venue to show off to thoroughbreds in our family." The Kenneth Kronholz Family.

Kroger, a Community Contributor. Enroll your Kroger Card in their Neighbor to Neighbor program to make a contribution to the CCMH. It's easy. The cashier merely flashes your existing card along with the attached barcode, and every time you shop, a small contribution will be made. Click here for barcode...

"Time goes by so fast, people go in and out of your life. You must never miss the opportunity to tell these people how much they mean to you." Anonymous
Questions or comments or to be removed, please email first and last name to czech@czechcenter.org.
Effie M. Rosene, Chair/CEO, on behalf of Board of Directors, Volunteers and Members and Friends.
This organization is supported in part by a grant from the

City of Houston

through the


Houston Arts Alliance

and by the

contributions of our Members and Volunteers.