NEWS FROM THE CZECH CENTER MUSEUM HOUSTON - FEBRUARY 1, 2013
From the Heart of Europe to the Heart of Houston Texas
in the Museum District
4920 San Jacinto Street, Houston, Texas 77004 - 713.528.2060
czech@czechcenter.org
www.czechcenter.org
Open Monday - Saturday 10:00 a.m. to 4:00 p.m.

The New Year has arrived.
The first month is gone, but once again, we wish you and yours a 2013 with good health and success in your endeavors. We hope the good times you had with family and friends in 2012 become the golden memories of 2013.

It's almost St. Valentine's Day - February 14th. The Prague International Gifts Shop is lovely with new inventories of collectable gifts including porcelain flowers and figurines; Antique crystal Vases, crystal pitchers, wine carafes and bowls; porcelain dinner sets; Czech crystal necklaces, earrings and bracelets; toys, books and all year round Christmas ornaments. We also have lovely new music CDs of beautiful Czech Vocalist Daniela Magalova internationally known for lovely Ballads and Christmas Carols. Of course, we always have a plentiful supply of Czech folk, country and classical music of the Masters. If you can't come in, call us! We are really customer friendly. Easter holiday follows very quickly and for collectors there are hand painted eggs and various other eggs plus porcelain bunnies and animals to love.
Are you a Mozart aficionado? You know the world just celebrated his 257th Birthday! He was a great fan of the Czechs and vice versa. We have an absolutely exquisite miniature portrait of him in an ivory frame at exactly one third of the published price we have seen for these miniature portraits. He can be yours if you love him more than we! Speaking of lovely gifts for lovely occasions there are the Birthdays, the Graduations, the Weddings, the Confirmations and First Communions, Quinceaneras, Mother's and Father's Days and certainly the Bar and Bat Mitzvahs and Just Because. Our collectables are more unique than most great Boutiques.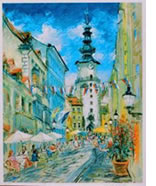 19th Annual Members and Friends Dinner Saturday, March 9, 2013. The Czech Center Museum Houston, in the Museum District, presents Dinner and A Musical Evening Festival, Treasures Bazaar, Auction beginning at 5:30 p.m. with a Cocktail Reception benefiting completion of the building's third floor. Special guest Raymond J. Snokhous, Honorary Czech Consul General of Texas, will briefly remark on the State of Czech Heritage in Texas at 6:30 p.m. Hanus Prague Hall; 7:00 p.m. Dinner Served, Entertainment & Dancing. Painting on left - Michael's Tower in Old Town Bratislava by Kamil Kubik (1936 – 2011 N.Y.C) Czech Slovak born Impressionist.
RSVP 713-528-2060 or events@czechcenter.org. Thank you for your reply prior to March 1, 2013. Business, Cocktail Attire. For Invitation and Return Card, please see here...

Janacek Festival at University of North Texas – February 6 - 9, 2013. Try hard to make this festival. We are sure you will be amply rewarded by richness of the music and the pre-concert lectures that will help bring the music alive. Tom Sovik, Professor, College of Music, University of North Texas writes, "We're going to have a world-class array of visitors from the Czech Republic and a fabulous schedule of performances of Czech music and lectures about Czech music. We've arranged for a luncheon and a banquet, and even for a conference hotel to save you some money. So, come up to Denton and immerse yourself in 'our' music!"
"See the website at janacek.unt.edu (do not type "www"). Questions? Just call me on my cell 817-287-9644. Finally, please consider becoming a 'platinum supporter' with a contribution of $1,000 (or more), which will furnish a table for eight at the Gala on February 9, 2013. I've already made mine, and I have my fingers crossed that a few more people and/or organizations will belly up to the bar to support the cause. As you can imagine, the price tag on this festival is a zinger! This Festival has been supported by the Czech Educational Foundation of Texas and the Dr. Jim and Rose Bezdek Endowment Fund Celebrating Czech Music and Culture and contributions from many supporters." The Czech Center Museum Houston is also privileged to support donation to this magnificent effort for Texas and the U.S. See here for Festival program...

We Have Great News and a Great Opportunity!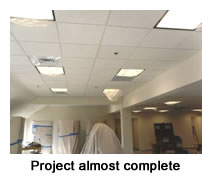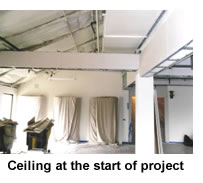 Pilsen Hall has been in the construction mode of permanent ceiling, lighting etc. since a week before Christmas! Besides the necessary general lighting required, this beautiful Hall needs the addition of six smaller Czech chandeliers to be in coordination with the other two floors in this Baroque Palace. Five are planned for the Main Hall - three on the East side, two on the North side and one in Comenius Library. It's a great opportunity for you to underwrite a chandelier. Please will you help CCMH with that? Barbara Mikulik will! She bought the first one! We also need to say how much we appreciate the inimitable service of Marek Family Companies throughout this construction! Their people are so professional, so kind, so caring, so sensitive to their clients' needs and satisfaction. So pervasive, this attitude permeates through to every service person including, unbelievably, even their sub-contractors! You would wish to work with people like this every day or even take them home with you. It's certainly a tribute to Mr. Ralph Marek and son Stan Marek company principles (and other family members). Yes, they are members and they did all the drywall work originally in our building 2002-2004, but they do this kind of precise special work for all their clients. We can't wait to show off Pilsen Hall - it is beautiful with a great third floor view. It will elegantly show off our 1289 piece Czech Art glass collection from donors Eric and Barbara Ottervik, like the real jewels they are. We believe this room is destined to hold many happy, important gatherings. We believe the adjacent Comenius Library named for that great Moravian Czech Jan Amos Komensky - Father of Education to the World, will receive accolades as well. We are proud these spaces were inaugurated for an official meeting of Czech Republic Prime Minister Karel Schwarzenberg with a fifty member delegation in June, 2011. An historical document was signed here, a scientific collaboration between Texas A&M Nuclear Energy Research Institute, our Bay City, Texas Nuclear Plant and Czech Republic Nuclear scientists representing three Czech Universities prior to a state dinner with Mr. Schwarzenberg, our Texas Czech Consul General Mr. Ray Snokhous, Ambassadors and other state officials! We are grateful for a major grant from Houston Endowment, Inc., additional support from the Cullen Foundation and member donors.

A Hearty Thanks to CCMH's Philanthropic Angels – Angels Bearing End-of-the-Year Gifts. Thanks to previous support, we are at the midpoint of an effort to complete the build out of the Third Floor aptly named Kloess Pilsen Hall. It has been an eight-year process to finish a floor that was left in an unfinished state due to the unavailability of funds. At this time the installation of air conditioning, carpeting 70% of the floor, some electrical work, and some partitioning to make it semi-usable has been completed. A current contract provides a permanent ceiling and upgraded lighting in the above 70% portion. Work remains to complete the remaining unfinished portion to provide rest rooms, offices, archive space and a small catering kitchen, which will be completed as funds are available. You were asked to contribute to complete the third floor by your end of the year donation. The result will be another great gathering venue, upgraded services and display facilities for the Community's public.

| | |
| --- | --- |
| | Last chance to Remember or Honor by your purchase of an engraved Marble tile to celebrate someone important in your life.The next round of work to inscribe your name or your honoree's on a tile as a lasting and meaningful memento of thoughtfulness and support of the mission of this unique Museum District site will commence on March 1, 2013. The inscribed tile will be mounted in the Honor Courtyard at this beautiful Baroque building. A personalized tile, in your name, memory or honor of family and friends will forever be a part of the history and tradition of the Czech Center Museum Houston. By subscribing to a tile you will automatically become a member of the CCMH or extend your existing membership. Tile Sizes: 4 x 12, $250; 6 x 12, $500; 8 x 12, $750; 12 x 12, $1,000; $5,000 & $10,000 Top Row with Gold Border. $1,000 donations and above qualify for Lifetime Membership and Support. For assistance in building your tile call 713.528.2060. |

| | |
| --- | --- |
| | Make a Lasting Gift to the CCMH - Leaving a Legacy. You are important and indispensable to the health and success of this organization. Make a lasting gift by leaving a legacy. Consider joining the twenty members who have already benefited from making a Certificate Loan to CCMH. You will benefit financially by earning 4½% annual interest, or to leave a legacy to designate the earnings remain as a gift to the CCMH. Consider perpetuating the assets of this loan and/or purchasing a Charitable Gift Annuity as a means to continue your support with the earnings accruing to you in your lifetime with the principle remaining with the CCMH. Consider a Planned Gift to support a perpetual endowment of $1,000,000 to assure the financial security of the CCMH and strengthen our mission of preserving our heritage and global citizenship. If we can be of assistance to you in this endeavor, please call Bill at 713.528.2060. We need you more than ever now! |

We Honor our Volunteers - "We honor, not just today, but every day, our Volunteers, members of the Czech Center Museum Houston Guild. We honor their 'stepping up' in great attitude and aptitude to administer the Museum's needs."

Kudos to our Members/Friends. Dr. Ervin Adam, professor of molecular virology and microbiology, received the Ceska Hlavna Award, the highest scientific award given in the Czech Republic, at a ceremony in Prague in November, 2012.  Adam, an epidemiologist, was honored for his scientific contributions, including his efforts that led to the eradication of polio in Czechoslovakia and his studies in the United States on the role viruses play in causing human cancer.  He received the award from the president of the senate of the Czech Republic.
Source: BCM Family News Link via Cathy Rosene Anderson

Kroger, a Community Contributor. Enroll your Kroger Card in their Neighbor to Neighbor program to make a contribution to the CCMH. It's easy. The cashier merely flashes your existing card along with the attached barcode, and every time you shop, a small contribution will be made. Click here for barcode...

"Time goes by so fast, people go in and out of your life. You must never miss the opportunity to tell these people how much they mean to you." Anonymous
Questions or comments or to be removed, please email first and last name to czech@czechcenter.org.
Effie M. Rosene, Chair/CEO, on behalf of Board of Directors, Volunteers and Members and Friends.
This organization is supported in part by a grant from the

City of Houston

through the


Houston Arts Alliance

and by the

contributions of our Members and Volunteers.