NEWS FROM THE CZECH CENTER MUSEUM HOUSTON - MARCH 31, 2013
From the Heart of Europe to the Heart of Houston Texas
in the Museum District
4920 San Jacinto Street, Houston, Texas 77004 - 713.528.2060
czech@czechcenter.org
www.czechcenter.org
Open Monday - Saturday 10:00 a.m. to 4:00 p.m.

19th Annual Members and Friends Dinner March 9, 2013. Houstonians Awarded by Ministry Foreign Affairs Czech Republic Honorary Czech Consul General of Texas Raymond J. Snokhous presented the highly esteemed Czernin Palace Award at the 2013 March 9 Members Friends Festival Evening of the Czech Center Museum Houston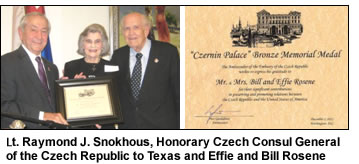 in Prague Hall to Founders W.G. Bill Rosene and Effie M. Rosene. The framed certificate signed by Ambassador Petr Gandalovic in Washington D.C. December 1, 2012 at the Czech Embassy reads "for significant contributions in preserving and promoting relations between the Czech Republic and the United States of America." An engraved Bronze Medal with the two tailed Bohemia Lion and image of the Czernin Palace accompanies it. The museum, one of Houston's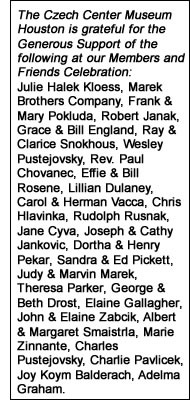 nineteen in the Museum District at 4920 San Jacinto, honors the immigrant ancestors who came, stayed and made a difference helping build the Nation. A 501 [c][3] non-profit educational cultural organization that focuses on teaching all to know their roots, awareness of other cultural groups in our global community as a citizen of the world, for as President Vaclav Havel called, a civil society. As the role model, International City Houston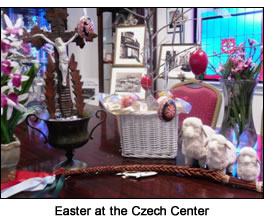 currently has 104 distinct heritages. What an appropriate mission the CCMH espouses through historical artifacts, music, art and lecture.
Czernin Palace One of the most beautiful and most monumental Baroque palaces in Prague, Czernin Palace (Cerninsky palac) is located in Loretanske namesti near the Loreto. It belonged to Czernin of Chudenice, one of the oldest noble families in Bohemia. Legend says the name Czernin might be derived from the word "cerny" (black) as in the fireplace where a small boy was hidden while his whole family was murdered! Built by Italian architect Francesco Caratti in 1668, much of the family funds were spent on building and decorating the palace. The palace once served as a famous picture gallery. Looted by the French in 1742, bombarded by the Prussian, the palace was used as a shelter for poor people and as barracks. Conversely, Jan Rudolf Czernin organized here a gala ball on the occasion of the coronation of Leopold II (5 May 1747 – 1 March 1792), born Peter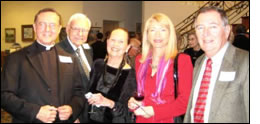 Leopold Joseph Anton Joachim Pius Gotthard, who was Holy Roman Emperor and King of Hungary and Bohemia from 1790 to 1792, Archduke of Austria and Grand Duke of Tuscany from 1765 to 1790. Leopold was son of Emperor Francis I and his wife, Empress Maria Theresa. He was a moderate proponent of enlightened absolutism. Czernin Palace has 30 massive Corinthian half-columns running the length of the upper stories of the palace with the main hall three floors high. Czernin Palace is currently the seat of Ministry of Foreign Affairs, visited by presidents, ministers of foreign affairs and other prominent people from all over the world. It has been the office of ministers of foreign affairs of the former Czechoslovakia 1918 and the Czech Republic 1991, the First and Second Republic. Minister of foreign affairs, Jan Masaryk, son of Czechoslovakia's first President, Tomas Garrigue Masaryk, died as a result of a fall from
the top-floor window of Czernin Palace. It happened after the communist coup in 1948. No one is certain if it was a suicide or a murder.
Czernin Palace Award The Ministry of Foreign Affairs has several awards for various forms of achievement on behalf of the Czech Republic, although none specifically directed at Czech-American relations. The Czernin Palace Award was initiated by Martin Palous, Ambassador, Permanent Representative of the Czech Republic in the United Nations, and former Ambassador of the Czech Republic to the United States from 2001-2005. Ambassador Palous obtained approval for the award from the Ministry of Foreign Affairs, housed in the Czernin Palace, thereby the name of the medal. The award is an honor given to an individual or entity that has made significant contributions to fostering Czech-American relations. Award selection is based on nominations from honorary consuls and honorary consuls general who are entitled to make one nomination each year. See more pictures of the event here...

Easter Holiday and Every Day in our Prague International Gifts Shop. For collectors, there are hand painted eggs, Faberge and various other eggs plus porcelain bunnies and animals to love and so much more. Speaking of lovely gifts for lovely occasions, there are the Birthdays, the Graduations, the Weddings, the Confirmations and First Communions, Quinceaneras, Mother's and Father's Day, Bar and Bat Mitzvahs and certainly the Just Because. Collectables here, heirlooms, are more unique than most great Boutiques in the world market!

Language Czech Online Daily It would be impossible not to learn from these simple distinct lessons. Try it now!
http://www.youtube.com/watch?v=bY9cp7r2CZc or http://www.studyczechonline.com/free-lessons
.

Remember, Honor and Celebrate with an engraved Marble tile of someone important in your life. The next round of work will commence on May 1, 2013. By subscribing to a tile, you will automatically become a member of the CCMH, extend your existing membership and support this Heritage Museum. Tile Sizes: 4 x 12, $250; 6 x 12, $500; 8 x 12, $750; 12 x 12, $1,000; $5,000 & $10,000 Top Row with Gold Border. $1,000 donations and above qualify for Lifetime Membership and Support.

News about our Members/Friends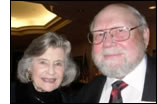 Charlie E. Pavlicek 1933 - 2013 was born in Frydek, Texas on May 5, 1933, to parents Charles A. and Annie Surovcak Pavlicek. He died Thursday, February 28, 2013 at the age of 79. Charlie was preceded in death by wife Audrey Cox Pavlicek. He was a Founding Member, a Board Member and Steering Committee Member. We realized we were cousins whose relationship was brought about by our mutual interest in Heritage and the need to document and celebrate our immigrant family forefathers/mothers who came here, stayed and made a difference. Charlie told me he had propagated the pink-blossomed Czech Rose, which my seventeen year age grandmother, Cecilie Smahel Lezak, brought with her knowing she would never see her homeland again. Charlie planted those roses; its name, "A Rose of a Thousand Leaves," before our CCMH Baroque façade. He often, early on, cut them back, fertilized and loved them. Then Mayor Bob Lanier even planted one of our authentic Czech Roses in the International Rose Garden in Houston's Hermann Park. We will miss Charlie a lot. We looked forward to having him at the Members Friends Dinner March 9, 2013 for which he had sent in a reservation. We'll miss his twinkling eyes, his little smile and wry humor. A very humble man. A great friend of the CCMH. I believe he would be proud to have you remember him. Effie M. Rosene


Jimmy "J.J." Brosch, 89, died peacefully on March 4, 2013 after a brief illness. Jimmy was born on September 24, 1923 in Praha, Texas. He was preceded in death by his daughter, Brenda Sue. He is survived by his loving wife of 64 years Lucy, his four children Paula Krametbauer, Bruce Brosch (Cameron and Ava), Janice (Greg) Hall, Jeff Brosch and granddaughter Katherine Hall.  Jimmy was a World War II veteran and a retired employee of 38 years with Southern Pacific Railroad. He dedicated his life to polka music and had his own band for 46 years, where he popularized the now famous Corn Cockle Polka. He was legendary and active in the polka music industry till the very end.  Effie said, "He was angry with me for making him write his book, Jimmy Brosch Remembers Twenty Legendary Texas Czech Polka Bands," written with Theresa Cernoch Parker, but how proud he was eventually!" Copies are for sale in our Gift Shop. 


Robert Ermis The polka beat nation was saddened to hear about his passing on March 24, 2013 in Houston, Texas. He sang and played accordion with several bands, including Kovanda's Czech Band and the SPJST Lodge 88 Concert Band, and was one of the featured entertainers at events held at the Czech Center Museum in Houston. He was born on May 1, 1953 in Refugio, Texas to Julius Charles Ermis and Leona Stuchly Ermis. He was a kind and generous man with a love of his Czech heritage, his Catholic faith and music, a gifted singer and musician who performed with Kovanda's Czech Band, various choirs including St. Anne's and St. Cecilia's Catholic Churches, the Diocesan choir and the Houston Symphony. In 1992 he was awarded the Texas Male Czech Singer of the Year. He had a wonderful sense of humor.  We needed him for our August 24th Gala.


Jo Ann Goebel Plasek died on February 26, 2013 fighting cancer with all her strength until finally succumbing at home. A native Houstonian, born 1940 in St. Joseph Hospital, grew up in the Heights meeting husband Larry Plasek at Reagan High School and was married for fifty-one wonderful years.  A devoted mother, wife and friend to many who enjoyed her sense of humor, annual birthday cards, generosity and willingness to lend a helping hand regardless of the situation.  She volunteered with Junior Achievement and numerous charities.

Thanks to our members who deduct their contributions to the CCMH by a monthly pledge. Mary Jane Rozypal and Kyle Kahanek use Easy Match Bank of America and Easy Match Halliburton respectively to contribute painlessly.


Did you know you cannot buy Czech Wines in Texas? Shop beverage stores in Texas and you can buy wines made in most every country in the world! But not Czech Wines! We need your help, when shopping to ask why. Read on and you will want to insist that they become available. In vino veritas - in wine is truth! One sun shines on Moravian vineyards. However, the vineyards give incredibly varied wines. Outstanding in their original fruity tones and spiciness resulting in a rich spectrum of aromatic agents and a harmonic full taste. This is the reason why Moravian and Bohemian wines are so popular among lovers of quality and optimally matured wines. High quality, both white and red, are receiving international awards as well as support from fans both within and outside the Czech borders. In southeast Moravia the Danube, Morava and Dyje Rivers provide the warmth and moisture that add to an excellent grape wine crop on the more than 11,000 hectares - 24,000 acres - currently under vine in the Czech Republic. The duty of the host at Dinner Parties toward his/her guests is one of the most ancient and enduring forms of etiquette in human civilization. Before serving, always allow wine time to breathe at room temperature. Never pour wine for guests immediately after opening. It is the host's responsibility to discreetly ensure that the wine is sound and unspoiled. This should be done away from company, and a small amount should be sampled. Always serve wine to your guests in clean, spotless wine glasses, smaller for whites and larger for reds. Make sure that they are poured in a logical progression. It may be necessary to decant a wine to either remove sediment or to expose it to oxygen. Older wines may quickly fade if left in a decanter for too long. Red wines must be uncorked one hour before pouring to rest at room temperature for best taste, to breathe. White wines tend to diminish quality the longer the bottle is at room temperature therefore uncork just before serving. Wine, an elegant ancient food is to be enjoyed as such in half glass or less quantities. Never a full glass, which negates the process of necessary characteristics fruition i.e. aroma, body, color, taste, etc., a real insult to the wine culture and tradition and one of nature's beautiful natural products. Making it ideal for the production of late harvest or special selection of grape styles of wine, these wines are capable of aging in the bottle and if they are correctly stabilized they are considered to be among the finest in quality.

Visiting Book Author Czech-born American Author Charles Ota Heller and Bart Childs Ph.D. Professor Emeritus of Texas A&M University will visit the CCMH Brno Gallerie Saturday May 4, 2013 from 11:00 a.m. to 3:00 p.m. Conversation with the author and book signing will provide an opportunity to discover and discuss PRAGUE: My Long Journey Home A Memoir of Survival, Denial and Redemption his early years in Prague in a large Catholic and Jewish family, feeling the oppression and brutality of the Nazi occupation of his beloved Czechoslovakia; World War II and the ensuing subjugation of the regime into communism, leading to the eventual loss of twenty-five members of his Heller and Neumann family. It is the history of Czechoslovakia filling all the empty spaces we Americans never really knew or believed. It is a spellbinding read, which we are grateful to have translated into English. You may order the book, Prague: My Long Journey Home, early for your signing on May 4 as Prague International Gifts has them available now. Please call 713-528-2060. The CCMH also invites the public, schools, the Holocaust Museum Houston, Czech Heritage Societies, KJT, KJZT Societies and SPJST Lodges for this special occasion.
Another Must Read New Book Rustic Baroque by Czech author Jiri Hajicek, Ceske Budejovice, Living in Czechoslovakia through 42 years of communism, loss of people, personal freedom and property just arrived this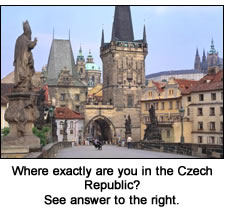 month in our Prague International Gifts Shop. It is another invaluable read documenting what happened to freedom, rights, properties and especially the missing people. The translator has annotated the novel to enhance English-language readers' appreciation for Czech life and culture. Rustic Baroque makes for an excellent study for those who are learning Czech or for Czech speakers wishing to improve their English. We suggest that you order your book or books early as it will be highly desired for genealogy purposes and history lovers for authentic history formerly unknown. It is a great gift to anyone you know who will benefit being educated by these two books about these perilous times! Please tell friends, family, and associates if they enjoy history this is an intriguing documentary. For information and to order both books call: 713-528-2060. $19.95 + shipping and handling.
Answer to where are you here...


Board Member Grace England Honored by School Naming for Her in the Klein School District. "A teacher she was, and a teacher she wished to be." When first-grader Grace Davis began school in Elgin, Texas, she was certain she wanted to become a teacher one day. That dream came true upon her graduation from Lamar University in 1955. Her professional career includes teaching and administrative positions in several Texas school districts: Pt. Neches-Groves ISD, Dallas ISD, Northeast (San Antonio) ISD, Spring ISD, and lastly, Klein ISD where she worked for 24 years as the district Director of Special Education and Related Services. Grace is married to William (Bill) England, and they continue to share their lives with four children, eight grandchildren, and four great-grandchildren that all live in nearby areas. Her professional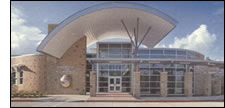 accomplishments include the establishment in 1982 of the Early Childhood Intervention (ECI) KEEP PACE program to provide therapies and family interventions for high-risk children from birth to age three; serving as a compliance consultant with the U.S. Department of Defense Dependents Schools (DoDDS) in Stuttgart and Wurzburg, Germany (homeland of the Adam Klein family); completion of a doctoral degree in Child Development and Special Education, and teaching graduate students at the University of St. Thomas in Houston. Dr. England firmly declares that the naming of the Grace England Early Childhood / Prekindergarten is the highest honor that any educator can possibly attain. Grace serves as our Board Member. We certainly are proud of and for her.
Grace England Early Childhood/Prekindergarten Center The 66,000 square foot Grace England Early Childhood and Prekindergarten Center is located at 7535 Prairie Oak Drive in Houston. It was designed by the architectural firm of Bay Architects. The construction manager for the project was Collier Construction. Building began in August, 2011. The Center opened on August 27th, 2012, with an enrollment of 500 students. Campus programs include prekindergarten, early childhood classrooms for students with special needs and the PALS speech program.

Spring of 1938 Times in Europe and the Beginning of the End of the First Republic! They had little more than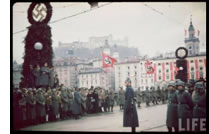 their fears to confirm such morbid suspicions. But by the spring of 1938, when the Anschluss descended upon Austria, it became depressingly obvious that, at the very least, the new brand of politics being exported by the German fuehrer aimed to threaten people, including the Czechs and Slovaks as much as governments, that he intended to make the rest of the world conform to the same insanity that he was instituting at home. Hours after Hitler bullied the Austrian chancellor into capitulating to his demands, the nation was completely transformed into an extension of the Reich. As if on command, Viennese policemen took armbands emblazoned with swastikas out of their pockets and fitted them onto their sleeves; swastika flags were unfurled from windows of homes and businesses. Café patrons stood and sang chorus after chorus of "Deutschland über Alles." Austria was no longer Austria; now it was German Austria, closer to a province than a country, and anyone who had held a position of power in the pre-Nazi era was suddenly suspect. Not only those, who had held influential government positions, but also professors, newspaper editors, and theater directors had to resign. More than 79,000 "undesirables" were rounded up for arrest, and anyone who owned property was "asked" to declare his allegiance in time to greet the occupying troops due to arrive with Hitler. "During the coming week," read a declaration on March 12, 1938, "every house and every window in our city must testify to the unreserved support of the native Viennese for the National Socialist State." When the fuehrer returned in triumph to his native country days later (standing in the backseat of a gleaming new Mercedes, arm in erect salute) he was met by streets festooned with Nazi banners and cheering hordes shouting his name. The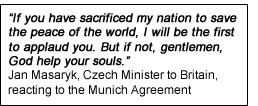 soldiers marching with him were presented with flowers; their horses fed apples and bread. Only twenty-five years before, Hitler had wandered this city's alleys as a struggling artist, living in cheap rooming houses and trying to make a living by illustrating postcards. Now, in a delicious irony, he returned a conqueror, without even having to fire a shot.
Across the ocean, people looked upon the situation in Europe with amazement, a mixture of fear and curiosity. It struck many of them as unreal, this German devotion to a lying tyrant. How could anyone fall for it? What they didn't understand was the fuehrer's genius for manipulation, his ability to grab hold of the heartstrings of a nation and squeeze from it a fanatical loyalty. It may have seemed comical to the rest of the world – the voice growing from a low growl to a sputtering and spitting frenzy, the mass of lacquered hair responding with each angry phrase, the nervous eyes focused on some distorted vision of the future – but when Hitler spoke, he spoke the stuff of dreams to many of the German people; a Wagnerian opera played out in real time. And the better things for them (while Americans continued to cope with the Depression, Germany's unemployment was shrinking rapidly, thanks, in part, to the Nazi policy of rearmament), the more they believed Hitler's oratory, the more they began to see him as their messiah.
The German leader had taken the first half of the decade to focus on domestic politics, on consolidating his power and reversing the country's economic slide. Now he moved to step up the campaign against the Jews and spread his influence deeper into Europe. While factories purred and wages rose, few people could see any reason to stand in his way. Kristallnacht spoiled a moment of international calm. Only a month before the murder of Vom Rath, tensions had risen over Hitler's claims on Czechoslovakia. After encouraging pro-Nazi sentiment among German-speaking people in the mountainous border territory of the Sudetenland, the fuehrer had complained that Germans there were being denied the chance to join their ethnic compatriots as part of the Reich. In fact, Hitler was less interested in the Sudeten people than he was in the area's numerous industrial plants and in breaking the resolve of a country that, through its various alliances with France, Great Britain, and Russia, could prove to be an obstacle to his wishes for further expansion.
The task of negotiating the Czech crisis fell to Prime Minister Chamberlain who, like many who had lived through the calamity of the First World War, was acutely aware of the potential for international conflict and determined to do whatever he could to avoid it. Chamberlain shared a dim view of the Czech people ("not out of the top drawer, or even the middle," he said of them) and was hard-pressed to find a reason why British boys should die to protect the borders of a country rather hastily put together over a table at Versailles.
Benes was referring to the Fuhrer's lunatic ranting about Czechoslovakia, its ethnic German population, and its president. Just prior to ordering Benes to meet with him, Hitler had screamed insults at the Czech people: intellectually inferior handful of Czechs to rule over minorities belonging to races like the Germans, Poles, Hungarians, with a thousand years of culture behind them, was a work of folly and ignorance. The Sudeten Germans have no respect for the Czechs and will never accept their rule. After the (First World) War, the allied powers declared that Germany was unworthy to govern blacks, yet at the same time they set second-rate people like the Czechs in authority over three-and-a-half million Germans of the highest character and culture…" Foreseeing an invasion, Benes ordered the immediate building of fortifications along the Czech – German borders. When Germany annexed Austria in the Anschluss in the spring of 1938 and this border became even longer, he ordered the building of many more reinforced concrete pillboxes in the south.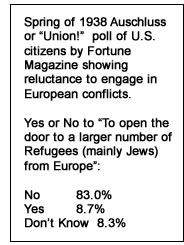 The Sudeten Germans continued to scream, and Hitler threatened more. The allies were still looking for a peaceful resolution and, this time, they asked the Italian dictator, Benito Mussolini, to act as a mediator. Il Duce called for a conference among Hitler, British Prime Minister Neville Chamberlain, French Prime Minister Eduard Daladier, and himself – with the Czechoslovaks excluded – to be held in Munich in September 1938. On the 30th of September, the treacherous document called the "Munich Agreement" was signed by the attendees. It called for ceding of all borderland areas of Czechoslovakia to Germany. Chamberlain declared "peace in our time," and both he and Daladier were welcomed enthusiastically back in their homelands, having amputated a defenseless small country. To this day and forever forward, the word "Munich" means only one thing to Czechs and Slovaks; the sell-out of their nation by their supposed friends. Sadly, the isolationist America of the 1930s not only looked on this travesty with disinterest, believing that the expanse of the Atlantic Ocean would insure her peace and prosperity, but her president approved of the sell-out. Franklin D. Roosevelt sent Chamberlain a telegram: "Good man," it read. "I am not a bit upset over the final result."
The Czechoslovak government at first refused to abide by the Munich Agreement, but then it gave in under the weight of demands from its British and French "allies." In response, the Czechoslovak public revolted with a general strike and demanded a change in government. They succeeded. Benes's newly-constituted cabinet refused to recognize the Hitler-Chamberlain agreement and immediately declared a general mobilization, with all young men required to begin training to defend their nation.
Late in September, while Londoners were being fitted for gas masks, subways were being fortified to serve as bomb shelters, and children were being sent to country homes for safety, the prime minister personally undertook a bold mission to Munich, confronting Hitler and when he returned with an agreement that essentially abandoned the Czechs and gave the Germans everything that they wanted, he was nonetheless roundly cheered for keeping the world out of war. In Britain, streets were named in his honor; in Lisbon, a statue of him was erected by "grateful" Portuguese mothers; and there was talk that he would be a shoo-in for the Nobel Peace Prize.
Now, Kristallnacht had put a dent in Chamberlain's image ("Oh, what tedious people these Germans can be!" He remarked after hearing the news) and the euphoria of Munich was in a sharp fade. People everywhere were horrified by the news of pogrom, both for the sheer ugliness of the event and for the outlaw picture it painted of the German leadership. Perhaps Chamberlain had been wrong, they now thought; despite the Munich agreement (or, worse, because of it), there would be another world war. British Prime Minister Winston Churchill who had denounced the agreement said of Chamberlain, "His all pervading hope was to go down in history as the Great Peacemaker."
From the book The Century by Peter Jennings and Todd Brewster.


2013 Calendar of Events: 4/14 Houston Chamber Choir 5:00 - 8:00pm - 4/27 Zone II Museum District Day - CCMH - 5/4 Book Review/Signing 11:00am - 3:00pm Prague: My Long Journey Home - 8/24 CCMH 19th Annual Gala - 10/26 Czech Oktoberfest - Czech/Slovak National Day - 11/17 Velvet Revolution 1989 - Remembering overthrow of communism - 12/6 St. Nicholas Eve Holiday Celebration. Art exhibit and concert dates pending.

"Time goes by so fast, people go in and out of your life. You must never miss the opportunity to tell these people how much they mean to you." Anonymous
Questions or comments or to be removed, please email first and last name to czech@czechcenter.org.
Effie M. Rosene, Chair/CEO, on behalf of Board of Directors, Volunteers and Members and Friends.
This organization is supported in part by a grant from the

City of Houston

through the


Houston Arts Alliance

and by the

contributions of our Members and Volunteers.