NEWS FROM THE CZECH CENTER MUSEUM HOUSTON - MAY 29, 2013
From the Heart of Europe to the Heart of Houston Texas
in the Museum District
4920 San Jacinto Street, Houston, Texas 77004 - 713.528.2060
czech@czechcenter.org
www.czechcenter.org
Open Monday - Saturday 10:00 a.m. to 4:00 p.m.

Concert Honors Those Fire Fighters, First Responders Who Lost their Lives and Recognition of the Survivors of the West, Texas Fire and Explosion Tragedy of Wednesday, April 17, 2013.
The Czech Center Museum Houston presented Kingwood Chorale Czech it out! Great Music from Dvorak and his Countrymen Thursday, May 9, 2013 in Prague Hall. Proceeds from this event were a Memorial Fund Collection for the town of West.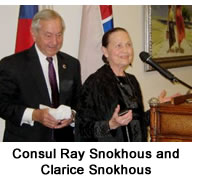 The history of America and its music intersects greatly with that of the Czech Republic. That is especially true in Texas communities, where so many towns in the state were founded by Czech immigrants. The Kingwood Chorale celebrated Czech music with a concert of choral and instrumental music from Antonin Dvorak and his fellow countrymen. "This is beautiful, rich, and exciting music," said artistic director and conductor Todd Miller. "Czech music really came alive in the Romantic Period of the late 19th Century and the concert is filled with music from that time." The signature piece was Dvorak's Te Deum (sung in Latin), which the composer wrote in the 1890's while living in New York City. "Many people don't know that Dvorak lived in America for several years after he became famous and is partially responsible for encouraging American composers to utilize African-American Spirituals, hymns, and other indigenous folk music in developing a serious national sound," said Miller. "We owe Dvorak a debt of gratitude for helping America embrace its own music." The concert also featured music of Smetana, Janacek, Fibich, and Suk. Though most of the concert was in English, the chorale took its first opportunity at singing in Czech with two short works. Guest soloists were soprano Nancy Curtis and bari-tenor Jon Janacek.


At this festive concert, held at The Czech Center Museum Houston in the Museum District, member of the West, Texas community and the CCMH, Honorary Consul General of the Czech Republic for the State of Texas Raymond J. Snokhous presented words of welcome and he and his wife Clarice spoke with emotion of their first-hand experience following the disaster. Proceeds for this continuing Memorial Fund will be managed in cooperation with Mr. Snokhous who will designate an agent for the use of the collected funds.
Hors d'oeuvres, Wine and Beer Reception followed the concert together with a silent auction.

The Horrific Events in West, Texas have shocked and grieved the nation. To Honor Those Lost and in Recognition of the Survivors in the West, Texas Fire and Explosion Tragedy, Wednesday, April 17, 2013, the Czech Center Museum Houston is collecting donations for a Memorial Fund for the West community. Thank you for your kind consideration. We are accepting checks marked "Memorial Fund West, Texas." Checks should be to the order of CCMH, 4920 San Jacinto Street, Houston, Texas 77004. For additional information call 713 528 2060. If donating by credit card, follow this link...

"To forget one's ancestors is to be a brook without a source, a tree without a root."
Chinese and Czech Proverb

Wrong Place Wrong Time by Patrick Pustejovsky, April 17, 2013 at 7:50 p.m.
My wife Linda and I went to visit her Aunt Dorothy Zaharniak in West on the evening of the fertilizer plant fire and explosion. Linda's mom, Edna Sharp, who is Dorothy's sister, was also with us on that tragic evening. About 7:30, we had just returned from enjoying a great Czech dinner in downtown West. I saw some smoke towards the northeast and heard fire trucks responding in that direction. After going inside Aunt Dorothy's house we settled down to catch up about our families. Her house is located across the street from the intermediate school just west of the fertilizer plant.
Around 7:50, memories were made. All of a sudden there was a gigantic overwhelming boom. The sheetrock walls in the house started caving in and we were thrown out of our chairs to the floor from the impact of the blast. While getting to our feet I noticed the sky above us. The explosion had blown away part of the roof sending part of it down on us. All four of us slowly managed to get to our feet and stumble around the fallen debris, to find an exit through the garage leading to the outside. Once outside, I noticed that almost every house had extensive damage. Some of the houses and the school across the street were on fire. Later, that night we talked about how lucky the students were to already be out for the day. Volunteers were trying to let everyone know that there could be another explosion. We evacuated the immediate area by car and were lucky to escape with only minor injuries. Now some of the wonderful people of West are waiting to return to their homes to see what is left including Aunt Dorothy. When we reached a lighted area I saw the extensive damage to my vehicle, which is getting fixed, I hope. This experience will always be etched in our lives, forever.
Ed: Patrick Pustejovsky lives in Houston, Texas; forwarded by CCMH Board Member, Wesley Pustejovsky.

Dr. Tatana Sahanek, Member of Czech Center Museum Houston since July 2006, Prague born in Czechoslovakia November 2, 1922 passed away in Washington, DC on April 1, 2013. In lieu of flowers she requested donations in her memory would be most appreciated to The Czech Center Museum Houston, 4920 San Jacinto Street, Houston, Texas 77004. She wrote: "I owe the wonderful United States so much. Take me as I am, an American, born a Czech, very proud of both!! Congratulations to your work and its great success. Tatana." It was a privilege to know this outstanding human being. Tatana's father was a government official of the Czechoslovak Prime Minister. A Celebration of her Life will be held June 1, 2013.

Remembrance of Dr.Tatana Sahanek Remarks by Anna Kriz, Leonia, New Jersey  April 25, 2013
Dear friends of Tatana, or as I endearingly called her, Táni:
I regret for not being able to be with you today to personally pay tribute to my beloved friend. However, at the age of 92 traveling – something I used to love – has become very difficult for me.
My husband Frank and I met Táni and her mother while they were living in New Jersey through mutual friends of ours and we instantly became very close friends. It was more than 50 years ago. All of us were born in then Czechoslovakia, now the Czech Republic, lived through the World War II, and we all were forced to leave our beloved country because of either the Nazi or later the Soviet occupation and immigrated to various countries of the free world before settling in the United States of America. We visited with each other frequently and enjoyed our long conversations and reminisced of the many hardships and triumphs of our lives. Each one of us had a fascinating story to share, whether it was from the time when we lived in Czechoslovakia, England, Australia, and Canada or in our newly adopted homeland. I'll never forget Táni remembering with tears in her eyes a time when she, her mother and a brother were in the Nazi concentration camp in Czechoslovakia where they saw a group of children singing "Kde Domov Muj" (Where is my home), the Czech national anthem, while being lead to the gas chamber.
At the time when my dear Frank passed away, Táni was working at the Executive Office of the President of the United States, where she found her calling and a place she cherished for many years. In spite of her busy schedule, she was always there for me, offering her support and a shoulder to cry on. Later, when her mother passed away, I reciprocated and we both found comfort in reading her mother's memoirs that reminded us of many precious moments. Táni was very fond of her mother – maminka as she called her – and referred to the years spent with her mother as the happiest time of her life. We kept in close contact throughout the years, and as Táni used to say, I was her only friend with whom she could converse in the Czech language and share so many memories.
I deeply miss my dear friend, a very bright, considerate and gracious lady. I am grateful for the privilege to call her my friend. Táni touched so many lives during her long life with her kindness, generosity and she enriched the world with her knowledge, grace and compassion. She had never forgotten to give gratitude to the United States of America for the new home of freedom and the opportunities it provided. Even though an American citizen, she remained a proud Czech patriot, a virtue instilled in her by her parents.
Thank you for letting me share these brief remembrances with you. Good-bye my dear friend Táni, and thank you for the years of joy and happiness brought into my life by your true friendship and warm personality. I will treasure it for the rest of my life and I will continue thinking of you and keeping your memory close to my heart. May God give you eternal peace. S bohem (good-bye), my dear Táni!
Ed: Anna Kriz is a dear CCMH Member.

Dear Mrs. Rosene: We have appreciated receiving the information from the Houston Czech Museum. From the pictures we can see that it is a lovely place, and it sounds like you have many activities there. We were sorry we did not get to see it on our last trip to Texas in 2011.
It was so sad this week to see that awful explosion in West where there are so many residents of Czech descent. We had been there during West fest a couple of times with my sister Helen B. Trimarchi and her husband Tony who lived in Keller, Texas. They are both deceased now.
I think I wrote you that my father Rev. Joseph Paul Bartak, D.D. had immigrated to Chicago in 1907 at age 19 and joined his oldest sister Anna B. Cejnar and her husband Rev. Vaclav Cejnar with their children. A year or two later they moved to Georgetown, Texas, when Rev. Cejnar was asked by the Methodist Superintendent to come to preach to some of the arriving Czech and Slovak immigrants. He did that on weekends and during the week he taught the Czech language at Southwestern University. My father studied at the university, finishing in 1912, and then went to Vanderbilt for his Divinity degree. After that he went to the University of Chicago to work on his Master's degree while preaching on weekends at Bethlehem Chapel there. He became an American citizen in Chicago. He was given an honorary Doctor of Divinity by Southwestern University late, after he was a missionary in Czechoslovakia.
While he and the Cejnar's were in Georgetown, my father's youngest sister, Martha Bartak, immigrated by way of Galveston in 1909 and joined them. By 1911 she had also brought their mother from Pilsen, Helena Bartak, to live with them. Sometime later Martha began teaching at the Wied School near Shiner, Texas and brought her mother with her. Martha continued to study toward higher degrees in summers. She met Charles Chovanetz of Hallettsville, whose grandfather Chovanetz had immigrated to that area in the 1800's. Charles Chovanetz taught a few years and coached basketball in Shiner High school, Later he was made principal and teacher of grades 5 to 8 at two-room Bunjes country school, five miles from Shiner, and Martha became the teacher for the first 4 grades, until the school was closed. They lived in a house nearby provided by the school district. He then purchased the property and they continued to live there. After that, since they both had Master's degrees, Charles Chovanetz taught in Shiner High School, but Martha had to go teach in Moulton High School for several years. After getting a special education degree, she became a special education teacher in Yoakum until she retired. She taught for about 50 years. They had no children but they taught a great many children.
At some time Charles purchased a large property on Houston highway 90A, where they later built a ranch style house and lived out their days there. Charles always raised registered Jersey cows that gave very rich milk, some of which he sold also. His Jerseys also won many prizes. In late years he sold his Jersey cows and raised only cattle. He grew wonderful watermelons and cantaloupes. He was also the county agent at one time. They were active in the Methodist Church in Shiner. Martha died in 1969, and Charles died in 1984. We visited them often. When my mother, sister, brother and I had to leave Czechoslovakia because Hitler was threatening the borders, we went to live with the Chovanetz's in their small house, and went to the Bunjes School where they taught. My father had sent us there for our safety while he remained as Superintendent of the Methodist Church in Czechoslovakia, even under the Nazi occupation. After the school year ended, we moved into Shiner and went to the Shiner school. In 1941, shortly after the Japanese bombing of Pearl Harbor, after the U.S. entered the war, my father was arrested by the Gestapo as an American, and was taken to the prison in Prague along with other American citizens. Near Christmas, they were put in a hotel under guard, possibly because of Red Cross intervention. In January he and the others were taken to Laufen, Germany to an internment camp for foreigners. It was in an old castle or chalet, and there were many men from western countries, which were at war with Germany. In June 1942, my father and some other Americans were exchanged for some German citizens held in the U.S., evidently through Red Cross negotiations. They were sent to Lisbon, Portugal, where they were put on a Lykes Lines freighter for the trip to America. My father had lost a lot of weight during those few months because all good food went to the military, and in the camp they were given things like thin soup, bread and a watered down coffee. We were very glad when he finally arrived in Shiner to join us. Our family moved from Shiner in summer of 1944 to Chicago where Father was made preacher at the First Bohemian Methodist Church. We kept the small house we owned in downtown Shiner and rented it out for many years. We lived in Chicago one year only, because my father became very ill around Christmas, and had to have a back operation. He still could not feel his legs after that, and was sent to the Mayo Clinic, to learn to walk again. He was there until summer. The church let us stay in the parsonage until school was out.
In June 1945 we moved to Houston and lived with Mother's sister until we went back to Prague in 1946 when my father again became Superintendent of the Methodist Church there. I went to Southwestern University from 1945-46. In Prague I went to the Charles University, and in our church I met my husband, Borivoj Malac, son of a Czech Methodist minister. We were married in Prague in April 1949. Mother took Helen and Paul back to Houston in January 1948 because their Czech was not good enough to do the advanced courses taught there. Helen then lived with Aunt Lucie and graduated from high school there. If you read his book, you know how Barry and I came to America in 1949. We called him Barry, and he became Barry Forrest Malac officially when he became a U.S. citizen in 1952 in North Carolina, when we were at Duke.
I particularly wanted you to know about Aunt Martha Chovanetz, who became a naturalized U.S. citizen and lived out her life in Texas. (She never had an accent.) She and Uncle Charles always taught their schoolchildren patriotism and respect. The schoolchildren in Bunjes School always excelled in any district competitions like spelling, declamation, and others.
We include a donation to the museum. I am sorry this is so long. Sincerely, Marian and Barry Malac.
Ed: We at the CCMH are always happy to hear from our delightful members!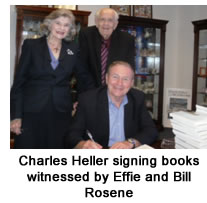 Czech-born American Author Charles Ota Heller visited Saturday May 4, 2013 to converse with those who took the opportunity to discuss with the author and have their book PRAGUE: My Long Journey Home signed. The book A Memoir of Survival, Denial and Redemption of his early years in Prague in a large Catholic and Jewish family, describes the feeling of the oppression and brutality of the Nazi occupation in his beloved Czechoslovakia; World War II and the ensuing subjugation of the regime under communism, eventually leading to the loss of twenty-five members of his Heller and Neumann family. The book is the history of Czechoslovakia that fills in all the empty spaces we Americans never really knew or believed. It is a spellbinding read. You may continue to order the book from Prague International Gifts.
Another Must Read New Book Rustic Baroque by Czech author Jiri Hajicek, Ceske Budejovice, Living in Czechoslovakia through 42 years of communism, loss of people, personal freedom and property is also available in our Prague International Gifts Shop. It is another invaluable read documenting what happened to freedom, rights, properties and especially the missing people. The translator has annotated the novel to enhance English-language readers' appreciation for Czech life and culture. Rustic Baroque makes for an excellent study for those who are learning Czech or for Czech speakers wishing to improve their English. Order your book or books early as it will be highly desired for genealogy purposes and history lovers for authentic history formerly unknown. It is a great gift to anyone you know who will benefit being educated by these two books about these perilous times! Please tell friends, family, and associates if they enjoy history this is an intriguing documentary. For information and to order both books call: 713-528-2060.

Language Czech Online Daily It would be impossible not to learn from these simple distinct lessons. Try it now!
http://www.youtube.com/watch?v=bY9cp7r2CZc or http://www.studyczechonline.com/free-lessons
.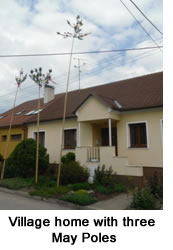 Visiting Czech Republic (Moravia) in May. Visitors are treated to blooming flowers and fruit trees, temperate climate, people planting gardens, working their vineyards, bottling last fall's grape harvest, receiving last year's wine awards, fresh vegetables and May Fetes galore. For their Hody up to twenty men raise the central village May Pole, usually three trees stripped of their bark, connected, about one hundred and fifty feet high crowned with banners and streamers. During the night before, village boys erect smaller May Poles in front of their favorite girlfriend's home usually just one. Two trees convey to the girl of the house there are two rivals and even sometime three May Poles! More serious celebrations are the official end of WWII in Europe on May 8, 1945 with the liberation of Prague on that date with Czech citizens recreating the victory by American soldiers with uniforms and military gear; celebrating the 1150th year anniversary of the Apostles of the Slavs Sts.Cyril and Methodius arrival to Great Moravian Empire; the Body of Christ Processionals visiting outdoor home altars; the Vlcnov Ride of the Kings in famed folklore.

Remember, Honor and Celebrate with an engraved Marble tile of someone important in your life. The next round of work will commence on July 1, 2013. By subscribing to a tile, you will automatically become a member of the CCMH, extend your existing membership and support this Heritage Museum. Tile Sizes: 4 x 12, $250; 6 x 12, $500; 8 x 12, $750; 12 x 12, $1,000; $5,000 & $10,000 Top Row with Gold Border. $1,000 donations and above qualify for Lifetime Membership and Support. With a $5,000 donation you will become a Member of CCMH's Club 200 Endowment Fund.

Help us by sending in your reservation to the August 24, 2013, 19th Annual Gala 2013 today. Your advance notice will be appreciated. Make your reservation by calling 713-528-2060 or events@czechcenter.org.

You are welcome to view this organization's 2011 IRS Form 990 available on the Guidestar website. Note this organization's name on filing was the Czech Cultural and Community Center, which is now doing business as the Czech Center Museum Houston. Click this link. Interested Members may also view financial records by appointment with the Treasurer.

2013 Calendar of Events: 4/14 Houston Chamber Choir 5:00 - 8:00pm - 4/20 Lone Star College Kingwood Chorale and Orchestra with all Czech Composer Music - 4/27 Zone II Museum District Day - CCMH - 5/4 Book Review/Signing 11:00am - 3:00pm Prague: My Long Journey Home - 7/1 Christmas in July Market begins Monday July 1, 2013 in Prague International Gifts Market. Shop early for new items - Garnet Jewelry, wood art Toys, unique Jewelry, Crystal and Porcelain. Enjoy the Christmas Holiday in December having your shopping for family, friends and loved ones behind you. 8/24 CCMH 19th Annual Gala - 10/26 Czech Oktoberfest - Czech/Slovak National Day - 11/17 Velvet Revolution 1989 - Remembering overthrow of communism - 12/6 St. Nicholas Eve Holiday Celebration. Art exhibit and concert dates pending.

"Time goes by so fast, people go in and out of your life. You must never miss the opportunity to tell these people how much they mean to you." Anonymous
Questions or comments or to be removed, please email first and last name to czech@czechcenter.org.
Effie M. Rosene, Chair/CEO, on behalf of Board of Directors, Volunteers and Members and Friends.
This organization is supported in part by a grant from the

City of Houston

through the


Houston Arts Alliance

and by the

contributions of our Members and Volunteers.