NEWS FROM THE CZECH CENTER MUSEUM HOUSTON - JUNE 26, 2013
From the Heart of Europe to the Heart of Houston Texas
in the Museum District
4920 San Jacinto Street, Houston, Texas 77004 - 713.528.2060
czech@czechcenter.org
www.czechcenter.org
Open Monday - Saturday 10:00 a.m. to 4:00 p.m.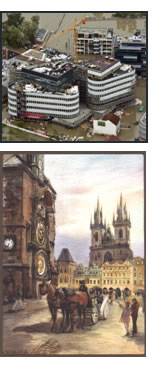 Prague: By now you have probably heard of the worst floods to hit the Czech Republic in a decade which forced the evacuation of almost 2,700 people from low-lying areas while the rising water threatened Prague's historic centre, forced school closures and disrupted public transport.  Czech police said at least five people had died in the flooding. Firefighters evacuated homes in western regions and in villages outside the capital on Sunday and Monday, rescuing 200 people. Flooding was also reported in Austria and Slovakia and water levels rose in Germany and Poland after heavy rain in central Europe over a week swelled rivers. At least one person died and two were missing in Austria near Salzburg. The subway network in central Prague was halted for the first time since massive floods submerged the city in 2002 and caused billions of dollars of damage in the Czech Republic. The picture at left (top) is one showing office buildings immersed in the flood, the picture below is a gift drawing to CCMH of happier times in Old Town. A must event in your visit to indescribable Prague is a carriage ride.
It is far easier to understand Prague's undeniable beauty. Strolling toward the Vltava River, one learns what true riches really are. An old city like Prague eventually makes one reflect on the impoverished abundance of our own times. Here, the mighty once set their sights not just on the expensive, but also on the beautiful, the magnificent, and the enduring. Their unapologetic indulgence and yes, even ostentatious display still awes and delights. Prague is not one city, but many a chambered heart. Four distinct towns (Old Town, New Town, Lesser Town, and Hradcany) were incorporated during the 18th century. Within these overlaying geographic circles, the Gothic, Renaissance, Baroque, Neoclassical, and Art Nouveau elbow for space. There is even a 20th century Prague, with some of the best early modern functionalist buildings in Europe. Architecture has always been Prague's pride, but since Mozart and of course Dvorak and his countrymen, music has been its heartbeat. We are tempted to say that if classical music is to survive into the next millennium, Prague will be an epicenter. There are many concerts, and out of open windows, music floats like incense.
But can one make sense of this superb cityscape without understanding how intricate the influences of history have been? Here, there has been a synagogue (the Old-New Synagogue) for longer than any other European town can document; here, Christian dissenters won their first victories; and here, the Jesuits managed their greatest Counter-Reformation successes. From resistance against the Hapsburgs to showdowns with the Soviets, democratic ideals have played their most tragic role in Europe. Vanquished by foreign troops, Prague is even threatened today, by perhaps the most brutal occupation, an army of tourists. But somehow, it still remains stubbornly itself, a charming jewel.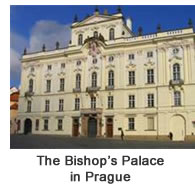 The Bishop's Palace in Prague - We first met the Rev. Dominik Duka in Houston, Texas some ten years ago as he was invited to represent the new Czech Republic in the University of St. Thomas Faith and Culture Conference on which Committee Bill and I served. His humble nature (he "had only been jailed sixteen months besides other subjugations") and his winning smile made us fast friends and we visited him, Archbishop Otcenasek and their administrator, Sr. Dominika, thereafter in Hradec Kralove several times. Sr. Dominika is an M.D. by profession and incidentally cared for President Havel shortly before his death. Fr. Dominik Duka was Bishop in Hradec Kralove serving with the Beloved Archbishop Otcenasek (now deceased) who had been incarcerated by the communist regime some 16 years!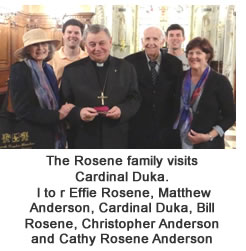 One of our earliest visits were with our daughter Cathy and Larry Anderson and two young sons, 9 and 8 years age Matthew and Christopher who on touring the Bishop's Palace told Sr. Dominika they were Americans from Houston, Texas. They were Czech and Swedish and German and English and Irish and Japanese and American Indian. Sr. Dominika to this day remembers how astounded she was to hear two little boys announce their heritage so proudly. We made occasion to visit Sr. Dominika on May 20 for 30 minutes. We had a complete tour of the Bishop's Palace, located next door to the Hradcany Castle (seat of Czech Government) all five floors plus the roof with a fantastic view including Changing of the Guard and finding out who lives where close by. The Palace of beautiful architecture and design was several hundred years old when it was gifted by a Czech Noble Family – Ferdinand the 1st Hapsburg in 1561 to the Church in Prague – Ferdinand was Cesar of the Roman Empire in Rome at the time!!
Sr. Dominika kept us long enough to meet with Cardinal Duka on returning of his official function of seven of the Keepers of the Keys of the Crown Jewels which had been on exhibit in Loretanske Palace, The Loretta Church, for 14 days! Sr. Dominika had offered to drive us to our Metro stop but instead had to drive the Cardinal to his next meeting at 7:00 p. m. already 30 minutes late because of the Rosene family. Cardinal Duka has many Texas friends. He never fails to send them his Blessings and Good Wishes for Good Health. He is so gracious and it's a Czech thing!
Ed: Submitted by Effie Rosene

May 9, 2013 CCMH held a Permanent Memorial Fund appeal for Fire Fighters, First Responders who lost their lives and in recognition of the survivors of the West, Texas horrific events that shocked and grieved the nation. To honor those lost and in recognition of the survivors in the West, Texas fire and explosion, Wednesday April 17, 2013, the Czech Center Museum Houston booked the Kingwood Chorale in concert to present the Music of Dvorak and his Countrymen to solicit donations for a Memorial Fund for the West community. Thank you for your kind consideration as we continue to accept checks marked "Memorial Fund West, Texas." Checks should be to the order of CCMH, 4920 San Jacinto Street, Houston, Texas 77004. For additional information call 713 528 2060. If donating by credit card follow this link...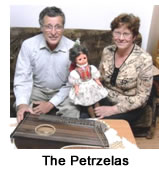 Zither (circa 1850's) A Zither is today a rarely seen or heard musical instrument, which was played in Central Europe in various versions. It belongs to Folk Festivals and also City population's Concerts. Very often it was utilized in musical education of young aristocrat or city people's daughters. It was most known in Vienna where there was also the largest finest manufacture of Musical instruments. Our showpiece was made by one of the most important and best known makers in the second half of the 19th Century (1850's). Ludwig Reisinger created this instrument in numerous shapes and looks. All were made to tune standardly i.e. Munich or Vienna style harmony which is typical in Austria, Czech lands and Uhrach (Urals).
In Folk activities in Wallachia or Silesia, here in North Moravia, this Zither was utilized with moderate simplicity of tuning strings with sound. Both instruments i.e. Zither and Cymbals, however, are tuned on the same base.
Pavel Petrzela (1953) maker of small Cymbals restored the Zither for Czech Center Museum Houston in June, 2013. The Zither was a gift of Znojmo Antika, the Novak Family, presented to Effie and Bill Rosene in spring 2012. Additionally we are grateful to Mr. Pavel Petrzela presenting on June 5, 2013 to the Czech Center Museum Houston a Cymbal (Cimbalek), which he and deceased friend fellow musician built in Kyjov - Borsov in 1980. As yet it is undelivered to Houston, Texas. There is an open call to Musicians who play a Zither or Cymbal.
Effie M. Rosene, June 10, 2013

A Constitutional Court in Brno has upheld a government plan to compensate religious organizations for property losses under communism, although critics of the bill contend the law is unconstitutional. The future of church lands and properties seized after 1948 has been under dispute since the 1989 Velvet Revolution. When legislation was introduced in Parliament last year, it was expected to finally mark the end of a 20-year struggle to find an appropriate way to compensate religious institutions. See the Prague Post article here:
http://www.praguepost.com/news/16470-govt-prepares-to-pay-billions-to-churches.html

Must Have Books - Available at CCMH
Prague: My Long Journey Home The book by Czech-born Charlie Ota Heller, A Memoir of Survival, Denial and Redemption of his early years in Prague in a large Catholic and Jewish family, describes the feeling of the oppression and brutality of the Nazi occupation in his beloved Czechoslovakia, World War II and the ensuing subjugation of the regime under communism, eventually leading to the loss of twenty-five members of his Heller and Neumann family. We regret you missed the author's talk and book signing visit. We have the book, great gift to all!
Rustic Baroque by Czech Jiri Hajicek, Ceske Budejovice, Living in Czechoslovakia through 42 years of communism, loss of people, personal freedom and property. It is another invaluable read documenting what happened to freedom, rights, properties and especially the missing people. The translator has annotated the novel to enhance English-language readers' appreciation for Czech life and culture making for an excellent study for those who are learning Czech or for Czech speakers wishing to improve their English.
Please tell friends, family, and associates if they enjoy history this is an intriguing documentary. For information and to order both books call: 713.528.2060.


Help us by sending in your reservation today to the August 24, 2013, 19th Annual Gala 2013. Your advance notice will be appreciated. Make your reservation by calling 713.528.2060 or events@czechcenter.org. Please celebrate with us.


Remember, Honor and Celebrate with an engraved Marble tile someone important in your life. The next installation will commence on July 15, 2013. By subscribing to a tile you will automatically become a member of the CCMH, extend your existing membership and support this Heritage Museum. Tile Sizes: 4 x 12, $250; 6 x 12, $500; 8 x 12, $750; 12 x 12, $1,000; $5,000 & $10,000 Top Row with Gold Border. $1,000 donations and above qualify for Lifetime Membership and Support. With a $5,000 donation you will become a Member of CCMH's Club 200 Endowment Fund.
You are welcome to view this organization's 2011 IRS Form 990 available on the Guidestar website. Note this organization's name on filing was the Czech Cultural and Community Center, which is now doing business as the Czech Center Museum Houston. Click this link. Interested Members may also view financial records by appointment with the Treasurer.




Language Czech Online Daily It would be impossible not to learn from these simple distinct lessons. Try it now!
http://www.youtube.com/watch?v=bY9cp7r2CZc or http://www.studyczechonline.com/free-lessons
.

Business News GreenHeart Energy, a Czech Republic company, says it has found an abundant, long-term source of energy in South Texas to help European utilities produce electricity. The energy source has nothing to do with the Eagle Ford Shale. The source is the hated mesquite wood. "We looked all over the world for a stable and big source of biomass. We found the source in Texas," Zdenek Mayer CEO for GreenHeart Energy LLC said, GreenHeart Energy based in Duchcov, Czech Republic selected San Antonio for its Texas company's headquarters. It plans to harvest mesquite in South Texas, chip the wood, and ship it from Corpus Christi in bulk to a German port. Once the chips are in Europe, electric utilities will burn them to create turbine-turning steam. Because burning mesquite chips produces less pollution than the coal the utilities have been burning, the utilities can sell some of their pollution permits back to their governments. Mayer listed Poland as the country with the biggest potential for mesquite chips. Utilities in the United Kingdom, Ireland, Holland, Italy, Sweden, Norway and Denmark are potential customers. Mesquite wood has a low moisture content and an energy level, when burned, of somewhere between that of brown and black coal. GreenHeart Energy estimates more than 500,000 acres of mesquite exists within 100 miles of Corpus Christi, with a yearly availability of 19 million tons. The company plans to harvest mesquite within only 100 miles of Corpus Christi to control transportation costs. Every 35 metric tons of mesquite chips will cost the company about $2 million in payments to landowners, the ports and logistics. The company's harvesting method will leave the root systems intact so within ten years of a harvest, the plant will grow back for another harvesting. Mesquite may look like a tree, but the species is considered a woody plant and not a forest species in the United States.
Excerpted from the San Antonio Express-News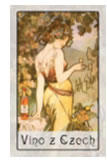 Opportunity to Develop a Business here in Texas The Consulate General of the Czech Republic hosted the presentation of sommelier selected wines from estates and chateaus in the south-eastern part of the Czech Republic on Monday, May 20th, 2013 at the Bohemian National Hall. The people of the region of Moravia have been making wine since the time of the Roman Empire. In the 20 years since the formation of the modern Czech Republic, Czech vintners have been crafting wines that are winning international awards. Never has such a collection of Moravian wine been available in the US. Presentation at the BNH was attended by more than 220 satisfied customers who appreciated the collection of wines from four main Moravian wine sub-regions (Znojemsko, Mikulovsko, Velkopavlovicko and Slovacko) presented by one of the top Czech sommeliers, Mr. Libor Nazarcuk.
Ed: The Czech Center Museum Houston would like to purvey the notable Moravian Wines here in Houston; however, Texas lacks an importer and distributor of these fine wines unlike their availability now in New York by Czech Wine Imports.


We'll Surely Miss Another Founder Member. Justine Jurica Rivoire was born to Frank and Lillie Chernosky Jurica in Rosenberg, Texas in 1919. She died on June 18, 2013. A CCMH Founder member since March 20, 1999, she was a caring Club 200 Member of the organization's Endowment Fund. She is survived by also CCMH members, her daughter Nita Bagley and her sister Burnette and husband T.P. Boyette. A graduate of Massey Business College, 42 years marriage to husband Olin, deceased, she had a long career in professional volunteering in Hospitals, Home for Aged, Alief ISD schools and her Church. In 2004 Justine wrote,"I thoroughly enjoy reading my Czech News Journal. The new Center is magnificent!" Later Justine wrote us "I still drive to Alief and grade papers for Nita – it's 14 miles but I enjoy it. After 29 years I feel a part of the school." We are sure she was a great partner to daughter teacher Nita. Justine never failed to honor members of the large Texas Czech Chernosky family on their passing - A proud Czech. Her last Capital Campaign donation to complete the third floor at CCMH was April 16, 2013. Justine was one of our earliest "It takes a Village" people.
We can only hope that others who were touched by Justine's grace and generosity as we have been will pass it along throughout the world. May she rest in peace! Family notes memorials may be made to West University Church of Christ, or to Czech Center Museum Houston, 4920 San Jacinto, Houston, Texas 77004.

Starting July 1, 2013 the CCMH is having its Christmas in July Marketplace part of our Prague International Gifts Shop in Brno Gallery. Do your Shopping for Loved Ones, Family and Friends Early – Quietly and Peacefully. Truly enjoy the Christmas Holiday Season as it should be. Presenting Antique Garnet Jewelry Collection, wooden art toys, unique fashion jewelry, crystal, porcelain, pottery, laces and more including, the Book Shop.
Bohemian Garnet Jewelry We've just added some new items to the Czech Center Museum Houston's Prague International Gifts Shop that will be ready to purchase at our Christmas in July shopping event starting July 1, 2013. This vintage and antique garnet jewelry came straight from the Czech Republic, with some dated before 1900. Look through our photo gallery to see that there is a variety of settings for these lovely deep red stones made to accompany any style. Come by the Czech Center Museum Houston soon to make sure you get these popular stones for your ensemble or as gifts to brighten your loved one's day. Click here to see pictures of these fabulous items. Please call 713.528.2060 to reserve one or for more information.

July 13, 2013
please join Texas Czechs and Chef Paula Van Bibber presenting a Czech Dinner Fundraiser for West's Long term Recovery of the West Community, from 2:00 to 6:00 p.m. in West, Texas. Ticket Donations are $26 per person. Email:
TexasCzechsNumber1@gmail.com to help this worthy cause.

July 25, 2013 Thursday 7:00 p.m. at the CCMH: Join Board Member Rev. Paul Chovanec hosting his guests, the Singing Deacons of Olomouc, Czech Republic, in a Czech English Sing-Along with other musicians. Admission is $5.00 per person. Wine, Beer, Beverages, Hors d'oeuvres available. RSVP Please by July 23, 2013. 713.528.2060.

August 24, 2013 Saturday CCMH 19th Annual Benefit Gala Wine, Beer, Hors d'oeuvres, Dinner, Music, Auction.

September 8, 2013 Sunday
SPJST Lodge 88 Houston in the Heights offers Dinner, Dance, Live Band and Auction to Benefit the West, Texas Disaster Fund. Contact Kim Bilek Feazle 713.416.3434 or Barbara Jezek Fisher 713.686.7488 Thank you for Caring!

2013 Calendar of Events: 10/26 Czech Oktoberfest - Czech/Slovak National Day - 11/17 Velvet Revolution 1989 - Remembering overthrow of communism - 12/6 St. Nicholas Eve Holiday Celebration. Art exhibit and concert dates pending.

"Time goes by so fast, people go in and out of your life. You must never miss the opportunity to tell these people how much they mean to you." Anonymous
"To forget one's ancestors is to be a brook without a source, a tree without a root."
Chinese and Czech Proverb
Questions or comments or to be removed, please email first and last name to czech@czechcenter.org.
Effie M. Rosene, Chair/CEO, on behalf of Board of Directors, Volunteers and Members and Friends.
This organization is supported in part by a grant from the

City of Houston

through the


Houston Arts Alliance

and by the

contributions of our Members and Volunteers.