NEWS FROM THE CZECH CENTER MUSEUM HOUSTON - JULY 19, 2013
From the Heart of Europe to the Heart of Houston Texas
in the Museum District
4920 San Jacinto Street, Houston, Texas 77004 - 713.528.2060
czech@czechcenter.org
www.czechcenter.org
Open Monday - Saturday 10:00 a.m. to 4:00 p.m.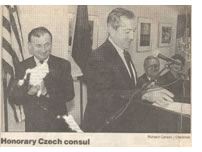 Honorary Czech Consul In a Houston Chronicle photo (please excuse the degraded photo) dated August 19, 1995 Czech Ambassador Michael Zantovsky (left) applauds then Houston Industries executive Raymond J. Snokhous, who took the oath as the Czech Republic's first honorary consul to Texas in 50 years. Snokhous, then vice president of Houston Lighting and Power parent company, was sworn in during a ceremony at City Hall attended by Houston Mayor Bob Lanier.
The Czech Center Museum Houston applauds Consul Snokhous for his eighteen significant and productive years which was one of the number of accolades being bestowed on him and wife Clarice on the occasion of July 5th, 2013. Clarice and Raymond Snokhous were invited to the National Pilgrimage at the Velehrad Cathedral to receive a Commemorative Medal of the Czech Bishops Conference presented after the Solemn Mass honoring of Sts. Cyril and Methodius. Afterwards, a reunion luncheon with friends at Pansky Dvur restaurant in Kunovice included Msgr. Josef Nuzik, the mayor of Kunovice and Diaspora Bishop Petr Esterka. They invited a number of Czech friends to the reunion luncheon.

Sts. Cyril and Methodius 1150th Anniversary -
Mass in Velehrad crowned the Sts. Cyril & Methodius jubilee.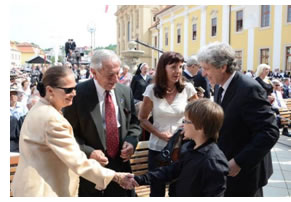 Several hundred priests, more than twenty bishops and some sixty thousand pilgrims attended the mass in Velehrad on 5th July 2013 to celebrate the highlight of the jubilee celebrations of Sts. Cyril and Methodius. Presiding over the liturgy was papal legate, Cardinal Josip Bozanić of Zagreb, Croatia. The event was attended by large number of foreign visitors, among them pilgrims from Slovakia, Poland, Austria, Hungary, and Slovenia. Concelebrating with Cardinal Bozanić were bishops of the Czech Republic and several prelates from abroad. Besides the countries already mentioned, they came from Germany, Ukraine, and Russia as well. Representatives of the civil authorities were also present, among them President of the Czech Republic Miloš Zeman.
Ed :At the end of the mass, traditional awards of the Czech Bishops' Conference were bestowed on the laureates of this year. The "Order of Sts. Cyril and Methodius" was conferred to Prof. Fr. Petr Piťha, composer František Emmert, and musician Jiří Pavlica; commemorative medal of the Czech Bishops' Conference was awarded to liturgist Prof. Fr. Jan Matějka, writer Miloš Doležal, and Honorary Consul General of the Czech Republic in Texas Raymond J. Snokhous with his wife Clarice Marik Snokhous of West.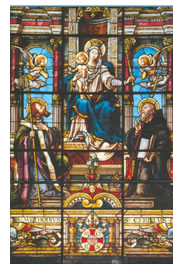 Velehrad, the former oldest Cistercian abbey in Moravia was traditionally identified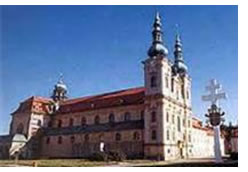 with the center of the Great Moravian Empire and the residence of the first Moravian archbishop St. Methodius. It owes its famous tradition to its name, derived, after the foundation of the monastery, from the near-by village of Velehrad which has been given the name Stare Mesto (The Old Town) since the beginning of the 14th century. The results of archeological excavations show that in Stare Mesto, Velehrad had been one of the most important centers of Great Moravia that has also been confirmed by medieval chronicler's accounts. The Great Moravian and St. Methodius' tradition had been cultivated since the second half of 14th century, especially in the Baroque period. This tradition kept and developed in Velehrad had for centuries preserved the ideological continuity with the Great Moravian period and played an important role in the field of culture in the period of the National Revival of Czech and Slovak people in 18th and 19th centuries. Read more...

Prague: The June floods claimed 15 lives, having hit 970 Czech towns and villages, and the damage they caused is estimated at tens of billions of crown said Environment Minister Tomas Chalupa who is also chairman of the Central Flood Commission, "The damage cannot yet be exactly quantified, for at the moment we are not able to estimate it in a different way than by summarizing the original estimates from towns and regions. Nevertheless, the figures reach tens of billion crowns." He told journalists the Czech Republic had been hit by the floods in three waves, on May 29 - June 5, June 10 - 12 and June 24 - 27. Over 600 people were rescued and more than 26,000 evacuated during the floods. The subsequent rescue and waste removal work was joined by over 28,000 professional as well as voluntary firefighters who were used almost 10,000 times. The police deployed 21,000 men and women, the military provided almost 10,000 soldiers and 1,500 pieces of equipment. There were 75 landslides during the floods. Regional and local authorities had received over 750 million crowns as immediate aid from the Finance Ministry. The Central Flood Commission also recommended to the government that it set aside over 200 million crowns as special bonuses for voluntary firefighters.

Mary and Roy Cullen stand before Toyen's monumental Message of the Forest,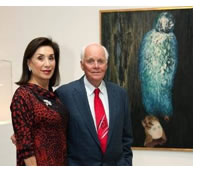 one of the many masterpieces in their collection. The last thing you'd expect to find in one of Houston's posh River Oaks mansions are walls filled floor to ceiling with original works by Czech avant-garde artists such as Emil Filla, Josef Čapek, Toyen, Jindřich Štýrský and Jan Zrzavý. And what you get to see on a visit to the home of Mary Cullen is only part of her vast collection, because there are almost always a few blank spots on the walls, left behind by paintings that are on loan to art galleries around the United States and Europe. For example, the enormous Message of the Forest, an oil painting by Surrealist icon Toyen (aka Marie Čermínová) of a huge owl holding the severed head of a young girl in its right claw, is currently touring Europe. Its journey began at the Städel Museum in Frankfurt last fall, moved to the Musée d'Orsay in Paris and will continue on to Madrid. The painting is Cullen's favorite. She and her husband, Roy, the grandson of one of the Lone Star State's greatest oil tycoons, designed their home to accommodate their collection of Czech modern art and glass." Their home is a major destination point for scholars [in the field of Czech Modernism] as well as various museum groups that pass through Houston," says Richard Born, senior curator of Chicago's Smart Museum of Art. Read more...
Ed: Thanks to the Prague Post from which this article is excerpted and our friends, the Cullens

Spiritual Journeys Set out on the most significant Czech pilgrimages or discover the history of monasteries and monastic life! Would you like to find an alternative way to relax and would you like to leave your hectic lifestyle behind at least for awhile? Visit any of the religious pilgrimages or church monuments. Recently, many churches have been renovated in the Czech Republic and monasteries to not only offer pilgrimage tours but also accommodation and refreshments.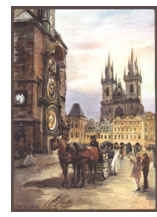 Pilgrimages and Spiritual Meetings This year we are commemorating the 1150th anniversary of the arrival of the apostles Sts. Cyril and Methodius to Great Moravia. Celebrations of this significant anniversary reached its peak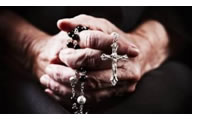 during the pilgrimage to Velehrad from July 4th to 5th (within the state holiday) with a traditional display of the Days of the people of the Goodwill. A rich spiritual and cultural program was prepared even for this year. Other significant pilgrimage locations, which you can visit during this year's pilgrimage period, include Pribram Svatá Hora near Příbram, Svatý Hostýn or the Church of St. John Nepomuk on Zelená Hora. From 1994, this church has been entered into UNESCO as a monument. The National Pilgrimage to St. Wenceslas to Stará Boleslav will be held on September 28th and will commemorate the patron of the Czech Republic, St. Wenceslas. In cooperation with the Evangelical Church of Czech Brethren, the 400th anniversary of the final issue of the Holy Bible in Czech language will be held from September 13th to the15th. The main program will be on Saturday, when the theatre choir will perform and the entire celebration will be accompanied by songs and concerts. Prague is also full of church monuments, which are worth visiting. St. Vitus Cathedral is among the most visited structures of the Czech Republic in general, whereas the Břevnov Monastery, on the other hand, is the oldest male monastery in the Czech Republic. People from all around the world visit the Church of the Virgin Mary the Victorious to pray to the Child of Prague. The masterpiece work of art of the Middle European baroque architecture, St. Nicholas Church in Lesser Town, is certainly worth mentioning.

May 9, 2013 CCMH held a Permanent Memorial Fund appeal for Fire Fighters, First Responders who lost their lives and in recognition of the survivors of the West, Texas horrific events that shocked and grieved the nation. To honor those lost and in recognition of the survivors in the West, Texas fire and explosion, Wednesday April 17, 2013, the Czech Center Museum Houston booked the Kingwood Chorale in concert to present the Music of Dvorak and his Countrymen to solicit donations for a Memorial Fund for the West community. Thank you for your kind consideration as we continue to accept checks marked "Memorial Fund West, Texas." The Czech Center Museum Houston has received to this point contributions nearing $11,000.00 and we hope to continue counting. Checks should be to the order of CCMH, 4920 San Jacinto Street, Houston, Texas 77004. For additional information call 713.528.2060. If donating by credit card follow this link...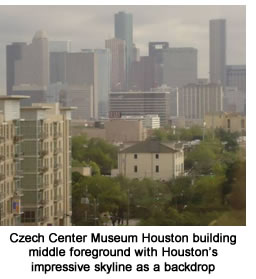 Must Have Books - Available at CCMH
Prague: My Long Journey Home The book by Czech-born Charlie Ota Heller, A Memoir of Survival, Denial and Redemption of his early years in Prague in a large Catholic and Jewish family, describes the feeling of the oppression and brutality of the Nazi occupation in his beloved Czechoslovakia, World War II and the ensuing subjugation of the regime under communism, eventually leading to the loss of twenty-five members of his Heller and Neumann family. We regret you missed the author's talk and book signing visit. We have the book, great gift to anyone in the world!
Rustic Baroque by Czech Jiri Hajicek, Ceske Budejovice, Living in Czechoslovakia through 42 years of communism, loss of people, personal freedom and property. It is another invaluable read documenting what happened to freedom, rights, properties and especially the missing people. The translator has annotated the novel to enhance English-language readers' appreciation for Czech life and culture making for an excellent study for those who are learning Czech or for Czech speakers wishing to improve their English.
Please tell friends, family, and associates if they enjoy history this is an intriguing documentary. For information and to order both books call: 713.528.2060.

Help us by sending in your reservation today to the August 24, 2013, 19th Annual Gala 2013. Your advance notice will be appreciated. Make your reservation by calling 713.528.2060 or events@czechcenter.org. Please celebrate with us. We represent Heritage! We represent you!

Remember, Honor and Celebrate with an engraved Marble tile for someone important in your life. The next installation will commence on July 15, 2013. By subscribing to a tile, you will automatically become a member of the CCMH, extend your existing membership and support this Heritage Museum. Tile Sizes: 4 x 12, $250; 6 x 12, $500; 8 x 12, $750; 12 x 12, $1,000; $5,000 & $10,000 Top Row with Gold Border. $1,000 donations and above qualify for Lifetime Membership and Support. With a $5,000 donation you will become a Member of CCMH's Club 200 Endowment Fund.

You are welcome to view this organization's 2011 IRS Form 990 available on the Guidestar website. Note this organization's name on filing was the Czech Cultural and Community Center, which is now doing business as the Czech Center Museum Houston. Click this link. Interested Members may also view financial records by appointment with the Treasurer.

Language Czech Online Daily It would be impossible not to learn from these simple distinct lessons. Try it now!
http://www.youtube.com/watch?v=bY9cp7r2CZc or http://www.studyczechonline.com/free-lessons
.


The CCMH is having its Christmas in July Marketplace part of our Prague International Gifts Shop in Brno Gallery. Do your Shopping for Loved Ones, Family and Friends Early – Quietly and Peacefully. Truly enjoy the Christmas Holiday Season as it should be. Presenting Antique Garnet Jewelry Collection, wooden art toys, unique fashion jewelry, crystal, porcelain, pottery, laces and more including, the Book Shop. Enjoy a 20% discount on items over $21.00.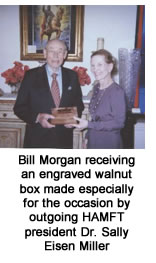 Houston Association for Marriage & Family Therapy (HAMFT) held its annual awards banquet in the beautiful Baroque style palace known as the Czech Center Museum Houston in the Museum District. One of the highlights of the evening, besides the Board being recognized for their hard work, was William "Bill" Morgan receiving the Service to Community Award. Husband of 60 years, father of five, grandfather of 14, Bill is an entrepreneur, businessman, author, founder of the Morgan Group, which builds apartment complexes in Houston and throughout the country. A community leader who serves on the Boards of the Jewish Community Center, Jewish Federation, Seven acres Home for the Aged, ADL and Congregation Beth Yeshurun; he is a principle founder of Holocaust Museum Houston. He was also Headmaster Lecturer at Awty International School and is a volunteer in Houston schools to teach "the lessons of the Holocaust, that love is greater than hate" through his personal story. Bill Morgan overcame great obstacles of near death experiences. His entire family and all other Jews of his village were killed by the Nazis. He persevered with uncanny observation, intelligence and a will to survive. He established a successful marriage and family, teaching his children and grandchildren the importance of love and making a contribution to his/her community. "It was a festive evening of camaraderie, good food and dancing which also recognized service. A perfect evening!"
Submitted by Sally Miller, CCMH Board Member


Charles William Sikora,
a beloved husband, father, grandfather, brother and friend, born July 11, 1930, in Alvin, Texas to Charles Sikora and Mary (Brumek) Sikora, died Friday, June 28, 2013 in Crosby, Texas surrounded by his family. He was a 1948 graduate of Crosby High School. During the Korean War he served in the United States Army and was a member of the Sacred Heart Catholic Church and the Knights of Columbus in Crosby. He was employed by Ethyl Corporation of Pasadena, Texas for over 45 years. In his free time he enjoyed tinkering in his tractor shed and his many "lean to's" and loved his vegetable gardening that he inherited from his Mom and Dad. But most of all he will be cherished for his kind heart and his love of his entire family and friends and every student who went to the dance studio who he loved as his very own. Survived by his wife of 57 years, Marilyn, children, Diane Traconis, Carolyn Gerken, and husband Glen, Lisa Thompson and husband Bryce, and Thomas Sikora and wife Lindsay and nine grandchildren. Charles was a participating member since March 31, 1998. Family condolences please visit www.sterlingwhite.com
.

July 25, 2013 Thursday 7:00 p.m. at the CCMH: Join Board Member Rev. Paul Chovanec hosting his guests, the Singing Deacons of Olomouc, Czech Republic, in a Czech English Sing-Along with other musicians. Admission is $5.00 per person. Wine, Beer, Beverages, Hors d'oeuvres available. It is always a delightful evening!
RSVP Please by July 23, 2013. 713.528.2060

August 24, 2013 Saturday CCMH 19th Annual Benefit Gala Wine, Beer, Hors d'oeuvres, Dinner, Music, Auction, Fun! It's our event we need you to help us celebrate..

September 8, 2013 Sunday
SPJST Lodge 88 Houston in the Heights offers Dinner, Dance, Live Band and Auction to Benefit the West, Texas Disaster Fund. Contact Kim Bilek Feazle 713.416.3434 or Barbara Jezek Fisher 713.686.7488 Thank you for Caring! (We hope many of you enjoyed the West, Texas dinner of Saturday, July 13, 2013 which we promoted worldwide.)

2013 Calendar of Events: 10/26 Czech Oktoberfest - Czech/Slovak National Day - 11/17 Velvet Revolution 1989 - Remembering overthrow of communism - 12/6 St. Nicholas Eve Holiday Celebration. Art exhibit and concert dates pending.

"Time goes by so fast, people go in and out of your life. You must never miss the opportunity to tell these people how much they mean to you." Anonymous



"To forget one's ancestors is to be a brook without a source, a tree without a root."


Chinese and Czech Proverb

Questions or comments or to be removed, please email first and last name to czech@czechcenter.org.
Effie M. Rosene, Chair/CEO, on behalf of Board of Directors, Volunteers and Members and Friends.

This organization is supported in part by a grant from the

City of Houston

through the


Houston Arts Alliance

and by the

contributions of our Members and Volunteers.