NEWS FROM THE CZECH CENTER MUSEUM HOUSTON - AUGUST 19, 2013
From the Heart of Europe to the Heart of Houston Texas
in the Museum District
4920 San Jacinto Street, Houston, Texas 77004 - 713.528.2060
czech@czechcenter.org
www.czechcenter.org
Open Monday - Saturday 10:00 a.m. to 4:00 p.m.

"Those that say that individuals are not capable of changing anything are only looking for excuses."
Václav Havel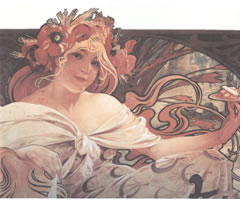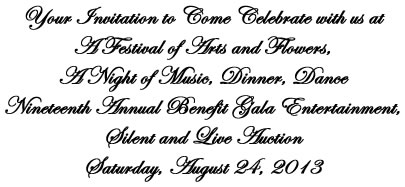 Nineteenth Anniversary Benefit Gala 2013 A Festival of Arts and Flowers, a Night of Music, Dinner, Dance,  Silent and Live Auction, Fun Benefiting Czech Center Museum Houston Saturday, August 24, 2013 Honoring Houston's Havels: Joseph Havel, Director, Glassell School of Art; Daniel Havel, Art Director, St. John's School. Brno Gallery Reception 5:30 - 6:30 p.m. Wine, Butler passed Hors d'oeuvres, Music Prague Hall doors open 6:45 p.m. Bar Service, Silent Auction View and Bidding, Music, Dinner Served 7:00 - 8:00 p.m. Silent Auction Viewing Continues, Entertainment, Live Auction and Dancing.

Dear CCMH Friends and Members:
This is a wonderful time of the year, and we are very excited about our upcoming Annual Gala at the Czech Center Museum Houston. Let me introduce myself, although many of you already know me as Ginny, one of the docent volunteers of the Museum. I was named co-chair for this year's Gala and I have accepted with great pleasure and honor. I am extremely interested in making a success of this wonderful event, and this can only be achieved with your unconditional help. The Gala will take place on Saturday, August 24, 2013, starting with cocktails at 5:30 p.m.
We will be celebrating nine years at the Museum's permanent location and eighteen from its original inception and office location at the Northwest Mall. We are planning a fantastic dinner, a silent auction where you will be able to find more than a treasure or two, a drawing for great items including air-miles for that special person and a companion to travel to Prague, the Czech Republic. (See below for drawing donation.) Other options are a chance to win a stay at one of the very enchanting places some of our friends and members are offering as part of their contribution to our fundraising event, and many other surprises. We also have a great new selection of items in our Prague International Gifts Shop, which we are sure will lure you to come visit us on that special night, or before if you wish to do so. Once again, I thank each and every one of you for your continued support of this, our great Czech Center Museum Houston in the Museum District.
Sincerely, Virginia C. Stoner, Gala Co-Chair
Please know I join with Virginia to note this message is on behalf of the Board, Volunteers, Members and Friends of the CCMH, Effie M. Rosene, Chairman & CEO.

Please let us know if you did not receive an invitation to this event. For those that did, there was included a drawing for air miles for a trip for two to Prague, which you will not want to miss out on. Please reference our Blog here for more information and drawing forms and Live Auction items to be offered at the event.

Help us by sending in your reservation today to the August 24, 2013, 19th Annual Gala 2013. Your advance notice will be appreciated. Make your reservation by calling 713.528.2060 or events@czechcenter.org. Please celebrate with us. We represent Heritage! We represent you!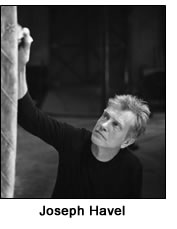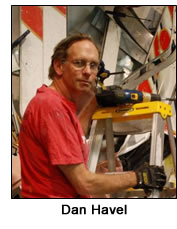 Meet Our Honorees Joseph Havel, Glassell School of Art School Director and director of the Core Program, Museum of Fine Arts Houston, is a man of international artistic fame. Featured in galleries all over the world, he calls Houston home and has work in several major locations in the city, including The Menil Collection, The MFAH, the Hiram Butler Gallery and others. The recipient of a number of prestigious awards and fellowships, including a National Endowment for the Arts Fellowship and a Louis Comfort Tiffany Fellowship, he is identified by his massive modernist sculptures transforming the domestic and mundane into the poetic and timeless.
Dan Havel, originally from Minnesota, has been a Houston local artist for 22 years. An active member of the 90's era underground art scene in Houston, he is best known for his large scale installations in alternative public settings. In his time in the city's art scene, he has collaborated with Dean Ruck as part of Havel Ruck Projects. Their partnership brought several public art works to Houston, and has also been the recipient of several awards and print reviews, with inclusion in exhibitions and special collections, including at the Museum of Fine Arts Houston. He now serves as an art educator at St. John's School in Houston, since 1995.
The Havel Brothers will be honored at the Nineteenth Anniversary Benefit Gala at the CCMH on August 24, 2013.

Czech Ambassador Petr Gandalovič writes about a momentous bipartisan initiative currently being undertaken in the 113th Congress in the United States House of Representatives, highlighting the importance and value of the existing friendship and cooperation between the United States and the Czech Republic. Continuing in the footsteps and legacy of late Czech President Václav Havel, the Czech Republic closely collaborates with the United States on advocating democracy and human rights around the world. The Czech Republic is a staunch NATO ally and solid member of the European Union. Our countries share the same perspective in promoting peace in the Middle East and the government of the Czech Republic, acting through its Embassy in Damascus, serves as Protecting Power for US interests in Syria. The two countries are further bound by cooperation in science and constant increase in trade and investment as well as tourism and student programs. In addition, Czech immigrants and their descendents in the thousands have worked hard for their American dreams and Czech communities remain vital to the strength and spirit of the United States. In order to stress the importance of this mutually positive relationship, Congressman Joe Barton (Texas, 6th District) and Congresswoman Jan Schakowsky (Illinois, 9th District) are leading an initiative in forming the Czech Caucus in the House of Representatives. The Czech Caucus shall provide a forum for the members to easily convene, voice, and advance issues regarding US-Czech relations and celebrate the countries' political, economic, and cultural ties.
Ed: He has asked the organization to express support of the Czech Caucus by contacting our district member and we urge you to contact your House of Representatives member in the event they would be interested in becoming a member of the Czech Caucus.

The Embassy of the Czech Republic announces the Mutual Inspirations Festival 2013-Václav Havel, celebrating the life

and legacy of the dissident, playwright, and former Czech president, with over 30 events taking place from September 5 - October 31, 2013, at prestigious venues in the nation's capital. Festival website: www.mutualinspirations.org; Festival trailer: Click here | Follow us on Twitter @CzechEmbassyDC and Facebook. The Mutual Inspirations Festival (MIF) is an annual initiative spearheaded by the Embassy of the Czech Republic, focusing on the mutual inspirations between Czech and American cultures and featuring each year an extraordinary Czech personality who has greatly influenced and inspired others through his or her work (MIF 2010-Tomáš Garrigue Masaryk, MIF 2011-Antonín Dvořák, MIF 2012-Miloš Forman, MIF 2013-Václav Havel).



The Author - Charles Novacek A Memoir that Reads Like a Thiller! To those he met in his adopted hometown of Detroit, Michigan, Charles Novacek was a fascinating Renaissance man. He spoke seven languages, traveled the globe and constantly pursued knowledge. After retiring from a successful career as a civil engineer, Charles returned to school, following his lifelong dream of becoming an artist. He earned a master's degree in painting from Eastern Michigan University and a Bachelor of General Studies and Master of Arts in Liberal Arts Studies from the University of Michigan-Dearborn, eventually showing his paintings and sculpture in Detroit area galleries. What most people never discovered, however, was that the charming, erudite artist spent his boyhood in the Czech Resistance, defending his homeland from the Nazis and the Communists. Charles' father, Antonin, had been a prisoner of war in World War I and ensured his son developed wilderness survival skills at an early age. Charles' childhood was spent exploring the wilds of Slovakia and the Tatra Mountains. He learned how to find food and water, how to fire a rifle and shoot an arrow, and how to create shelter. He learned the details of the landscape around his home, including the location of its many caves. This free-roaming childhood came to an end in 1939, as war raged across the continent and the Nazis occupied Czechoslovakia. Charles and his sister were inducted into the Czech Resistance. At an age most children were learning how to diagram sentences, they were learning how to resist torture, handle phobias, and to control pain, hunger and thirst. Reflecting the desperation of the times, they were warned to trust no one. Under cover of night Charles met Czech and British RAF soldiers parachuting behind enemy lines and showed them caves he had equipped for their shelter. In an incredible act of bravery, he once hid in a Nazi truck, stole a rifle and ammunition in order to shoot a Nazi who was about to blow up a railroad bridge. The Nazis destroyed the town's clothing warehouse, food supply and granary that day, but the vital railroad bridge remained. He continued to fight the Communists, enduring imprisonment and a daring escape. After realizing his homeland had become too dangerous for him to stay, Charles escaped to a displaced person's camp in Germany. There he met Valentina, a young Latvian doctor who would become his first wife. They immigrated to Venezuela and then, in 1956, to America, where they raised four children before Valentina's death in 1994. In 1996, he met and married Sandra, with whom he shared world travels. Charles began work on his memoir and Sandra was there to help and encourage him. In 2007, the man who had faced a firing squad as a teenager died at the age of 79. Please tell friends, family, and associates if they enjoy history this is an intriguing documentary. For information and to order call: 713.528.2060.

This article was originally published in the Prague English language newspaper, the Prague Post, around 13 years ago. It makes some good observations about the growing tourism sector of the Czech Republic through the Czech Greenways and other areas, making it possible for tourists to get more out of their trip than the typical tourist experience, but rather a taste of real-life culture and rich history. By Frank Forrest
The Greening of Moravia: Preserving a landscape and promoting a culture
With the arrival of spring, those of us who've spent the winter months hibernating in pubs finally reemerge to see what the new season has brought to nature – and what the old one has added to our midriffs. What better way to shed those excess pounds than on a bicycling trip? And where better to ride than the idyllic south Moravian countryside. Granted, it's not your average day trip. But it is certainly feasible for those with the time and energy, thanks in large part to the efforts of Czech Greenways. Beginning its work in 1992, Czech Greenways was created by a group of Czechs and Americans who were united by a common goal: to preserve the country's natural and cultural heritage. Locating and connecting pre-existing paths and trails, Czech Greenways began mapping a route from Prague to Vienna in 1994 and by 1997 it was marked and ready for travel. In addition to biking and hiking, it's even possible to cover some parts of the distance by horseback or canoe.
Read more...


This spoof blurb was printed in the Prague Post several years ago. If anyone speaks Czech, they will note the "twinkling eyes" tone of this column. Please enjoy!
Czech Myth debunked
The Czech language is a myth. Barely suppressing his laughter, government spokesman George Schmitt, a.k.a. Jiri Smid, announced Tuesday that Czech, one of the most difficult languages on the planet, isn't a language at all. "It is time to put an end to this cruel hoax. The Czech Republic has a great deal of house cleaning to do as we look toward unification with Europe," Schmitt said, as he wiped a tear of mirth from his eye, adding: "But you have to admit, it was a pretty good joke."
A report released Tuesday revealed what investigators had suspected: that the Czech language is merely a collection of difficult consonants strung together to create a nearly impenetrable wall of gibberish. Under pressure from international investigators, Minister of Language and Communications Miroslav Sulf resigned. "I deeply regret duping the international community. I am glad, however, to be relieved of this unpleasant burden. And everyone can just call me 'Mike' now."
Scientists believe that the incomprehensible nature of Czech is no accident. They speculate that the "language" was first created to prevent colonization of the Bohemian valley by Romans.
Henry Collins is a cultural anthropologist at the University of South Carolina. "In the model we're working with now, a tribe of Czechs was likely approached by Roman pioneers. Not wanting to talk to the interlopers, they started making nonsense syllables in the hope that the Romans would just go away," Collins said. "It seems to have worked."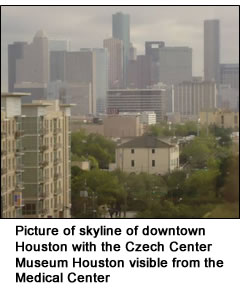 Czechs continued to refine their babble over the years, repelling invaders and driving out the Boii, a Celtic tribe that gave their name to Bohemia. The ersatz language failed, however, to prevent the Christianization of the area. The Greek missionaries Cyril and Methodius were so thoroughly duped by the locals that they created a script in which the tongue could be written. In a journal dating from 863 A.D., a scholar named Harry made this entry: Wednesday. Have really got these Greeks fooled. They actually believe my name is 'Svatopluk.' Wonder how long we can keep this up."
The Czechs kept up the joke through the centuries, snickering through history with unsuspecting invaders and visitors struggled to mimic the impossible random noises that comprised the Czech language. The Czech Republic now begins a slow restructuring process. "We will have to change all the signage in the country, for one thing. But it won't be as difficult as you might think, since all the new ones will be in English. The town of Rokytnice v Orlickych horach, for example, is really called Springfield," Schmitt said.
With the end of the hoax, the Czech Republic now finds itself with warehouses of useless diacritical markings. Officials are hoping to sell the obsolete čarky and hačky to sections of the former Yugoslavia.
"Now that the joke is over, I think a lot of confusing aspects of the Czech society will be cleared up," Schmitt said. "It's no wonder, for example, that our laws and our politicians don't make sense. That has been because they quite literally do not make any sense."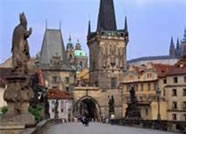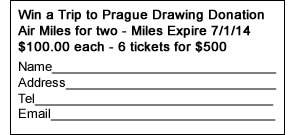 Planning a trip to Prague? Not coming to the Gala? You can still participate by sending in your drawing entry. Tickets must be received by August 23, 2013 to be entered in the drawing or you can call your entry to 713.528.2060!

You are welcome to view this organization's 2011 IRS Form 990 available on the Guidestar website. Note this organization's name on filing was the Czech Cultural and Community Center, which is now doing business as the Czech Center Museum Houston. Click this link. Interested Members may also view financial records by appointment.

Czech Language Online Daily It would be impossible not to learn from these simple distinct lessons. Try it now!
http://www.youtube.com/watch?v=bY9cp7r2CZc or http://www.studyczechonline.com/free-lessons
.

September 8, 2013 Sunday SPJST Lodge 88 Houston in the Heights offers Dinner, Dance, Live Band and Auction to Benefit the West, Texas Disaster Fund. Contact Kim Bilek Feazle 713.416.3434 or Barbara Jezek Fisher 713.686.7488. Thank you for Caring! (We hope many of you enjoyed the West, Texas dinner of Saturday, July 13, 2013 which we promoted world wide.)
September 29, 2013 Sunday Sts. Cyril & Methodius Slavic Heritage Festival Under the direction and guidance of the Slavic Alliance of Houston, the Slavic communities gather annually to honor Sts. Cyril & Methodius, and to share in the celebration of their Slavic heritage with ethnic foods, singing and dancing. The general public is invited to join in this celebration and to learn about the wonderful histories and culture of the Czech, Croatian, Polish and Ukrainian people. Join the fun! Knights of Columbus Hall and Grounds, 607 East Whitney, Houston, Texas 77022 - 10:00 a.m. to 6 p.m. For information contact 312.600.SLAV.

2013 Calendar of Events: 10/26 Czech Oktoberfest - Czech/Slovak National Day - 11/17 Velvet Revolution 1989 - Remembering overthrow of communism - 12/6 St. Nicholas Eve Holiday Celebration. Art exhibit and concert dates pending.

"Time goes by so fast, people go in and out of your life. You must never miss the opportunity to tell these people how much they mean to you." Anonymous



"To forget one's ancestors is to be a brook without a source, a tree without a root."


Chinese and Czech Proverb

Questions or comments or to be removed, please email first and last name to czech@czechcenter.org.
Effie M. Rosene, Chair/CEO, on behalf of Board of Directors, Volunteers and Members and Friends.

This organization is supported in part by a grant from the

City of Houston

through the


Houston Arts Alliance

and by the

contributions of our Members and Volunteers.