NEWS FROM THE CZECH CENTER MUSEUM HOUSTON - SEPTEMBER 11, 2013
From the Heart of Europe to the Heart of Houston Texas
in the Museum District
4920 San Jacinto Street, Houston, Texas 77004 - 713.528.2060
czech@czechcenter.org
www.czechcenter.org
Open Monday - Saturday 10:00 a.m. to 4:00 p.m.

"Those that say that individuals are not capable of changing anything are only looking for excuses."
Václav Havel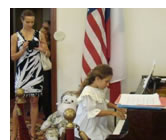 The Nineteenth Anniversary Benefit Gala 2013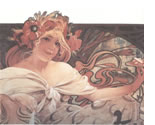 A Festival of Arts and Flowers, a Night of Music, Dinner, Dance, Silent and Live Auction Fun Benefiting Czech Center Museum Houston Saturday, August 24, 2013 commenced with an impromptu concert by age eight Alice (Alexandra Asinovsky, shown at right) sitting down to the baby Grand Czech Petrov for the crowd's enjoyment of "Go tell Aunt Rhody," and "Allegretto I and II." Her charming bows followed long accolades! Alice and her proud beautiful mother, Victoria,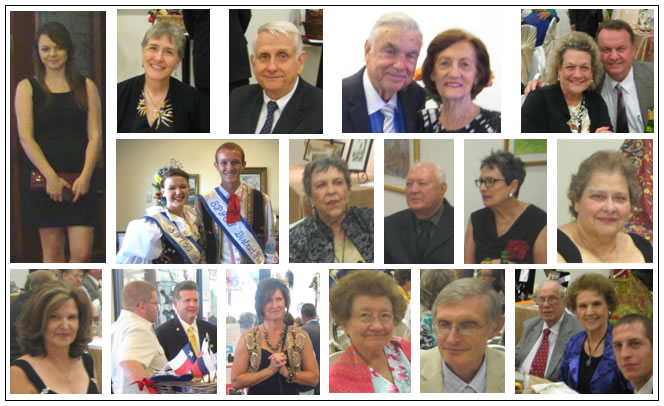 a professional photographer, are Russian born Houstonians and CCMH Friends. Honorees were Houston's Havels: Joseph Havel, Director, Glassell School of Art; Daniel Havel, Art Director, St. John's School. Brno Gallery hosted a reception held prior to adjourning to Prague Hall for the main event. Tables were set for the near 200 guests who enjoyed a festive served dinner. Silent Auction participants scanned the offerings, live auction items of travel and home stays were bid on, the prize drawing for miles for a trip for two to Prague was drawn and the lucky winner being Board Member, Chris Hlavinka. Entertainment with the piano artistry of Robert Dvorak and Herman Vacca, introduction of Honorees by Board Member Sally Miller, a power point and dance exhibition by Anxhela Hysi, a Lamar High School student an immigrant from Albania, celebrating her country's heritage. Larry Pflughaupt, former CCMH Board Member, SPJST Director of District 5 introduced Brian Vanicek, President of the SPJST from Temple, Texas and guests the King and Queen of District 5, a brother and sister, Ryan (16) and Katherine (14) members of Lodge 88 dressed in festival Kroj, who had prepared short essays on "Friendship" and the value of inclusion of SPJST in their lives. The audience was quite "taken" with these brave youngsters that rose up to speaking to a large audience. We forecast a great future for them. Please read their bios and their inspiring speeches here...

Remembering the August 24, 2013 Gala. The Czech Center Museum Houston takes every opportunity to remember its volunteers - Our real Treasures. For 20 years we do the Annual Benefit Fundraiser, besides the Members, Friends Appreciation Dinners, the Concerts, the Art Exhibits, the Educational Lectures, other celebrations of Traditions, History, Culture, Community and outside events. None could happen without our Volunteers, days (and nights) for weeks and generally right up to the last minute (RSVP's aren't noted) of building these events for our Members and Friends. So we extend special appreciation to our Auctioneers, Nina and Ray Vitek, who so graciously rose to the occasion with their delightful entertaining style. We salute the Henry Hermis family who take on the closing operation of the Auction. We appreciate Terese Marik Wagner's beautiful floral artistry design. We all certainly appreciate the many others it takes to manage the day-to-day administration of an event before and after. Most critically, we appreciate those who underwrite any aspect - i.e. advertising, postage, invitations, security, valet, catered food and beverages, the bar served, capital needs and general operations. We appreciate the donors just as importantly the bidders/purchasers, the cash or check contributions. We appreciate the table buyers even if they don't have a guest to bring. Yes, we appreciate those who come to eat a great dinner and enjoy the program and camaraderie who each time leave with a bit of education regarding Heritage and History, having met important people in their community. This process is known as building an institution, giving of self and leaving a legacy for yourself, your heirs, your city, your country. It's the least we can do to celebrate our own life and living. Thank you for helping build the Czech Center Museum Houston's Endowment for Perpetuity. You will have made a difference in the world!
Sincere appreciation on behalf of the Board, Effie M. Rosene

Relatives of Late Film Star Paul Newman Still Live in Humenne, Slovak Republic The renowned Hollywood star and director Paul Newman died September 27, 2008 at age 83. Paul Newman held various awards including an Oscar, Golden Globe, Emmy, and from the Cannes Film Festival. His acting career dates back to his school-boy days. Upon graduating from high school he enlisted in the U.S. Army Air Force but was rejected for colorblindness. He achieved stardom in his second film "Somebody up there Likes Me" (1956) in which he played the role of boxer Rocky Graziano. In the drama "Long Hot Summer" (1958) he played the lead role of arsonist Ben Quick and made the acquaintance of his future wife Joanne Woodward. Unforgettable indeed were other films of his such as "Exodus", "Sweet Bird of Youth", "Hombre", and "Cool Hand Luke.

Speculation that Paul Newman had Slovak roots surfaced as early as 1990 when the star confided to newsmen during Vaclav Havel's visit to New York that he had forebears in Czechoslovakia.. "Paul Newman's grandmother was named Maria Hocmanova. She married Michael Fecko and from their union Teresa (Newman's mother) was born in the eastern Slovak town of Humenne," disclosed Anna Sedlarova, first cousin of Teresa, who still resides in Humenne. After their death of both her mother and grandmother eight year old Teresa left to join her father in Cleveland, Ohio where he had gone for work some years previously. After a first failed marriage she married Arthur Samuel Newman. "She had high praise for the latter, who was a very good person," recalls Ms. Sedlarova. At the end of World War II packages from Paul's mother began arriving, plus letters. She sent about 20 packages to the Sedlar family with food, clothing and linens. One package contained a military uniform with the American emblem on a sleeve, which they have saved to the present day. Additionally, Anna Sedlarova has saved several photographs of the interior of Newman's home with the personal signature of Paul's mother on the back of each. Teresa took the death of her husband very badly and for some years, correspondence between the relatives broke off. However, in the 1960's the actor's cousin, twice removed, Brigita Sedlarova came across a portrait of Paul Newman in the magazine Film a Divadlo (Film and Theater). "It reminded me a lot of my older brother. I then recalled that we had at home some letters signed by Teresa Newman, and the matter just wouldn't rest," she explained. "It was a rather bold thought, but I began to wonder if Paul wasn't actually related to us." Brigita wrote a letter to America and soon received a personal reply from Newman. "He wrote that he was glad to discover relatives in Czechoslovakia and wished to extend greetings to everybody," she revealed. He was also considerate enough to include his mother's address in Cleveland, thus confirming speculation about their family relationship. But in spite of repeated invitations from his relatives Newman never visited Slovakia.
Thanks to Jednota, translated by Joseph J. Palus, Jr., Johnstown, Pennsylvania.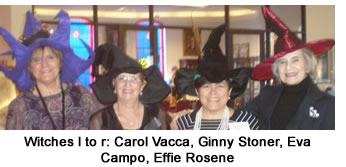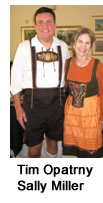 October 26, 2013 CCMH holds its very popular third Anniversary, back by popular demand, Czech Oktoberfest with dancing to the Texas Czech Legacy Orchestra, good food, camaraderie, wine tasting and Czech beer tastings. We celebrate many events; this is one of our most popular. Think wine harvests, beer brewing festivals, fun and dance and sing to the great music of Bob Suttie. Admission price will include all of the above. We celebrate the historical circumstances acknowledging October 28, 2013 as Czechoslovakia Czech National day! Book now; we fill up fast. Fashionable witches attend as well as others in Costume!


The Author - Charles Novacek
A Memoir that Reads Like a Thiller!
To those he met in his adopted hometown of Detroit, Michigan, Charles Novacek was a fascinating Renaissance man. He spoke seven languages, traveled the globe and constantly pursued knowledge. After retiring from a successful career as a civil engineer, Charles returned to school, following his lifelong dream of becoming an artist. He earned a master's degree in painting from Eastern Michigan University and a Bachelor of General Studies and Master of Arts in Liberal Arts Studies from the University of Michigan-Dearborn, eventually showing his paintings and sculpture in Detroit area galleries. What most people never discovered, however, was that the charming, erudite artist spent his boyhood in the Czech Resistance, defending his homeland from the Nazis and the Communists. Please tell friends, family, and associates if they enjoy history this is an intriguing documentary. For information and to order call: 713.528.2060. Please support education and remembrance of brave people in the world! The Czechs and Slovaks are some of those people.

"Jesus H. Jones": That was what Franklin D. Roosevelt used to call Jesse Jones, the Houston developer who reigned over the New Deal's deep-pocketed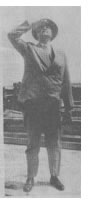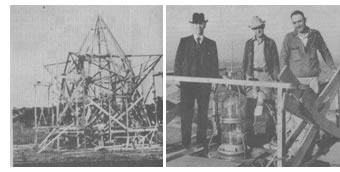 Reconstruction Finance Corp, dispensing what would be, in today's dollars, hundreds of billions intended to pull the United States economy out of the Depression. What Jesse Jones wanted, Jesse Jones got. And what Jesse Jones wanted was a fitting way to mark Texas' Centennial, the 1936 celebration of its 1836 independence from Mexico. What Jesse Jones wanted was an ornament that would make the entire state proud and that would provide much-needed jobs in his own beloved Houston. What Jesse Jones wanted was the San Jacinto Monument. By Jones' own account, he came up with the monument's basic design himself, calling to mind the monuments he'd most admired, then doing them one better. At the bottom was something like the Lincoln Memorial, a low-slung rectangular box; atop the box was an obelisk like the Washington Monument; and atop the obelisk was the Lone Star of Texas. "The architects," Jones wrote in a 1946 letter to President Harry Truman, "perfected the plans accordingly." Jones had gotten just what he wanted.


The Star Problem: The chief architect was Alfred Finn, who in the course of his career designed so many buildings for Jones that they conducted business with a handshake rather than contracts. In the Houston Metropolitan Research Center's archives, you can see Finn's early sketches for other versions of the monument – among them, a long, low building with no obelisk; and an obelisk topped not by a star, but by a statue of a soldier.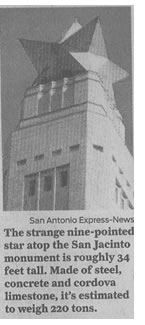 The earliest drawings with a star on top show a regular five-pointed star. But that wasn't satisfactory: The monument would be visible for miles, and viewed from the side, a five-pointed star wouldn't look like a star at all. It would look like a line. The solution, everyone agreed, would be to make a three-dimensional figure, something that, from most angles, looked like a five-pointed star. But how many points would such a thing have to have? And how much would it have to be elongated, in order to look right from the ground? Finn discussed the matter with William McVey, the sculptor he'd contracted to do the monument's reliefs and other design work. The best way to figure out the correct dimensions, they decided, wasn't to make calculations, but to make 3-D models, and rely on their own eyeballs to reveal the answer. I called W.S. Bellows Construction, the company that engineered and built the obelisk and star, hoping that they'd have old construction photos and that someone there would be able to explain to me exactly why the monument is considered such a feat of engineering. They told me more than I can squeeze into a newspaper column. And Bellows provided me, too, with something I wasn't expecting: a living link to the monument. "This here is my daddy, working on that platform," says CCMH member Charles Kubin now 81, a Bellows Vice President was 5 years old when his father worked on the monument, and he grew up loving his dad's stories about it. It's no accident, I suspect, that young Charlie grew up to be a Bellows engineer. The photo of Charlie's father, Karel Kubin, shows a man in a hat, working inside what appears to be a rebar cage dizzingly high off the ground. Kubin, a carpenter, was one of hundreds of men who worked on the monument; it was, after all, in part a New Deal jobs-creation program. Years later, Karel told Charlie how, when he was at work building the obelisk, high up on that construction platform - "the nest," the men called it - he could usually see 50 or 100 men outside the construction-site gate, hoping to get work. It made him appreciate the job even more. McVey, the sculptor, asked Kubin to help him wrestle with the star problem: to mock up various model stars in plywood, at a 1:40 scale. They'd position each model atop a construction-site water tower, precisely 564 inches off the ground, to see how a similarly scaled star would look atop the monument. McVey would walk around the water tower, studying the model, then suggest adjustments. Then Kubin would make yet another star. When one of those nine-pointed models finally satisfied McVey, he asked for a full-scale plywood model. Kubin and the other carpenter built the 34-foot high wooden star on the ground, then they measured that model to calculate the dimensions the stonecutters should use. In the end, it turned out that not one piece of stone in the strange star would be set either plum or level. But it worked: From the ground, it seemed just right, as inevitable as Jesse Jones' will. The monument was the kind of work that makes a man proud, the kind of work that makes his kids proud, and his grandkids. Karel Kubin wanted something to remember it by, so he asked whether he could take home the final little plywood mock-up that they'd stuck up on the water tower. "That star was about 3 or 4 feet across," Charlie remembers. "He stuck it on a 2-by-4, and mounted it on top of the garage at our house in Cottage Grove." The plywood star lasted 10 or 20 years before at last it rotted away. Charlie shakes his head, grinning. "It gave the neighbors something to talk about."
Ed: From an article in the Houston Chronicle April 15, 2012 by Lisa Gray "On all things Houston."

Thelma Burnett Maresh... Outstanding Texas Czech (by marriage)
As September approached and as we pass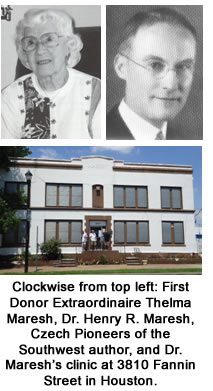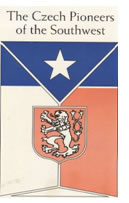 by Dr. Maresh's former clinic, we cannot fail to remember how much we are indebted to Thelma Maresh for her gifts which allowed the organization to purchase its property thirteen years ago this month and to realize how she wrote to us from Corpus Christi where she was living and she realized that this organization was the answer to her desire to memorialize her late husband. Her life had been inexorably linked by her marriage in 1933 to Dr. Henry R. Maresh. Dr. Maresh, who had a lifelong interest in his Czech heritage, recognized the need to chronicle the triumphs and travails of Czech pioneers in America before their records would fade in time. Mrs. Maresh accompanied him on his travels in the early 1930's gathering first-hand information from interviews with the surviving pioneers and their descendants. This resulted in publishing in 1934 of the hardbound edition of The Czech Pioneers of the Southwest, one of the most accurate and informative books dealing with the history of a Texas ethnic group. In addition to Dr. Maresh's medical practice, he was a prominent businessman, president of Liberty Savings and owner of a machine and welding company.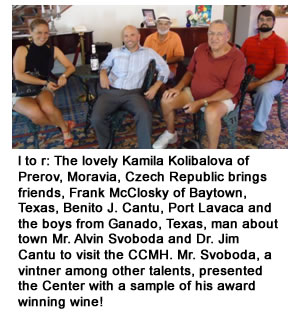 After his death in 1957, having decided it was the best decision, she assumed control of his business affairs, while raising their four children and entered into successful business ventures on her own. Her intelligence and astuteness were used to launch an investment into real estate. Her leadership was evidenced by being elected to the statewide office of president of the Daughters of the Republic of Texas and she was a founder of the Esther Gladney auxiliary. She formerly had been president of the Harris County Medical Society Auxiliary. Mrs. Maresh never forgot her husband's dedication to his heritage and not wishing to see his dream not being carried out, republished his book again in 1996 and as she states: "This book is republished in memory of my beloved husband, Dr. Henry R. Maresh, to carry forth his dream and dedication for those of Czech birth and descent." Not only republishing his book to carry forth his dream, Mrs. Maresh has been generous to many organizations and to the Czech Cultural Center from its inception, always bringing forth new ideas and assistance to keep the organization moving forward, helping us "set our sails" in the right direction. She felt that the mission and goals of the organization was something Dr. Maresh would support wholeheartedly. Her generosity is also shown in her establishment of the Mary Karele Milligan Scholarship fund whereby the Czech Cultural Center awards college assistance in memory of her granddaughter. Her generosity knows no ethnic bounds as shown by her establishing scholarships for Hispanic students at the University of Texas and San Jacinto Junior College. The Czech Cultural Center is eternally indebted to this generous supporter, whose significant contribution made it possible to purchase the land where the Czech Center Museum now stands. In this way contributions will continue "to carry forth his dream" (Dr. Maresh's) and also perpetuate her legacy to all those that will benefit from her generosity and leadership. We salute this outstanding human being, our friend and benefactor! We are reminded every day of these two "Giants" as we pass the building on Fannin Street, in midtown Houston, that housed Dr. Maresh's medical office with his physician brother.

You are welcome to view this organization's 2011 IRS Form 990 available on the Guidestar website. Note this organization's name on filing was the Czech Cultural and Community Center, which is now doing business as the Czech Center Museum Houston. Click this link. Interested Members may also view financial records by appointment.

The Embassy of the Czech Republic announces the Mutual Inspirations Festival 2013-Václav Havel in the nation's capital celebrating the life

and legacy of the dissident, playwright, and former Czech president, with over 30 events taking place from September 5 - October 31, 2013, at prestigious venues. The Mutual Inspirations Festival (MIF) is an annual initiative spearheaded by the Embassy of the Czech Republic, focusing on the mutual inspirations between Czech and American cultures and featuring each year an extraordinary Czech personality who has greatly influenced and inspired others through his or her work (MIF 2010-Tomáš Garrigue Masaryk, MIF 2011-Antonín Dvořák, MIF 2012-Miloš Forman, MIF 2013-Václav Havel). Festival website: www.mutualinspirations.org and on Twitter @CzechEmbassyDC and Facebook.


A Conversation with Effie Rosene, co-founder of the Czech Center Museum Houston. Envisioned in 1995, the Cultural Center opened its doors on September 1, 2004 in Houston's Museum District. It was founded by Effie and Bill Rosene to celebrate, share and promote the rich cultural abundance of Czech immigrants in the State. The Czech Center Museum Houston also a gathering place for weddings, fundraisers, ambassador visits, concerts, galas and conferences is a 501[c][3] educational cultural arts institution in a Baroque Palace setting serving a global community. See conversation on line by following this link: http://houstonmuseumdistrict.org/articles/a-conversation-with-the-czech-center-museum-houston/ Or read here...

September 29, 2013 Sunday Sts. Cyril & Methodius Slavic Heritage Festival under the direction and guidance of the Slavic Alliance of Houston, the Slavic communities gather annually to honor Sts. Cyril & Methodius, and to share in the celebration of their Slavic heritage with ethnic foods, singing and dancing. The general public is invited to join in this celebration and to learn about the wonderful histories and culture of the Czech, Croatian, Polish and Ukrainian people. Board Member Rev. Paul Chovanec is Chairing this festival at the Knights of Columbus Hall and Grounds, 607 East Whitney, Houston, Texas 77022 - 10:00 a.m. to 6 p.m.
For information contact 312.600.SLAV. Attend this year, celebrating 50 years of this festival in Houston, Texas!

Czech Language Online Daily It would be impossible not to learn from these simple distinct lessons. Try it now!
http://www.youtube.com/watch?v=bY9cp7r2CZc or http://www.studyczechonline.com/free-lessons
.

2013 Calendar of Events: 10/26 Czech Oktoberfest - Czech/Slovak National Day 10/28/1918 - 11/17 Velvet Revolution 1989 - Remembering overthrow of communism - 12/6 St. Nicholas Eve Holiday Celebration. Art exhibit and concert dates pending.

"Time goes by so fast, people go in and out of your life. You must never miss the opportunity to tell these people how much they mean to you." Anonymous



"To forget one's ancestors is to be a brook without a source, a tree without a root."


Chinese and Czech Proverb

Questions or comments or to be removed, please email first and last name to czech@czechcenter.org.
Effie M. Rosene, Chair/CEO, on behalf of Board of Directors, Volunteers and Members and Friends.

This organization is supported in part by a grant from the

City of Houston

through the


Houston Arts Alliance

and by the

contributions of our Members and Volunteers.