NEWS FROM THE CZECH CENTER MUSEUM HOUSTON - OCTOBER 18, 2013
From the Heart of Europe to the Heart of Houston Texas
in the Museum District
4920 San Jacinto Street, Houston, Texas 77004 - 713.528.2060
czech@czechcenter.org
www.czechcenter.org
Open Monday - Saturday 10:00am to 4:00pm


Flash!!! CCMH's 3rd Annual Czech Oktober Fest happens Saturday, October 26, 2013 in Prague Hall 4920 San Jacinto @Wichita in the Museum District. $40.00 admission includes Complimentary Valet Parking; Three Hours Live Music for Dancing or Listening by The Texas Legacy Czech Band of Bob Suttie and Associates; a Schnitzel and Sausage Dinner Buffet including Kolaches; Three Premium Czech Beers Tasting or Three Wine Tastings and a Fall Bazaar! Celebrating Beer Festivals, Wine Festivals and the historical founding October 28, 1918 National Day Czech Slovak Statehood Day – first time a Democracy. RSVP by October 21 please: 713.528.2060 or email events@czechcenter.org.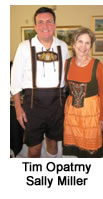 October 26, 2013 CCMH holds its very popular third Anniversary, back by popular demand, Czech Oktoberfest.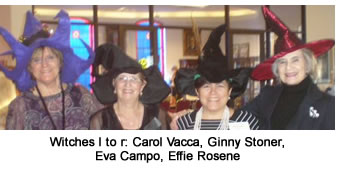 Note above. Camaraderie, wine tasting and Czech beer tastings. We celebrate many events; this is one of our most popular. Think wine harvests, beer brewing festivals, fun, dance and song. Admission price includes all the above. We celebrate the historical circumstances acknowledging October 28, 1918 as Czechoslovakia Czech / Slovak National day! Book now, we fill up fast. Fashionable witches attend as well as others in Costume! Reservations needed now!

Sponsor a Cultural Film Production CCMH members Dawn Orsak, Austin, Texas and friend Lori Najvar, San Antonio, Texas with the nonprofit Polkaworks are heavy into the production of a multimedia, traveling exhibit called Texas Czechs: Rooted in Tradition. The exhibit will use photography, film and text to highlight the cultural and community traditions of 21st century Texans of Czech descent. Dawn and Lori came to the CCMH in August to interview Effie Rosene about her Texas Czech background and take photographs at the sing-along hosted by the CCMH for visiting Czech deacons. They are gathering much needed funds to complete the exhibit through an online campaign. We encourage you to visit their website at http://igg.me/p/516317/x/4629155 to see a short video about the exhibit and read about their goals. The CCMH is looking forward to hosting the exhibit in 2014 or 2015. For information, please contact Dawn at dawnorsak@gmail.com or 512.825.2249.

Books Available in Prague International Gifts Shop These are must reads.
Texas Czech Polka Bands by Jimmy Brosch with Theresa Cernoch Parker - A timely remembrance of major bandleaders and band members that dedicated their time and effort to promoting Czech music and heritage in Texas.
Rustic Baroque - A novel by Jiri Hajicek - Set in South Bohemia about a decade after the Velvet Revolution, the novel recalls the tumult in the countryside during the 1950s collectivization by the Communist party.
Border Crossings - A Memoir that Reads Like a Thriller! by Charles Novacek - This charming, erudite artist spent his boyhood in the Czech Resistance, defending his homeland from the Nazis and the Communists!
Prague, My Long Journey Home - The true story of a man who, at the age of nine, shot a Nazi by Charles Ota Heller is a memoir of Survival, Denial and Redemption providing a window into one Czech American's experiences!
The Czech Pioneers of the Southwest by Dr. Henry R. Maresh - a must read for research of your genealogy. A book reprinted by his wife Thelma Burnett Maresh Outstanding Texas Czech (by marriage) who realized that this organization was the answer to her desire to memorialize her late husband. Dr. Maresh, who had a lifelong interest in his Czech heritage, recognized the need to chronicle the triumphs and travails of Czech pioneers in America before their records would fade in time. This resulted in publishing in 1934 the hardbound edition of The Czech Pioneers of the Southwest, one of the most accurate and informative books dealing with the history of a Texas ethnic group. Please check our website to order this book.
Living Longer Than Hate - A Story of Survival and Success by C.S. Ragsdale, PhD is the story of Houstonian W. J. Bill Morgan's life. From hate, murders, escape, liberation to America, struggling with language, poverty, loneliness, guilt and pain, he vows to keep the promises made to his family.
For information on these books and to order call: 713.528.2060. Please support education and remembrance of brave people in the world! The Czechs and Slovaks are some of those people.

Friendship in spite of Hitler: Stories of Survival from around the World Judita Matyášová is a young Czech journalist who by pure chance happened to come upon the story of some 700 Jewish children from around central Europe who were smuggled to Denmark to escape the Holocaust. Unlike the story of Nicolas Winton's children, this one had not been researched and Judita made it her own special project to find as many of the 100 Czech children as she could, reunite them and tell their story. Her close to three year endeavor is the topic of a book due to come out in October. Judita visited Radio Prague's studio this week to talk about the search for survivors, her book and how it all began. "Actually, this project started with just one photograph which got published on the title page of the newspaper I work for, Lidové noviny. It was a photo of Helena Bemová who knew she would soon be forced to join the transport of Jews to a concentration camp. Before that she went to a photographer to get her picture taken and when he asked

her when she planned to pick up the photo she answered when everything is over, and she never returned. As the years went by her story was forgotten. Then one day the photographer found the photo and tried to trace her. He showed it to people asking do you know this girl and one lady said yes, I remember her. And I thought what a great story! So I published it, thinking no one would have survived from Helena's family. But then I got a call from her cousin and she said she was the only survivor from the family because she was smuggled from Czechoslovakia to Denmark and that saved her life." Read more of this thrilling story...

The Embassy of the Czech Republic announces the Mutual Inspirations Festival 2013 - Václav Havel in the nation's capital celebrating the life and legacy of the dissident, playwright, and former Czech president, with over 30 events taking place from September 5, 2013 to October 31, 2013 at prestigious venues. The Mutual Inspirations Festival (MIF) is an annual initiative spearheaded by the Embassy of the Czech Republic, focusing on the mutual inspirations between Czech and American cultures and featuring each year an extraordinary Czech personality who has greatly influenced and inspired others through his or her work (MIF 2010-Tomáš Garrigue Masaryk, MIF 2011-Antonín Dvořák, MIF 2012-Miloš Forman, MIF 2013-Václav Havel). Festival website: www.mutualinspirations.org and on Twitter @CzechEmbassyDC and Facebook.


A Conversation with Effie Rosene, co-founder of the Czech Center Museum Houston. Envisioned in 1995, the Cultural Center opened its doors on September 1, 2004 in Houston's Museum District. It was founded by Effie and Bill Rosene to celebrate, share and promote the rich cultural abundance of Czech immigrants in the State. The Czech Center Museum Houston also a gathering place for weddings, fundraisers, ambassador visits, concerts, galas and conferences is a 501[c][3] educational cultural arts institution in a Baroque Palace setting serving a global community. See conversation online by following this link: http://houstonmuseumdistrict.org/articles/a-conversation-with-the-czech-center-museum-houston/ Or read here...

Note: CCMH Fall Bazaar began Wednesday, October 16, 2013. Make time to tour CCMH ($6 admission), 10am - 4pm M-S, three floors of art, artifacts, history and heritage. Prague International Gifts Shop offers its unique collection of Antique and Contemporary crystal, porcelain, pottery, wood toys, textiles, jewelry and Christmas ornaments at a 20% discount through October 31. Featuring New and Antique Czech Garnet Delivery. You will be awed and entertained!

Grace England writes: "Our two older sons work for Bechtel. However, they will probably not be assigned to this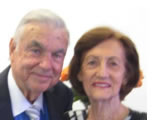 project. That does not change my excitement about visiting the established system someday (tho' I will never be able to understand it)."
Ed: Grace is one of our eleven Board Members. Please see below about her excitement!
Bechtel Team Granted Agreement to Build Advanced Laser System in Czech Republic. Lawrence Livermore National Security, LLC has been chosen as the only qualified supplier in the World as a result of its demonstrated leadership in this highly technical field and its ability to deliver complex projects requiring leading-edge technology. A team led by Bechtel and the University of California has been granted an agreement worth more than $45 million to develop and deliver a state-of-the-art laser system for the European Union's Extreme Light Infrastructure facility in Dolní Brežany, near Prague in the Czech Republic. The High Repetition Rate Advanced Petawatt Laser System marks a major enhancement over current laser systems and will enable unprecedented research in areas as diverse as medical imaging, particle acceleration, homeland security, and quantum physics. "This laser system will put cutting-edge technology to good use, and we are honored to be a part of the mission to deliver it to the Czech Republic and European Union." The laser system will be capable of reaching peak powers greater than 1 quadrillion watts, a petawatt, at a repetition rate of 10Hz, with each pulse lasting for just a split second. It overcomes the traditional limitations of high-power lasers by means of patented technology developed for such missions as laser fusion energy. The system will combine sophisticated semiconductor diode laser technology with advanced optics, integrated control systems, and techniques for managing the production of ultra-short pulses of light. Bechtel is a leader in the management and operation of national laboratories for the U.S. Department of Energy's National Nuclear Security Administration. The laboratories focus on developing and researching technologies that aid in homeland security, health, and other scientific research. Bechtel operates through five global business units that specialize in civil infrastructure; power generation, communications, and transmission; mining and metals; oil, gas, and chemicals; and government services. Since its founding in 1898, Bechtel has worked on more than 22,000 projects in 140 countries on all seven continents. Today, our 53,000 employees team with customers, partners, and suppliers on diverse projects in nearly 50 countries.

The Flying Cardinal! His job takes him everywhere and carries him to new heights! Dominik Jaroslav Duka O.P. (born 26 April 1943, Hradec Králové, Bohemia, Czech Republic) is the 36th Archbishop of Prague and a cardinal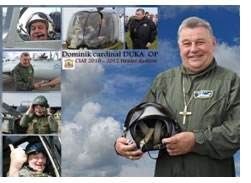 of the Roman Catholic Church. On January 6, 1969 he made temporary profession in the Dominican Order and on 22 June 1970 was ordained a priest. For five years he worked in various parishes of the archdiocese of Prague and, on 7 January 1972 made his solemn profession in the Dominican Order. In 1975, the Communist government deprived him of the authorization for the sacred ministry. For almost fifteen years - until the regime collapsed in 1989 - Duka worked as an automobile designer at the factories of Škoda at Plzeň. In the meantime, he worked in secret in the Order as a novice master and teacher of theology. He studied at the Theological Faculty of Litoměřice. In 1979, he obtained a licentiate in theology at the Theological Faculty of St. John the Baptist in Warsaw, Poland. In 1981/82, he was jailed in Plzeň. From 1986 to 1998 he was Provincial of the Dominicans in Bohemia and Moravia.
Ed: Cardinal Duka has a number of Houston friends including the Rosenes.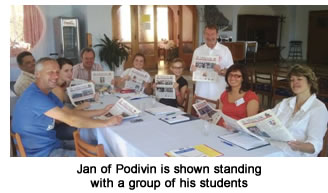 A Letter from John Kuba - He is a transplanted American now domiciled in the Czech Republic. Dear Effie & Bill: How are you doing? It has been a very short summer for me as I was busy all the time with my teaching, garden and guests. Of course with apricots, cherries, blackberries, pears, peaches, plums and apples. I did everything with them even sold some. The horse radish, made over 5 quarts of it. I have a renter in the apartment and he has been helping me with a lot here in the yard. I finally have more things the way that I have wanted them. He is originally from Spain and his English is good, he also speaks German. I have a new "house friend" Sammy a cat, orange and white, what a crazy one but very, very friendly and loves to be with people. Just thought that I needed to send you something for you to think about. Lots of hugs and love to you both. Jan z Podivin.
Ed: John is a full-time resident of Podivin, Moravia, Czech Republic where he has a home with a large garden and orchards. He is famous for his preserves. We particularly like his Rhubarb combinations. He is a fabulous chef and we always value invites to eat with him. He is a sought after teacher of English to Czechs of all ages. John sent us a picture, since published in the Vestnik, of his class and his ingenious use of the weekly SPJST News, the Vestnik, in his conversational language courses. If he ever invites you to visit, do not hesitate!

Pisek is a city in Walsh County, North Dakota in the United States. The population was 106 at the 2010 census.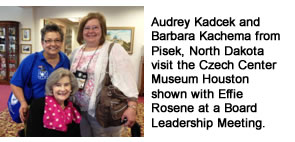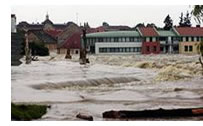 Pisek was founded in 1882 by Bohemian settlers who had come from the town of Pisek in the modern Czech Republic. Additionally, as Pisek means "sand" in Czech, the name of the new city may have also been influenced by a sand ridge that is located nearby. Our visitors told us they were proud of an Alfons Mucha painting in St. John Nepomucene Church. Read more... Their visit brought back memories of the 2002 flood that devastated many towns and villages along the upper reaches of the Vltava River and our organization's efforts in raising funds to donate to five towns to repair damage including to Pisek Czech Republic's bridge. Only the statues and cross on the Stone Bridge (see above right) could be seen during the floods of autumn 2002. The bridge survived but the flood water removed railings and some statues. Thereafter began the general reconstruction. A copy of one statue which was lost, was recreated. The bridge is now supported by a net of concrete and iron tubes.

You are welcome to view this organization's 2011 IRS Form 990 available on the Guidestar website. Note this organization's name on filing was the Czech Cultural and Community Center, which is now doing business as the Czech Center Museum Houston. Click this link. Interested Members may also view financial records by appointment.

September 29, 2013 Sunday Sts. Cyril & Methodius Slavic Heritage Festival under direction and guidance of the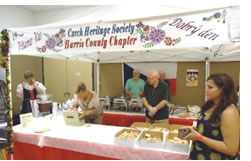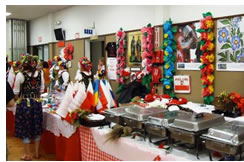 Slavic Alliance of Houston, the Slavic communities gather annually to honor Sts. Cyril & Methodius, 1,150 years after their arrival in Moravia and to share the celebration of their Slavic heritage with ethnic foods, singing, dancing, arts and crafts. This year at the Knights of Columbus was the 50th Anniversary of this annual fest celebration, one of Houston's oldest, to learn wonderful histories and culture of the Czech, Croatian, Polish and Ukrainian people. Board Member Rev. Paul Chovanec chaired this event celebrating 50 years and was a co-celebrant of the opening Mass. It was a beautiful coming together of four of Houston's 104 distinct heritages.

Memoirs of Hurricane Sandy in New York City. We watched Chanel 8 on October 8th a series on October 29, 2012 New York City's and New Jersey's Hurricane Sandy catastrophic event. It was incredible photography and conversation from survivors and officials. We remembered how greatly concerned we were about the safety of our favorite (and only) granddaughter CCMH Member all her life Sarah Lynn Rosene Pierce loving New York City, living in a 28th floor high-rise next door to NYU in lower Manhattan since her graduation from the University of Texas Austin May 2009. In time, we learned from her the lack of electricity, no lights, no elevator, no metro, no flushing toilet in her 28th floor high-rise on 34th street, then walking 40 blocks to another borough from lower Manhattan to a friend's to take a bath and charge her phone! We called Sarah to recall her memories of the event.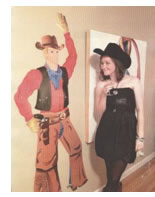 She wrote: "The Aftermath of Hurricane Sandy," the most ferocious storm of East Coast history. In regards to Sandy, we were extremely lucky. All we suffered was power outage but we could get to places that had running water and electricity. So thankfully it wasn't as bad as what others experienced. For instance I had just been to Atlantic City a few weeks prior and looking at pictures on the news it was totally unrecognizable. It was completely destroyed. We had no water damage in our area. Mostly my roommate and I got through by watching TV shows and movies we downloaded to our various electronics. We were prepared to be shut in for a day or so. We made cocktails, had wine, water and ate a lot of goldfish. We were prepared. On the second day of the blackout we ventured out to charge our electronics and shower. We stayed out for most of the next few days until the electricity came back on. We went to open restaurants. It was like a mini vacation from work. The hardest part was walking up 28 flights of stairs every night although it was a good way to work off all the eating. I have not been to the Neue Gallery but I will need to check it out. I am actually going to see a Czech film next weekend at the New York Film Festival called Burning Bush by Agnieszka Holland. I have been to many of the foreign and American films at The Festival since it is right next to my office. If you want to read about the film here is the link: http://www.filmlinc.com/nyff2013/films/burning-bush. It will be the Czech selection for best foreign film at the Oscars. Keeping my Czech roots alive and well!
Sarah works as a Financial Analyst for a firm there after fourteen months of leaving resumes, part-time jobs and volunteering while seeking a job during the 2008 Recession. New York taught her to be strong and persevering. She has a great roommate, meets with resident Texas friends and new ones there, while taking classes at NYU.
Effie and Bill Rosene

The Victoria County Czech Heritage Society is sponsoring and coordinating "A Czech Cultural Weekend" with Daniela Sipkova Mahoney, November 8 - 10 at the Victoria Mall Community Room. Bring your child or grandchild. Teach them a little Czech. Ms. Mahoney is famous for her painted eggs. Info: Joe Janak 361.649.2243. We love Daniela.

The World Premiere of "Second Skin" - a Theatre Play by CCMH Member Amy Gijsbers van Wijk - October 23, 2013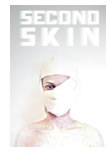 New York City presents world premiere of the theatre play "Second Skin" – a psychological drama written by young playwright Amy Gijsbers van Wijk. Amy, daughter of Czech born mother, artist Helena (Skopova) and Dutch father Peter, in the seaport business, is Pasadena, Texas born, a graduate of Deer Park High School. Traveling abroad as a child, not surprisingly she chose to study far away from home in New York City. A senior at Brooklyn College, and Honors Scholar at Macaulay Honors College she studied Theatrical Authorship and Dramaturgy. Amy's first full-length play was started two years ago and in 2013 reached its final version. A financial grant was secured to realize the project, and with her creative team raised additional funds through a Kickstarter campaign. This enabled them to perform the play for full ten days in New York City. "Second Skin" is a psychological drama that examines some important issues in today's society, mainly what constitutes a sense of one's own identity, and the way we perceive ourselves and others. The play is co-produced by Amy Gijsbers van Wijk and Vera Khodasevich, and directed by Courtney Ulrich. The play will be performed at The American Theatre of Actors' Sargent Theater on 314 W. 54th Street in New York City, from October 24 to November 2, 2013. We hope the world will take the opportunity to see it. CCMH is so proud to have this kind of talent among us!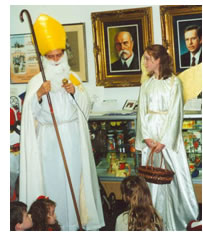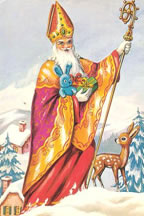 Come celebrate with a Holiday dinner St. Nicholas Event Friday, December 6, 2013 - 6:30 to 8:30pm. Brno Gallerie - Prague Hall - Pilsen Hall. Enjoy a seasonal punch and a Cash Bar of Czech Beers and Wines. Draw from the spirit of Houston's 104 Heritages - Czech, Slovak, German, Ukrainian, Polish, Croatian, Slovenian, Italian, Asian, English, Spanish, Swedish, Hungarian and Others. Christmas Music and a greeting by the Bishop himself and his assistants the Sweet Angel (andel) and incorrigible Devil (cert). 6:45 - 7:05pm children of all ages gather in Pilsen Hall for a Puppet Theater performance by famed actor Jon Conlon (from Kiterik and Skipper Television). Enjoy this evening at the Czech Center Museum Houston decorated in Moravian Stars and twinkling lights of the magnificent Bohemian chandeliers. The evening honors the Wesley Pustejovsky Family. RSVP prepay for guests attending by November 25, 2013: 713.528.2060 or events@czechcenter.org. Admission - $35.00 - Children under 10 to 3 - $10.00. Complimentary Valet Parking.

Czech Language Online Daily It would be impossible not to learn from these simple distinct lessons. Try it now!
http://www.youtube.com/watch?v=bY9cp7r2CZc or http://www.studyczechonline.com/free-lessons
.

2013 Calendar of Events: 10/26 Czech Oktoberfest - Czech/Slovak National Day 10/28/1918 - 11/17 Velvet Revolution 1989 - Remembering overthrow of communism - 12/6 St. Nicholas Eve Holiday Celebration. 1/18/14 Dechovka (Brass) Orchestra from the Czech Republic Performance. Art exhibit and concert dates pending.

If you can't make CCMH Oktoberfest for October 26, Czech into TCHCC, La Grange, Texas on November 2. Info 1.888.785.4500 for three famous bands. Try to make both events!

"Time goes by so fast, people go in and out of your life. You must never miss the opportunity to tell these people how much they mean to you." Anonymous

"Those that say that individuals are not capable of changing anything are only looking for excuses."
Václav Havel



"To forget one's ancestors is to be a brook without a source, a tree without a root."


Chinese and Czech Proverb

Questions or comments or to be removed, please email first and last name to czech@czechcenter.org.
Effie M. Rosene, Chair/CEO, on behalf of Board of Directors, Volunteers and Members and Friends.

This organization is supported in part by a grant from the

City of Houston

through the


Houston Arts Alliance

and by the

contributions of our Friends, Members and Volunteers.