NEWS FROM THE CZECH CENTER MUSEUM HOUSTON - NOVEMBER 14, 2013
From the Heart of Europe to the Heart of Houston Texas
in the Museum District
4920 San Jacinto Street, Houston, Texas 77004 - 713.528.2060
czech@czechcenter.org
www.czechcenter.org
Open Monday - Saturday 10:00am to 4:00pm


Remembering November 17, 1989 from a chapter in Joseph Hurka's new book Fields of Light. Chapter Eight titled The Saint, the Priest and the Clock. In the year 1234 the Bohemian princess Agnes, sister of King Wenceslas I, founded her "convent for the Poor" in medieval Prague. From this act a legend grew that her canonization would mark the beginning of a miracle in her land. She was elevated to sainthood seven hundred and fifty-five years later as,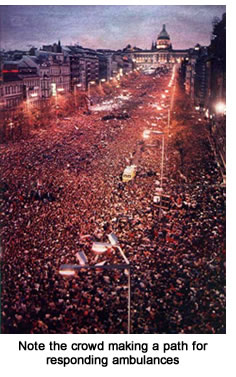 in the streets of her city, Czech citizens began to feel the stirrings of freedom in the air. Demonstrations during that November of 1989 had been going on since the previous fall, when Václav Havel was re-imprisoned (he had been serving sentences in jail, and under house arrest, for twelve years) after showing up at a memorial in Wenceslas Square for Jan Palach. That memorial service, on the spot where Palach sacrificed himself, had ended in police beatings. All through the year since, when Mira went onto the streets, she had felt the increased tension between citizens and police: it seemed as if, at any provocation, the beatings would begin.
Now, on the seventeenth of November, Mira was at the Tesla factory, bent over a set of blueprints at her drafting table. It was late afternoon, and she heard a commotion in the hallway. She opened the office door to see Anna Svojsikova, from the research department, saying to a group of wide-eyed co-workers: "It's the students. They are marching from Vyšehrad. There are thousands of them." Fifteen thousand students and their compatriots were marching at that moment toward Žitna Street, near Wenceslas Square, hoping to reach a monument to Jan Opletal, a medical student killed in the Nazi oppression fifty years before. The Communists had forbidden the march, knowing that it was a disguised protest against them, and that the Wenceslas Square area - so rich in nationalist symbols - had often been a tinderbox of trouble. But the students were on the move anyway, and their group was growing in number. Near their procession buses pulled over, and electric trams lumbered to a halt, letting off passengers; Prague workers left jobs and flooded into the mass of demonstrators.
My cousin Maruška Kublová, a student at Charles University, was in the demonstration that day. And Mira left the Tesla factory and joined in, too: it was like entering a river of humanity. Above, high in windows, people were waving Czech flags, shouting their encouragement. Beside Mira walked a teenage girl with straight blonde hair blowing, her round glasses catching the last light of the sky. The girl turned to Mira and said, "They have big banners up front saying "We Don't Want Violence." We're just going to show them that we're not afraid anymore." Mira could see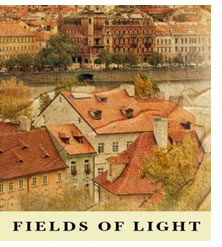 signs dancing as students thrust them into the air. A chant started: "Wenceslas Square and then home!" Fists pounded to the rhythm of the chant. Mira threw her fists up, too, and the blonde girl looked over, clapping, saying the words happily.
Now tens of thousands were marching. They went past the National Theatre. Looking at the graceful old building on the Vltava, Mira thought of her mother acting there, and the toll Communism had taken on Barbora. She thought of her brother in prison, and the Soviet tanks rolling through this city so long ago, crushing the Prague Spring. Most of these students could hardly have been born then, and yet they marched as if they felt every moment of the last forty years in their bones.
The procession turned onto Národní Avenue. Ahead, a wall of plexiglas-shielded police waited. The demonstrators slowed and stopped. The police shifted in place, their faces implacable behind their plexiglas face-masks. Some of the students tossed flowers at the troops and held up alarm clocks, telling the Communists it was time for their regime to go. The marchers joined hands and sang We Shall Overcome, and the Czech national anthem, Where Is My Home?: Where is my home? Where is my home? Water roars across the meadows, Pinewoods rustle among crags, The garden is glorious with spring blossom, Paradise on earth it is to see. And this is that beautiful land, The Czech land, my home. The Czech land, my home! As Mira sang, she looked around her and everyone was singing, defiantly: many, like her, had tears in their eyes.
Evening had come now: bright police lights and shadows. Over loudspeakers, the police made calls for the demonstration to disperse. The hollow, stern voices of authority sounded vaguely inhuman over the singing and chanting; the marchers thrust the "V for victory" sign into the air and waved the Czech flag and held their ground. The two sides faced one another for an hour, then two. Then, suddenly, the police advanced. They swung their truncheons hard, a rain of un-checked violence. The demonstrators tried to run. But they were caught and held and beaten mercilessly, and when they fell to the ground, the police kicked them with their boots. Students and elderly, all were hit: some six hundred were injured.
In the front lines of the students, Maruška was beaten badly. Then Mira was shoved and fell. She rolled on the stones, a madness of legs and screams and blood around her, and thought "Surely I am finished now." But student hands reached for her, and picked her up. Read more of this story here...
Ed: The person named "Mira" is Joseph Hurka's paternal aunt.

Endowment for Perpetuity Appeal 2013. CCMH has heretofore requested funding for Capital needs such as third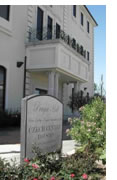 floor build out and associated needs. However, it is a fact that one vital long-term component of a successful organization is a healthy Endowment for Perpetuity. For this reason, we make a heartfelt appeal to all our Members and Friends and All Who Care seriously to consider the need for perpetual sustenance of the operation of this unique architectural venue which celebrates the education of history of our unique heritages, and ancestry in a global community.
You are asked to support this effort by contributing any amount you can to guarantee its permanent future in Houston, Texas and the United States. Please send any amount by cash, check, money order, VISA, Master Card or Discover to CCMH, 4920 San Jacinto, Houston, Texas 77004. You may also call 713.528.2060 to contribute by telephone. A future Legacy gift would be appropriate at this time as well. You will be proud of giving to make a difference, and we thank you for your generosity. Please call Effie, Bill, James or any CCMH Board member to discuss.

The Third Annual 2013 Czech Oktober Fest and Fall Bazaar came and went on October 26, 2013. The Volunteers did a beautiful, innovative Fall and Halloween motif in Prague Hall. There was a native Czech Witch adorning every table centerpiece. Ben Pustejovsky's food and catering were great; beer and wine tasting were popular. The music of Bob Suttie Trio of Texas Legacy Czech Band was so listenable, so danceable, so fun and singable! All comments were 100% positive. We had good-looking young couples and children, one little beautiful 2 ½ year-old, Hadlinka, in a stunning red dress danced every number and certainly we stalwarts slightly older were there. New friends, eight year-old Alice Asinovsky and Kristen Keller helped CCMH fund raise! We were as usual a United Nations group from America, Czech and other numerous corners of the world, including Taiwan and China. Always into education, we had a slide show of places to go and see and a film of first President Tomas Masaryk on the Formation of Czechoslovak Statehood on October 28, 1918, the first time democracy assisted by U.S. President Woodrow Wilson in writing the new constitution. It is a great film produced by the American Friends of the Czech Republic, available in the Gift Shop. For information on Tomas Masaryk read October 28, 1918 backstory here…
We regret twelve of you missed the evening, booked, but home ill. We hope some of you made the November 2nd Three Bands La Grange event.
Ed: Rudolph Rusnak, long supporting CCMH member, was introduced as a newly appointed Honorary Board member. Partners helping produce the event were: Silver Eagle, Glazers and Houston Beverages, distributors; Alvin Svoboda, Ganado, Texas; Terese Marik Wagner, Carol Triska Vacca, Rev. Paul Chovanec, the Rosene family, Rudolph Rusnak and others who graciously gave though could not attend. CCMH is grateful. Reported by Effie Rosene


Who was Saint Nicholas? The true story of Santa Claus begins with Nicholas, born during the third century in the village of Patara. The area was Greek and is now on the southern coast of Turkey. His wealthy parents, who raised him to be a devout Christian, died in an epidemic while Nicholas was still young. Obeying Jesus' words to "sell what you own and give the money to the poor," Nicholas used his whole inheritance to assist the needy, the sick, and the suffering. He dedicated his life to serving God and was made Bishop of Myra while still a young man. Bishop Nicholas became known throughout the land for his generosity to those in need, his love for children and his concern for sailors and ships. The Roman Emperor ruthlessly persecuted Christians, and he suffered for his faith, was exiled and imprisoned. St. Nicholas is patron of seamen and protector of children and ferrymen.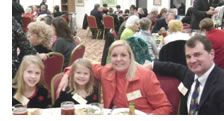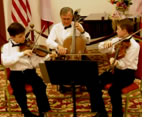 Come celebrate with a Holiday dinner St. Nicholas Eve, Friday, December 6, 2013 - 6:30 to 8:30pm. Brno Gallerie - Prague Hall - Pilsen Hall. Enjoy a seasonal punch, Czech Beers and Wines. Draw from the spirit of Houston's 104 Heritages - Czech, Slovak, German, Ukrainian, Polish, Croatian, Slovenian, Italian, Asian, English, Spanish, Russian, Swedish, Hungarian and Others. You will be greeted by Christmas Music and by the Bishop himself with his assistants the Sweet Angel (andel) and incorrigible Devil (cert). At 6:45 - 7:05pm children of all ages gather in Pilsen Hall for a Puppet Theater performance by famed actor Jon Conlon (from KTRK TV Show Kitirik and Skipper). Enjoy this evening at the Czech Center Museum Houston decorated in Moravian Stars and twinkling lights of the magnificent Bohemian chandeliers. The evening honors Wesley Pustejovsky and Family with AON Humanitarian Award which symbolizes community outreach. RSVP prepay for guests attending by November 25, 2013. 713.528.2060 or events@czechcenter.org. Admission - $35.00 - Children under 10 to 3 - $10.00. Complimentary Valet Parking.

Czech Language Online Daily It would be impossible not to learn from these simple distinct lessons. Try it now!
http://www.youtube.com/watch?v=bY9cp7r2CZc or http://www.studyczechonline.com/free-lessons
.

CHS of Texas Presents Blaha-Hejl Memorial Award Honoring the late Robert Ermis. This March 2013 we shared the obituary of Robert M. Ermis age 59 who died March 24, 2013. The City of Houston, St Anne Church, numerous chorales, the Houston Symphony, numerous Czech bands, the State of Texas and his many friends lost a great friend, a great musician, and a great CCMH member.
The Czech Heritage of Texas on November 9, 2013 posthumously awarded the prestigious recognition in honor of all he did to preserve Czech heritage in Texas. CCMH Board member Rev. Paul Chovanec was honored to be selected by CHST to accept the award on behalf of CHS of Texas and President Phyllis Stryk Teykl in their Taylor, Texas meeting.

Robert Valentine Kokas died Saturday, November 2, 2013. Robert was born February 14, 1927 to John and

Paulina Glomb Kokas in Moulton, Texas. The family later moved to Shiner, Texas. Following graduation from Shiner High School, he was drafted into the United States Air Force. He served in the 9th Airborne Division from December 1945 to December 1946. Following his return to the states, he moved to Houston. He attended the University of Houston and attended Southern Business University. He worked as an accountant for 34 years with Kerr McGee Oil Refineries. Robert enjoyed traveling and sports, especially collegiate and pro football. He also enjoyed volunteering at the Czech Cultural Center and his local parish, St. Cecelia Catholic Church. Robert is survived by his wife of 61 years, Lillian Kostak Kokas, sons Dennis, Doug, and Donald Kokas, daughter Patricia Kokas Phoenix. Burial Forest Park Westheimer Cemetery. In lieu of flowers, donations may be made to the Czech Center Museum Houston or the charity of your choice. Houston Chronicle
Ed. Bob and Lillian, CCMH Lifetime Members were great volunteers for many years! Effie Rosene.


Hana Natasa Ginzbarg, 88, passed away on Friday, October 18, 2013, in Houston, Texas. She was born in Prague, Czech Republic, on June 1, 1925 to Otto and Zdenka Sommer. She was preceded in death by her father, mother, brother, Ivan Sommer, and husband, Arthur Ginzbarg. Hana is survived by her son Steven Ginzbarg. Hana and her brother left Prague in 1939 on the last train arranged by British stockbroker Nicolas Winton carrying Jewish children to safety in England after the Nazis invaded Czechoslovakia. Her mother came to England later. The three made the dangerous crossing of the Atlantic in 1943 to New York. Hana met Arthur at Purdue University, Indiana where she was studying chemistry and he was studying physics. In 1949 the couple moved to Houston where Arthur took a job at the Shell Research Lab. Hana became interested in preserving Houston's bayous and became a member of the Buffalo Bayou Preservation Association. Her perseverance is responsible for the land acquisition and creation of Armand Bayou Nature Center, Clear Lake, Texas and later of the Nature Discovery Center, Bellaire, Texas where she served as a member of the board and a fundraiser until her death. A memorial service was held Sunday, November 10, at the University Chapel of the A.D. Bruce Religion Center. Houston Chronicle on Oct. 22, 2013
Ed: How do we miss knowing these great people with great stories we should have celebrated?

Sponsor a Cultural Film Production.
CCMH members Dawn Orsak, Austin, and friend Lori Najvar, San Antonio, with the nonprofit Polkaworks are deep into production of a multimedia, travelling exhibit called Texas Czechs: Rooted in Tradition. The exhibit will use photography, film and text to highlight cultural and community traditions of 21st century Texans of Czech descent. Dawn and Lori came in August to interview Effie Rosene about her Texas Czech background and to photograph the sing-along hosted by CCMH for visiting Czech deacons. They are gathering funds to complete the exhibit by an online campaign. We encourage you to visit their website at http://igg.me/p/516317/x/4629155 to see a short video about the exhibit and their goals. CCMH is looking forward to hosting the exhibit in 2014 or 2015. For information, please contact Dawn at dawnorsak@gmail.com or 512.825.2249.

Books Available in Prague International Gift Shop. These are must reads. They are great gifts to all ages!
Texas Czech Polka Bands by CCMH Members Jimmy Brosch with Theresa Cernoch Parker - A timely remembrance of major bandleaders and band members that dedicated their time and effort to promoting Czech music and heritage in Texas.
Rustic Baroque - A novel by Jiri Hajicek - Set in South Bohemia about a decade after the Velvet Revolution, the novel recalls the tumult in the countryside during the 1950s collectivization by the Communist party.
Border Crossings - A Memoir that Reads Like a Thriller! by Charles Novacek. This charming, erudite artist spent his boyhood in the Czech Resistance, defending his homeland from the Nazis and the Communists!
Prague, My Long Journey Home - The true story of a man who, at the age of nine, shot a Nazi; by CCMH Member Charles Ota Heller. It is a memoir of Survival, Denial and Redemption providing a window into one Czech American's experiences!
The Czech Pioneers of the Southwest by Dr. Henry R. Maresh - a must read for research of your genealogy. A book reprinted by his wife Thelma Burnett Maresh Outstanding Texas Czech (by marriage) who realized that this organization was the answer to her desire to memorialize her late husband. Dr. Maresh, who had a lifelong interest in his Czech heritage, recognized the need to chronicle the triumphs and travails of Czech pioneers in America before their records would fade in time. This resulted in publishing in 1934 the hardbound edition of The Czech Pioneers of the Southwest, one of the most accurate and informative books dealing with the history of a Texas ethnic group. Thelma Burnett Maresh was a first CCMH Patron.
Living Longer Than Hate - A Story of Survival and Success by C.S. Ragsdale, PhD is the story of Houstonian W. J. Bill Morgan's life. From hate, murders, escape, liberation to America, struggling with language, poverty, loneliness, guilt and pain, he vows to keep the promises made to his family.
Fields of Light, A Son Remembers His Heroic Father by CCMH Member Joseph Hurka.
For information on these books and to order, call: 713.528.2060 or visit our website. Please support education and remembrance of brave people in the world! The Czechs and Slovaks are some of those people.


A Conversation with Effie Rosene, co-founder of the Czech Center Museum Houston. Envisioned and in operation since 1995, the Cultural Center opened its doors to its new building on September 1, 2004 in Houston's Museum District. It was founded by Effie and Bill Rosene to celebrate, share and promote the rich cultural abundance of Czech and Slovak immigrants and other immigrant groups in the State to celebrate ancestry, history and heritage. The Czech Center Museum Houston, also a gathering place for weddings, fundraisers, ambassador visits, concerts, galas and conferences, is a 501[c][3] educational cultural arts institution in a Baroque Palace setting serving a global community. See conversation online by following this link: http://houstonmuseumdistrict.org/articles/a-conversation-with-the-czech-center-museum-houston/ Or read here...

Note 1. In November we celebrate Czech Slovak return to democracy in 1989. Make time to tour CCMH ($6 admission, $3 under 10-3), 10:00 to 4:00pm M to Sat, three floors of art, artifacts, history and heritage. Try one of our Czech beers or take home a six pack. 2. We celebrate St. Nicholas Eve December 6. RSVP by November 25, 2013. 3. Shop for the Holiday Season. Prague International Gift Shop offers its unique collection of Antique and Contemporary crystal, porcelain, pottery, wood toys, textiles, jewelry and Christmas ornaments at a 20% discount through November 30. Featuring New and Antique Czech Garnet Delivery. You will be awed and entertained!

You are welcome to view
this organization's 2011 IRS Form 990 available on the Guidestar website. Note this organization's name on filing was the Czech Cultural and Community Center, which now does business as the Czech Center Museum Houston. Click this link. Interested Members may also view financial records by appointment.

2013 Calendar of Events: 10/26 Czech Oktoberfest - Czech/Slovak National Day 10/28/1918 - 11/17 November Tours Remembering Velvet Revolution 1989 and the overthrow of communism - 12/6 St. Nicholas Eve Holiday Celebration. 1/17/14 From the Czech Republic, The Brass Orchestra Dechovka Moravska Jedenactka performs for Dinner and Dance in Prague Hall. Art exhibit and concert dates pending.

"Time goes by so fast, people go in and out of your life. You must never miss the opportunity to tell these people how much they mean to you." Anonymous

"Those that say that individuals are not capable of changing anything are only looking for excuses."
Václav Havel



"To forget one's ancestors is to be a brook without a source, a tree without a root."


Chinese and Czech Proverb

Questions or comments or to be removed, please email first and last name to czech@czechcenter.org.
Effie M. Rosene, Chair/CEO, on behalf of Board of Directors, Volunteers and Members and Friends.

This organization is supported in part by a grant from the

City of Houston

through the


Houston Arts Alliance

and by the

contributions of our Friends, Members and Volunteers.